Back to April 2016
Variety and Leeds present Sunshine Coach to South East Primary School
Variety, the Children's Charity has handed over the keys to a Sunshine Coach to a school that supports special needs pupils, thanks to a £26,000 donation from Leeds Building Society.

These funds were raised via charity campaigns supported by Leeds Building Society's members.

Making up the £26,000, £20,000 was donated by members through the Your Interest in Theirs scheme, where savers agree to forego up to 99p of their interest each year.

The £6,000 balance of the donation came from the mutual, which donates 1% of the average balances in all Caring Saver accounts equally between its four charity partners*.

Chantry Primary Academy in Luton has 600 pupils aged between three and 11, some with visual impairment and others with significant behavioral and emotional difficulties.

The brand-new Sunshine Coach will give the visually impaired pupils access to horse riding, residential visits and sporting events. The children with behavioral and emotional difficulties will use the minibus for visits to build their social skills, such as team work and communication.

The new coach will be used every day, including during holidays and weekends, for pupils to benefit outside of school hours too.

Jamie Kelly, Assistant Headteacher at Chantry Primary Academy, said: "Our pupils, some of whom have a range of specific learning needs, come from the local area which suffers from significant social deprivation. The Sunshine Coach will be immensely valuable to the children allowing their young minds to explore places they would otherwise never get the chance to visit."

Colleen Ettridge, Major Corporate Account Manager at Variety, the Children's Charity, said: "We are dedicated to improving the lives of sick, disabled and disadvantaged children throughout the UK. The support we receive from Leeds Building Society and its members is valuable in helping Variety meet the special needs of children and to give them the chance to get more out of life."

Mary Petley, Leeds Building Society's branch manager in Stevenage, said: "We are delighted to make this donation and support Variety and Chantry Primary Academy. As a building society, we are owned by our members and are pleased to support good causes in the communities where we and our members live and work."
Ends
Notes to Editors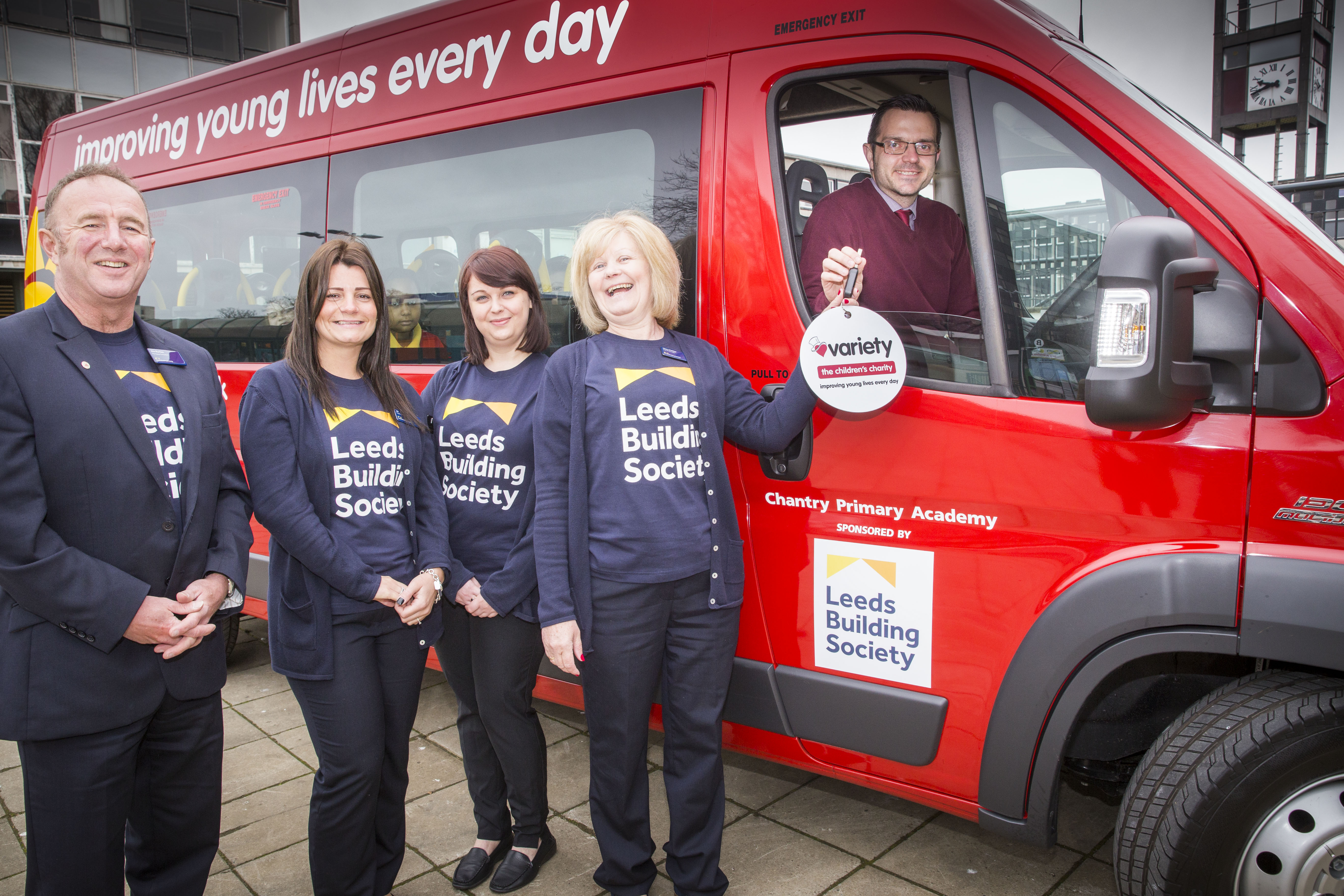 Standing L-R, are Joanne Ferguson, Frances Milburn, Mary Petley and Joe Burton (all Leeds Building Society Stevenage branch). Sitting in the coach is Jamie Kelly, Assistant Head teacher at Chantry Primary Academy. The presentation took place at the Exhibition Area, Stevenage.
Leeds Building Society's Caring Saver account is the kind of account that appeals to your head as well as your heart. It offers easy access to your money, while also bringing benefits to people who really need it at the same time.
*Leeds Building Society's partner charities are Variety, the Children's Charity; Marie Curie; Age UK; and Leeds Building Society Charitable Foundation.
Leeds Building Society's Stevenage branch is at 52 Queensway, Stevenage, SG1 1EE.
The Chantry Primary Academy in Luton is at Tomlinson Ave, Luton, Bedford LU4 0QP.
Leeds Building Society has 67 branches throughout the UK, Gibraltar and Ireland and assets of £13.5bn (at 31st December 2015). The Society has operated from the centre of Leeds since 1886.