Energy-efficient savings you can make around the home
UK household energy bills have risen by almost 40% over the past three years, resulting in a growing market for energy-saving home devices. These new devices aim to reduce your household bills and give respite from rising energy costs. In this article we take a look at some of the most popular products on the market.
Eco light bulbs
These monitors start from about £30 and allow you to see how much energy you're using and how much it is costing. The annual savings, which are based on household members having a greater appreciation of their usage, are between £20 to £75 a year, according to a recent Which? consumer survey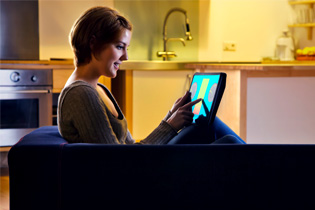 Remote control heating
Have you ever accidentally left the heating on when you have gone out? Remote control heating allows you to take control of your heating bills using an application on your mobile phone. The units start from around £199, usually including full installation, and are available at several high street retailers including PC World, the Apple store and Currys.
Eco-plugs
Households are losing out on over £220m a year by leaving electrical appliances on standby, according to recent figures published by online comparison service uswitch.com. An eco-plug device plugs into a USB port on your PC and flashes to remind you to press it when you need a break. It then puts your computer into its most efficient energy-saving mode.
The screen on the plug allows you to see how much money and carbon you are saving each time you use the plug. Energy savings are estimated at £18 a year for a typical household user.
Eco-shower heads
A recent survey by Which? showed that some power showers can use more water in five minutes than it takes to fill a bath. An eco-shower head works by incorporating air into the water flow or by making the water "pulse" rather than flow continuously. The shower heads can reduce water flow by over 30%.
Water Meters
You can ask your water supplier to install a meter if you do not have one already. This is normally free in England and Wales, unless big adjustments are needed to your house pipework. The Consumer Council for Water suggests that those who use a water meter cut their household bills by about £100 a year.