The Ultimate Moving Day Survival Pack
For all your moving day essentials look no further...
Our Moving Day Survival Pack includes everything you'll need for the day when you get the keys to your new home. Put it all in one easy-to-locate box and you can focus your efforts on the move rather than spending time trying to find your kettle for that much needed brew!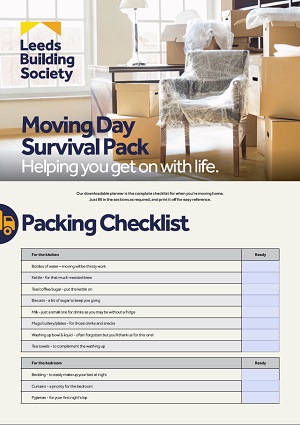 Moving Day Checklist
Our checklist will help you set aside everything you might need to get you through the big move day. We've broken it down to cover things for the kitchen, things for the bedroom, things that'll come in handy and more. Everything from tea, coffee and biscuits to keep you going through to screwdrivers and a tape measure for that quick DIY fix can be found on our ultimate checklist. There's even room for five of your own additions at the bottom of the list.
Top tips for the big 'move' day
As well as knowing what to include in your moving day essentials box, we've also compiled some top tips to get you through the day.
1. Removal costs
Removal costs may be avoidable. If you're moving out of your parents' home or from a furnished rental, you may not have a lot to take with you. If this sounds like you, ask a few friends (with cars) to help you on the day. It might take a few trips back and forth but it'll save you quite a bit of money. Just be sure to repay your friends for all their help. Doughnuts never fail to impress! If you do have a lot of items to move, consider hiring a van for a few hours. Again, this will be cheaper than using a removal firm.
2. Squeaky Clean
Before you start unpacking, you'll probably want to give everywhere a good clean (hence the cleaning spray and cloths on our moving day checklist). Be methodical and tackle one room at a time. In the kitchen for example, wipe down surfaces and the insides of the cupboards before you start to fill them.
3. Label
Label every box you pack up. Unless you have x-ray vision it's very difficult to distinguish one cardboard box from another and you don't want to be opening and moving boxes from room to room. Clearly write on the box, the room in which it needs to go. If you're using a removal company, a simple room plan will help them know where to put each box.
4. Clear out
When packing up for the big move, decide what you really want to take with you. Don't move things you'll end up throwing out, it'll just take more time and effort. Use it as an opportunity to declutter and you could even make some money in the process. Go along to a car boot sale with anything you no longer need. You might be surprised at how much you could make.
5. Bag yourself some boxes
Trust us, you're going to need plenty of boxes for moving. But you don't need to fork out for these. A few weeks before your move, start collecting as many boxes as you can get your hands on. Supermarkets are a good place to visit for these. You'll also need some strong tape and plenty of newspaper to protect your belongings. Avoid overloading the boxes as they'll be too heavy to transport and you run the risk of the box falling open mid-move - never a good thing.
6. Fail free flat packs
When dismantling your furniture grab some food bags to store all the little nuts and bolts. Label the bags up so you know exactly what the parts belong to. If you no longer have the instructions, take pictures as you dismantle the item and you could even use coloured stickers so that you know which part goes with what.
For more hints and tips on what to do in the run up to the big move and the day itself, check out this article.