What does the UK look for in a dream home?
Warning: THE MORTGAGED PROPERTY (WHICH MAY BE YOUR HOME) MAY BE REPOSSESSED IF YOU DO NOT KEEP UP REPAYMENTS ON YOUR MORTGAGE
Top property features and turn-offs for UK home buyers
We surveyed homeowners across the UK to find out what exactly makes them tick when buying a home. With so much choice on the property market, we wanted to know the things that people would and would not compromise on.
The survey, commissioned by Leeds Building Society and carried out by OnePoll, asked 1000 people what they would look for in their next home.
Our survey* told us that a three-bed, two-bathroom detached period property was the most popular property for homeowners in all parts of the UK.
Almost half of those surveyed (48.5%) are looking for a detached property, with a similar proportion (52.4%) wanting three bedrooms. In fact, three-quarters (74.3%) wanted three bedrooms as a minimum.
More than three-quarters are tired of fighting with loved ones over access to the bathroom, with 76.2% of those surveyed not prepared to settle for just one. Two bathrooms is the most popular preference, with 56.2% choosing this as their top priority.
Location, property size, garden space, property layout and off-street parking are the top five things British homeowners' look for in their property search. In contrast to this, UK buyers are happy to compromise on good decoration, period features, a new kitchen and bathroom and fireplaces or woodburners. There may even be some room for compromise on the property layout if everything else ticks the box.
We also asked what are the top property turn-offs for people when buying a property. There was no surprise when the top two included no garden or driveway. However, potential buyers can also be turned off by an old heating system and the need for modernisation.
Are you looking to buy a new home? Why not take a look at our property guide to see the latest property information provided by Zoopla.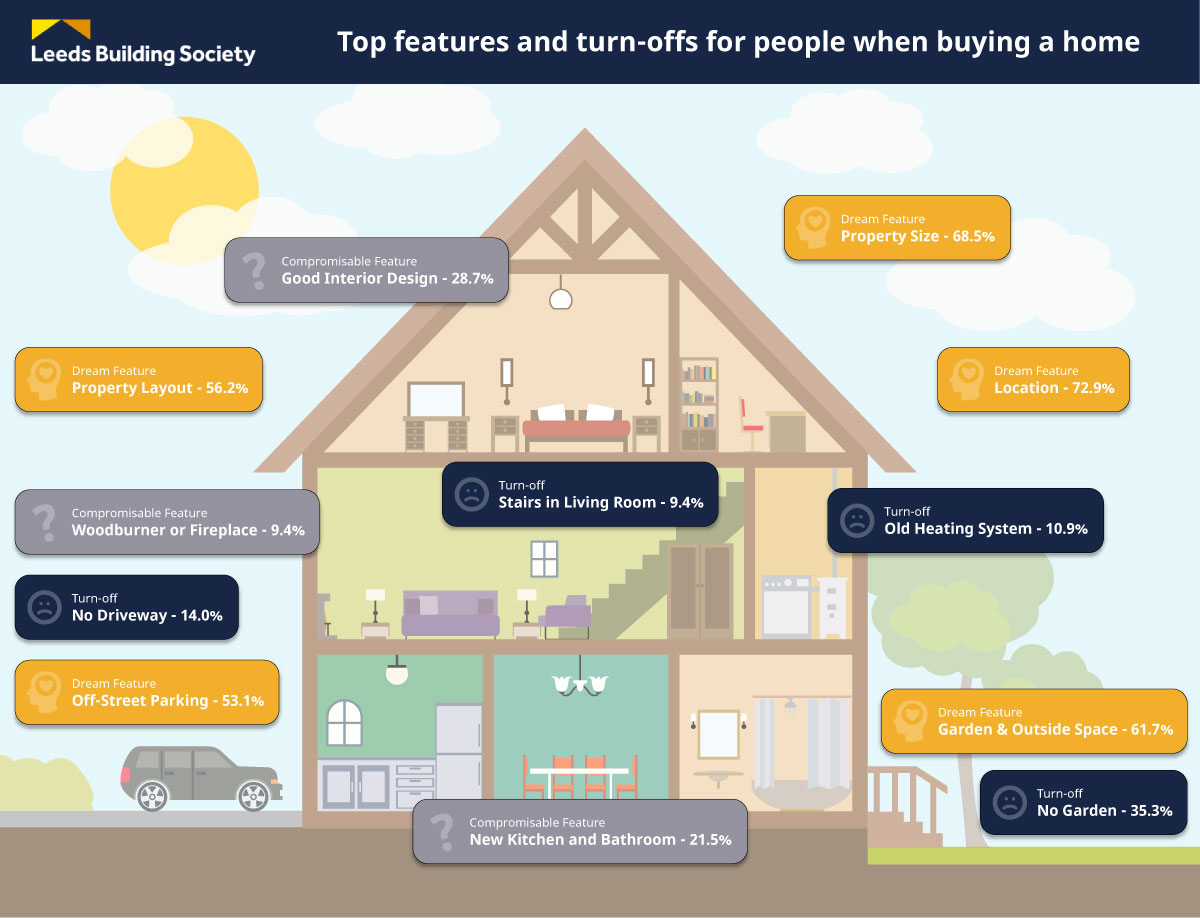 The top five features in a dream property were:
Location (72.9%)
Property size (68.5%)
Garden and outside space (61.7%)
Property layout (56.2%)
Off-street parking (53.1%)
By contrast, the five features buyers were most prepared to compromise on were:
Good interor decoration (28.7%)
Period features (23.6%)
New kitchen and bathroom (21.5%)
Woodburner or fireplace (21.5%)
Property layout (21.2%)
While the five biggest turn-offs for a purchaser would be:
No garden (35.3%)
No driveway (14.0%)
Old heating system (10.9%)
Need for modernisation (10.0%)
Stairs in the living room (9.4%)
*Survey conducted by OnePoll, March 2015.
This guide is intended as a summary only and does not constitute legal advice given by Leeds Building Society. No reliance should be placed on this guide and you must make your own decisions, we recommend that you seek legal and/or financial advice if you have any questions or queries.