What do you look for in a property?
Warning: THE MORTGAGED PROPERTY (WHICH MAY BE YOUR HOME) MAY BE REPOSSESSED IF YOU DO NOT KEEP UP REPAYMENTS ON YOUR MORTGAGE
Top features and turn-offs for people when buying a home
What do you look for in your next home? It's a question we asked prospective homeowners* to find out exactly what they look for when it comes to buying a property.
The survey, commissioned by Leeds Building Society and carried out by OnePoll in March 2015, asked 1000 people a number of questions about what they want and don't want in their next home.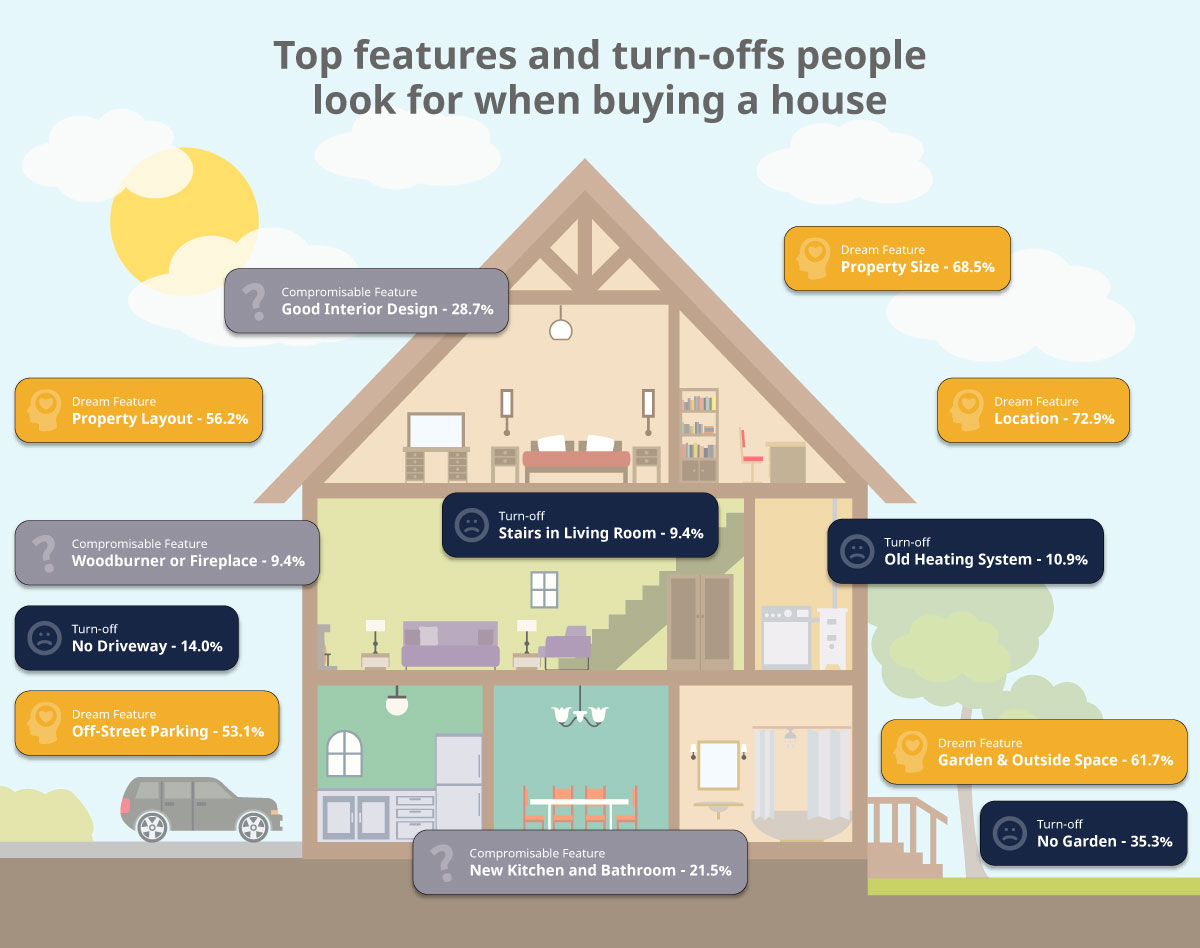 If you're starting out on the property hunt or looking to sell your home, here are the top five features that buyers look for in a home.
Location, location, location
Unsurprisingly location was the number one factor in choosing a home, over 73% of people put this at the top of their list of must-haves. Choosing where to live is extremely important and matters on many different levels. Before starting out on the property hunt ask yourself a few questions to decide on where you might like to live:



Do I want 'city centre buzz' or 'quieter country life'?
How close do I want to be to friends and family?
Do I need good transport links to work?
Do I need to be close to good schools and parks?

Property size
68% of people surveyed said that the size of the property was an important factor in buying a house. It might seem obvious but making sure you'll have the space you need now (somewhere to eat, sleep and relax) as well as in the future should be a key part of selecting a property. What if a partner moves in or you decide to have children or pets? You should consider if the space will fit your lifestyle now and in years to come.
Garden and outside space
Outside space comes in a number of guises: gardens, yards, balconies; they all have their benefits. 61% of people are looking for a property with some sort of an outside space. If you're looking to sell make sure you're making the most of the outside space you have to offer.
Layout
56% of people surveyed said that the layout of a property was important to them. It's easy to be tempted by a great layout, but remember - there may be room for compromise on this if everything else ticks the boxes. Plus, there's always the option to change the layout yourself. Whether it's knocking down a wall to make a bright open plan kitchen/diner, or increasing the size of the living room because there's no need for the study next to it, you'll have the freedom to create a great space that works for you.
Off-street parking
Whether you're in the heart of the city or the serene suburbs, it's always comforting to know that your car is safely tucked away when at home. 53.1% of people labelled off-street parking a dream feature - so if you're likely to have sleepless nights worrying that your car could be damaged, consider making this an essential part of your property search. Ensuring your driveway is in good condition and usable is also a key factor in making your property attractive to potential buyers.
Are you looking to buy a new home? Why not take a look at our property guide to see the latest property information provided by Zoopla**.
*Survey conducted by OnePoll, March 2015.
**The use of the Google map function and information provided by Zoopla within the property guide is subject to the respective Terms of Use of Google and Zoopla. Leeds Building Society makes no representation and accepts no responsibility as to the accuracy and / or completeness of the map function or the information provided within the property guide. The links contained within the property guide will exit Leeds Building Society's website when clicked. Leeds Building Society does not accept any responsibility or liability for your use of these links.
This guide is intended as a summary only and does not constitute legal or financial advice given by Leeds Building Society. No reliance should be placed on this guide and you must make your own decisions, we recommend that you seek legal and/or financial advice if you have any questions or queries.