Portfolio landlord changes: everything you need to know
Warning: THE MORTGAGED PROPERTY (WHICH MAY BE YOUR HOME) MAY BE REPOSSESSED IF YOU DO NOT KEEP UP REPAYMENTS ON YOUR MORTGAGE
The last few years have seen a whole host of changes to the buy to let market, from higher stamp duty rates to the restriction of income tax relief on finance costs.
And from 30 September, a regulatory change means that all buy to let mortgage lenders have to alter the way they underwrite mortgages for landlords with four or more mortgaged rental properties.
These landlords will be known as portfolio landlords.
What is a portfolio landlord?
A portfolio landlord is defined as any buy to let landlord with four or more mortgaged rental properties.
The mortgaged bit is key. You're only a portfolio landlord if you have four or more buy to let mortgages. Unmortgaged properties don't count.
What's changing?
If you're a portfolio landlord, lenders will have to assess your entire portfolio when deciding whether to offer you another buy to let mortgage.
Lenders are likely to look at:
Your experience in property investment
The total amount of money you've borrowed across all your mortgaged buy to let properties
The total income you generate from rental property, and any alternative sources of income you may have
Your future business plans
Your assets and liabilities, including any tax liability from your rental properties
Your cash flow
How can buy to let landlords prepare?
If you're a portfolio landlord, you'll likely need to provide more evidence to support additional buy to let mortgage applications.
To prepare for the changes, you could consider:
Speaking to your broker or mortgage lender(s). They can help you understand how the changes will affect you specifically
Clarifying your portfolio plans. What do you want to do with your properties in the future? Lenders are likely to ask you about it, so get your answers ready
Getting your paperwork in order, so that you've got all the relevant information about your portfolio ready if your lender asks to see it
What's the likely impact on the market?
Even if you qualify as a portfolio landlord, you probably won't notice much difference in the application process. You may be asked for a bit more information and documentation, and it might take slightly longer to get a decision on application, but otherwise those changes should be minimal.
However, by splitting landlords into portfolio and non-portfolio, the changes will allow some lenders to offer more support for portfolio landlords. Some lenders (including Leeds Building Society) will make further changes to their criteria to support portfolio landlords. Lenders might also split their product offerings, creating mortgages designed specifically to meet the needs of portfolio landlords.
So keep an eye out for any changes, and speak to your broker. You may find you have better, more flexible options from many lenders than you did before.
A time of change for buy to let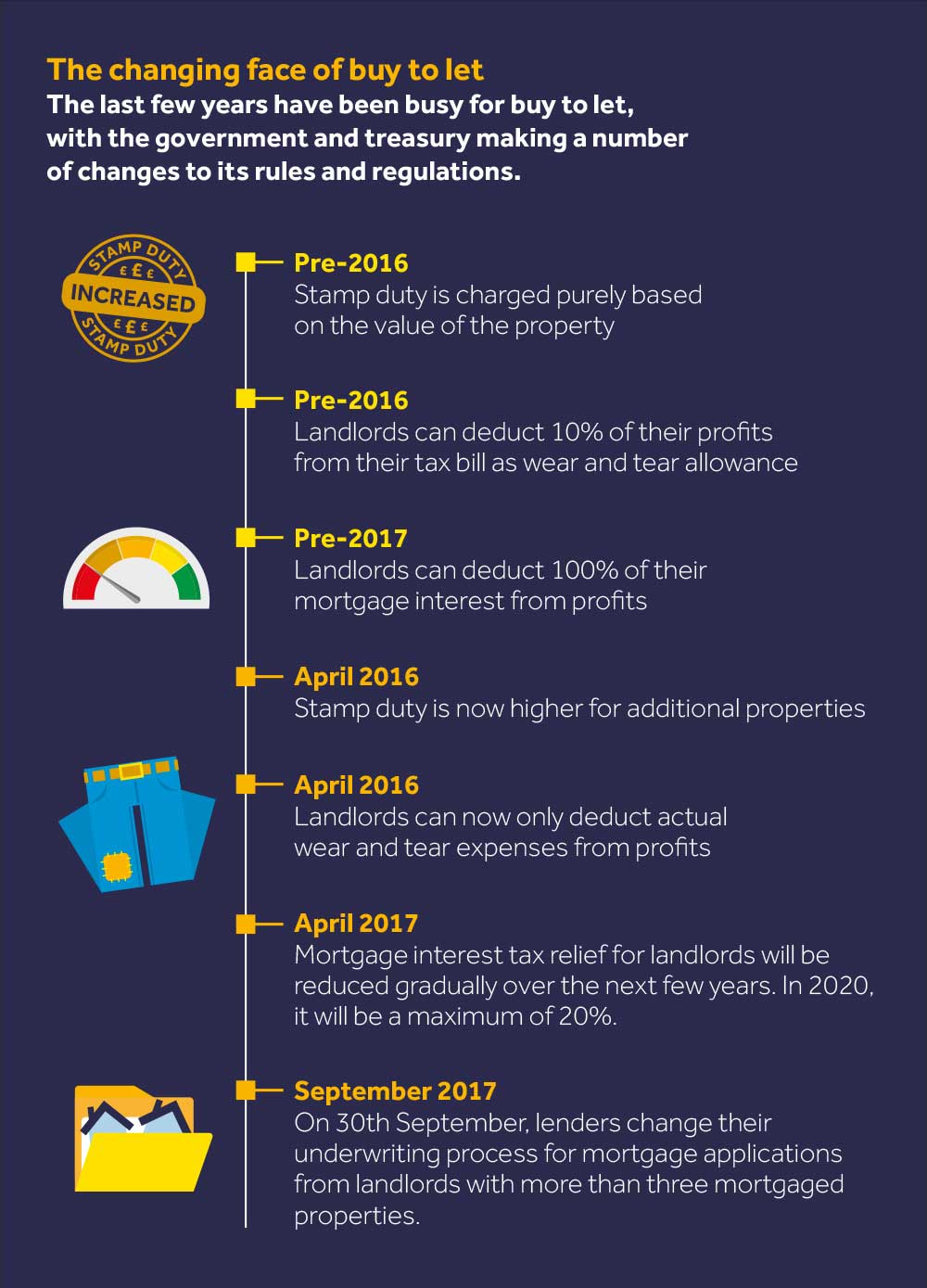 There have been numerous changes to buy to let in the last couple of years.
One major change affected stamp duty. Rather than having a flat percentage of stamp duty based on the price of the property, anyone buying an additional property to the one they live in would have to pay a higher percentage of stamp duty on that property. This means that as a buy to let landlord, you may have to pay higher stamp duty fees.
We also saw changes to mortgage interest tax relief. Prior to the new tax year, you could deduct all of the interest charged on your buy to let mortgage for the year from your profits, which meant a lower overall tax bill.
But the percentage of your mortgage interest you can deduct from profits is being reduced over the next few years by 20% per year, ending in 2020, when the maximum amount of interest you can offset will be 20%.
Because of this, many lenders have adopted a higher Income Coverage Ratio (ICR), so you may find it harder to get a buy to let mortgage application accepted if you have a low rental yield from your properties.
ICR means the amount by which your rental income exceeds your mortgage interest payments. A 140% ICR means that your rental income is equal to at least 140% of your mortgage interest repayments.
Wear and tear allowance changed too. Rather than being able to deduct 10% of your profits from their taxable profits as wear and tear allowance (as was previously the case), you can now only claim back actual wear and tear expenses.
And now, with the new changes being implemented at the end of September, we're likely to see many lenders tailoring their buy to let offerings to better meet the specific needs of customers. It should turn out to be promising, positive change at a time of uncertainty for buy to let landlords.
This guide is intended as a summary only and does not constitute legal or financial advice given by Leeds Building Society. No reliance should be placed on this guide. We recommend that you seek independent legal advice and/or financial advice if you have any questions or queries.