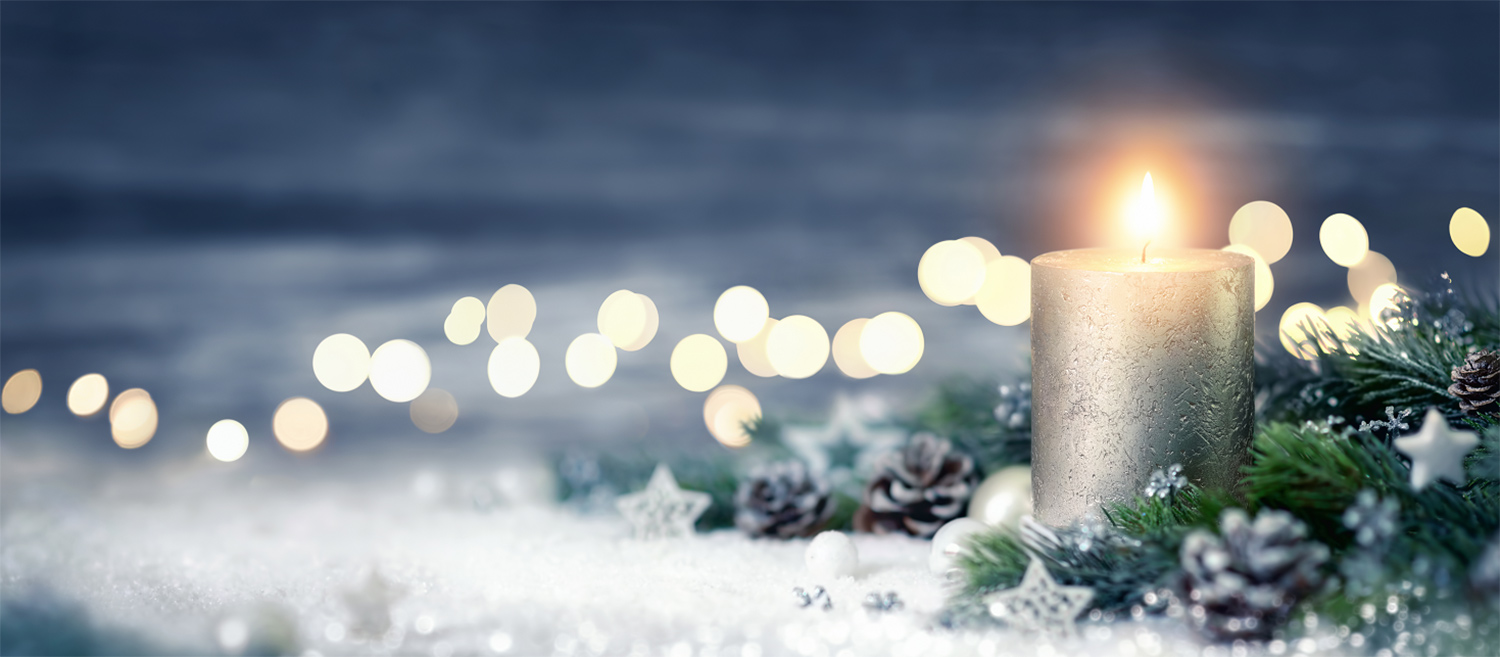 12 days of green Christmas
At Leeds Building Society we're hugely committed to protecting our environment, and we're lucky enough to have our Green Champions to help lead these efforts.
The arrival of December signals several things - it's getting colder, it's almost Christmas and, most importantly, we get to eat chocolate every day! While we love the classic advent calendars, we love our planet more. That's why our Green Champions have gifted us with their '12 Days of Green Christmas' campaign.
Day one: The tree
For us, no moment feels more Christmassy than when we decide to finally put the tree up. Sticking on some classic Christmas music or a festive feel-good film while you decorate makes things even more magical.
If you've not got your tree up yet, it's worth considering the impact when you make your choice – artificial or real?
The Carbon Trust advise purchasing a real Christmas tree over an artificial one, as it will a have significantly lower carbon footprint and can be recycled. However, if you plan to keep your artificial tree for at least 10 years, it could end up being less impactful on the environment than the natural option.
Reusing trees isn't only possible when you go down the artificial route though. Buying a potted tree allows you keep using it year on year, and can live in your garden outside of the festive season. Having the same tree can feel extra special at Christmas, and moving it from your garden to your home can be a tradition in itself.
Just be aware that these are slightly smaller than the average Christmas tree!

Day two: Gifts
Have an animal loving friend or family member? Make their Christmas and support conservation efforts at the same time by adopting an animal in their name. This makes a unique and really worthwhile gift, allowing you both to support endangered wildlife.
From African elephants to zebras, there's a huge range of animals that need our help, and it's likely there's an adoption pack for your recipient's favourite.
Upon receiving this gift, not only will your friend or family member know they're helping such a great cause, but they'll often also get a soft toy or information pack so there will still be something to wrap (you're not getting out of it that easily!).

Day three: Wrapping
On the topic of wrapping paper, there are environmentally friendly choices to be made here too. Recycled paper or old newspaper are more sustainable options for wrapping gifts, but you can take things one step further by avoiding paper altogether.
Wrapping gifts in nice fabrics will add a touch of luxury to any gift and can be re-used again and again, so could end up saving you money too. Scraps of various fabric types can often be found in charity shops and craft stores, so keep an eye out for the best patterns…

Day four: Decorations
Re-using the same Christmas decorations each year just makes sense. It's easier on the pocket, creates a feeling of nostalgia, and is better for the environment.
However, if you're desperate for something new to refresh your festive set-up, or you need to start from the beginning with your first decorations, you might want to consider making your own. There are lots of online tutorials on how to do this, especially on wreathes which are particularly fun to make. The best part is there are so many ways you can customise wreaths to your own tastes, so you can make sure they perfectly match the rest of your decorations.
Alternatively, if you lack faith in your own craftiness, it's worth exploring decorations made from sustainable, non-plastic materials.

Day five: Cards
Help prevent the destruction of our woodlands by only buying FSC-credited cards, or consider purchasing cards made with seeded paper so they can be planted in the spring (and provide an extra gift of beautiful flowers).
Alternatively, avoid physical cards altogether and commit to only sending e-cards this year. They usually work out cheaper, can often be personalised for the recipient, and best of all require no extra materials to make!
No matter what kind of cards you choose to send, you're likely to receive many in return. The first thing you should do after Christmas is check whether these are recyclable (they will often tell you on the back). If the card has glitter or embellishments on it, they probably can't be recycled. However, you could always cut these up and use them in craft projects - perhaps even some homemade cards for next year…

Day six: Recycling
We've mentioned recycling a few times already in this article, but it's so important we wanted to dedicate a full day to it!
After unwrapping your gifts from loved ones, you'll probably be left with a lot of waste. Things like packaging and cards usually make it clear whether they can be recycled by displaying the recognisable triangular symbol. However, some other items, such as wrapping paper, can be harder to determine.
Luckily, there is a quick test you can do to help decide. Try scrunching the paper into a ball. If it's stays in a ball after you let go it should be okay to recycle, just make sure there's no glitter, tape or ribbon on it first.

Day seven: Batteries
We doubt you can make it through Christmas without buying any batteries, particularly if you have kids to buy for! Christmas spending really adds up, so it's probably tempting to buy the cheapest batteries possible. However, it's better for your pocket (and the planet) in the long-run if you purchase re-chargeable batteries.
Re-chargeable batteries will cost a little more upfront, but as time goes by the savings will be massive as you simply juice them back up instead of having to replace them completely. This also means there will be less toxic chemicals entering our landfills.
Win-win!

Day eight: Candles
Candles are a great go-to gift for loved ones - they're pretty, smell great and can be very cost-effective. However, we could be unknowingly harming both their health and the environment due to the materials used in many candles.
Not to worry though! There are plenty of eco-friendly options and they're widely available, so you don't need to lose out on that unbeatable Christmas scent this year - phew!
Whilst paraffin candles release carcinogenic materials into the air, soy and beeswax alternatives are eco-friendly, biodegradable and don't contain pollutants. Additionally, they don't burn as hot as paraffin candles so will last even longer!

Day nine: The food
Now, more than ever, it's important to support local businesses. Buying your Christmas dinner ingredients from them will help neighbourhood traders and the environment.
Most local greengrocers or markets get their produce from nearby, so simply buying from them over national retailers will reduce your carbon footprint. Plus, as it's clocked up less food miles, the ingredients are often fresher and contains more nutrients.
Wherever you do the big shop, remember to bring your own bags and try to opt for products with minimal packaging.

Day ten: Heating
It's extremely tempting to put the heating on full whack this month, but there are other ways to get warm and toasty.
Turning your heating down by just one degree could lower both your carbon footprint and your heating bill, giving you the perfect excuse to rock your favourite Christmas jumper at home. Other ways to stay warmer include keeping curtains closed, sitting under blankets and even dancing to work up a sweat!

Day eleven: Lights
If you're shopping for some new Christmas lights this year, consider looking out for LEDs. They're much gentler on the planet than standard lights, and can use up to 80% less energy. Other eco-friendly alternatives include lights that use solar power or rechargeable batteries.
Also be mindful of when you're turning your lights on. They add a super cosy glow to your living room on a dark evening, but do you really need them on in the middle of the day? And definitely don't leave them on overnight – not only will this use more energy but could prove a fire hazard.
When your lights eventually break beyond repair, and the time comes to throw them away, please remember to check whether you could recycle them instead. Around 500 tonnes of Christmas lights are binned each year in the UK, when most can actually be recycled. Let's make it our New Year's resolution to massively reduce that number this year!

Day twelve: Donate
Let's face it, we've all had moments we've had to slightly fake our enthusiasm for certain received gifts. Of course, it's the thought that counts, but there's no point letting perfectly good items lay forgotten and gathering dust in the back of a cupboard. Make sure to donate unwanted gifts to charity shops, so that somebody who would really love the item can grab a bargain while donating to a good cause.
Similarly, if you receive lots of clothes that you do want to keep, you may find that you no longer have use for other pieces in your wardrobe. You know what to do - donate, donate, donate!
We wish you all a lovely Christmas, full of love, joy and excitement. It will probably be a very busy time, but we'd encourage you to try to spend a few moments thinking about the environmental impact so our beautiful planet can be here for many more Christmases to come.
To find out what we're doing to reduce our own carbon footprint, head over to our recent article.