Branch birthdays for Reading and Southampton
Happy half-century to our Reading and Southampton branch!
This June we've been celebrating 50 years since our Reading and Southampton branches first opened their doors.
Life has changed a lot since 1969 – a year which saw Neil Armstrong's moon landing and the Beatles perform together for the final time. But we're so proud to have remained at the heart of these local communities, helping local people save and have the home they want.
How did Southampton celebrate?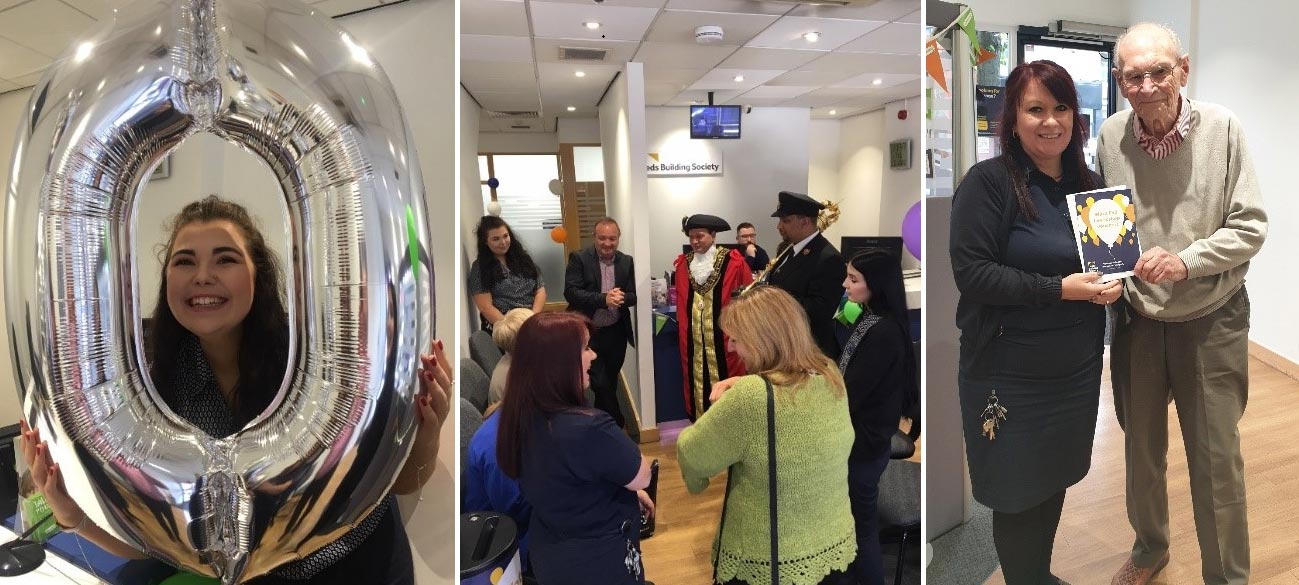 Members new and old had a great time celebrating on the 6th June. Joined by the Mayor of Southampton (pictured above, middle), there was tea, cake, competitions and goodie bags to commemorate the occasion.
In fact, one of our lucky competition winners was also celebrating his own milestone when he popped in to see us in branch – on his 100th birthday! Our lucky winner pictured above (far right) with Branch Manager Alison Cottle, won a £50 voucher after answering our pop quiz question correctly. Would you have known what year the Titanic set sail from the White Star Dock in Southampton?
As well as celebrating on the day, we'll also be giving a birthday donation to some great causes who are all working hard in Southampton communities to make life better for local people. The donation will be split between Southampton Sight, Southampton Hospital Charity and the Southampton branch of Samaritans.
Alison Cottle reflected on the event: "It's quite an achievement to reach 50 years of service to the local community here in Southampton. At a time when high streets are seeing retail business close, it's great to be able to mark the long-term relationship Leeds Building Society has had with the city."
The festivities in Reading

It's clear to see that colleagues and members alike made the most of festivities in Reading on the 7th June. To mark their 50 years they were joined by two very special guests, Rex Kilby and Sandra Freeman. Rex and Sandra actually opened the doors to the Reading branch back in 1969, as the Branch Manager and Secretary.
As well as enjoying some much deserved cake, the Reading branch will also be supporting some dedicated local causes through a birthday donation. This will be split between the Diana Brimblecombe Animal Rescue Centre, Sue Ryder Duchess of Kent Hospice and the Reading branch of Samaritans.
In both Reading and Southampton, members themselves were invited to vote on how the donation should be shared amongst the different charities.
Helping you get on with life
We're all about community here at Leeds Building Society so it's been really lovely to see people come together to celebrate our little bit of history.
And even more than that, it's been a real privilege for our branches to see local people creating memories of their own over the past 50 years - by growing their savings and buying the homes they want.
So a big happy birthday to Reading and Southampton branches. And to Ripon, Barnsley and Bradford who will also be celebrating milestone birthdays this year. Here's to you!