We're continuing to reduce our carbon footprint
At Leeds Building Society, we're serious about doing our bit for the environment. So we're proud to say that we've held the Carbon Trust Standard for Carbon since 2018.
The certification shows that we're committed to minimising our carbon footprint. And we're one of only two building societies to have it.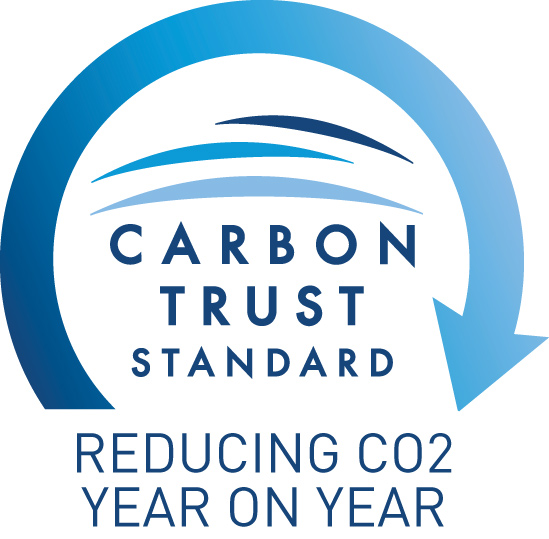 What is the Carbon Trust Standard for Carbon?
The Carbon Trust Standard for Carbon recognises organisations that are cutting their carbon footprint. It was developed by the Carbon Trust, an independent, expert partner of leading organisations around the world, helping them contribute to and benefit from a more sustainable future.
How have we cut our carbon footprint?
Since 2016 we've reduced our diesel, electric and gas emissions by 1,188,900kg CO2e, using a market-based approach. That's the equivalent of taking 575 average sized cars off the road for a year!
Using a location-based approach, which doesn't include the purchase of renewable electricity, our emissions have decreased by 473,388kg CO2e since 2016[1].
We've also started to track our travel footprint. It's not included in our carbon footprint calculation for now, but you can see it in the tables below.
Here are 3 things we've done to help reduce our carbon footprint:
100% renewable electricity
We're continuing to purchase 100% renewable electricity in our branches and offices. This energy comes from wind and hydro sources, which is matched to Renewable Energy Guarantees of Origin (REGOs). So for every unit of energy we use in our branches and offices, another unit of renewable energy is put into the National Grid.
Our new head office
We'll be moving to our new head office in 2021. This will bring together more than 800 colleagues, who are currently spread across three city centre locations.
We're committed to reducing our new office's carbon footprint. So we've replaced the existing façade with glass, increasing the amount of natural daylight. This means we can use less artificial lighting. We've also installed new cladding, keeping the heat in during winter and reducing the amount of cooling we need in the summer. And we've taken out all the fossil fuel heating from the building. That means it'll be completely powered by renewable electricity, like the rest of our offices and branches.
We'll need to replace certain parts of the building. But we're also upcycling what we can. We're working with our contractors to recycle the materials we remove, creating new products that we can re-incorporate into the building.
Encouraging our colleagues to take action
In 2019, we teamed up with Do Nation to support our colleagues to make sustainable lifestyle changes. During the one-month campaign over 100 pledges were made by colleagues. They ranged from taking the stairs to cutting down on meat consumption. The pledges were estimated to save almost 3,000kg CO2, or the equivalent of 27 flights from Glasgow to Amsterdam. According to Do Nation there's a 54% chance people will stick to their pledges for two months, and a 42% chance they'll continue for a year or more[2].
Market-based approach
| | | | | |
| --- | --- | --- | --- | --- |
| Co2e emissions (kg) | 2016 | 2017 | 2018 | 2019 |
| Scope 1 | | | | |
| Diesel | 6,285 | 2,410 | 0 | 0 |
| Gas | 101,832 | 106,859 | 60,731 | 50,303 |
| Total scope 1 | 108,117 | 109,269 | 60,731 | 50,303 |
| Scope 2 | | | | |
| Purchased electricity | 1,131,086 | 0 | 0 | 0 |
| Total scope 2 | 1,131,086 | 0 | 0 | 0 |
| Total scope 1 & 2 | 1,239,203 | 109,269 | 60,731 | 50,303 |
| Scope 3 | | | | |
| Air travel | N/A | 11,715 | 10,889 | 12,469 |
| Car mileage | N/A | 155,390 | 130,474 | 113,465 |
| Rail travel | N/A | 38,226 | 40,772 | 31,200 |
| Total scope 1, 2 & 3 | N/A | 314,600 | 242,866 | 207,473 |
Location-based approach
| | | | | |
| --- | --- | --- | --- | --- |
| Co2e emissions (kg) | 2016 | 2017 | 2018 | 2019 |
| Scope 1 | | | | |
| Diesel | 6,285 | 2,410 | 0 | 0 |
| Gas | 101,832 | 106,859 | 60,731 | 50,303 |
| Total scope 1 | 108,117 | 109,269 | 60,731 | 50,303 |
| Scope 2 | | | | |
| Purchased electricity | 1,532,932 | 1,336,002 | 1,072,524 | 1,117,357 |
| Total scope 2 | 1,532,932 | 1,336,002 | 1,072,524 | 1,117,357 |
| Total scope 1 & 2 | 1,641,049 | 1,445,271 | 1,133,255 | 1,167,660 |
| Scope 3 | | | | |
| Air travel | N/A | 11,715 | 10,889 | 12,469 |
| Car mileage | N/A | 155,390 | 130,474 | 113,465 |
| Rail travel | N/A | 38,226 | 40,772 | 31,200 |
| Total scope 1, 2 & 3 | N/A | 1,650,602 | 1,315,390 | 1,324,794 |