We've raised over £31,000 for Dementia UK
As you might already know, we launched our new charity partnership with Dementia UK in April. It's been a critical few months for the charity, as it's continued to support families living with dementia through the pandemic.
We kicked off our partnership with a £25,000 donation to support Dementia UK's Helpline appeal. But we wanted to do more to support the charity through this difficult time. And we knew our brilliant colleagues would be up for the challenge.
So we came up with an idea. We challenged our colleagues to set themselves a daily task throughout July that they could be sponsored for. And they really stepped up, doing everything from hula hooping to learning Italian!
What have our colleagues been up to?
Taking the first step
Joanna, manager of our Huddersfield branch, found an innovative way to raise money. Her 14-month-old son, Seb, is nearly walking – so she asked friends and family to sponsor him as he practised walking every day.

"He's been using his walker every day. I've not been measuring his steps, but friends and family sponsored him to take part for a month. It's just a fun way of encouraging him to improve his walking and I feel really proud of him as he's raised £660."


Going the extra mile
For one challenge, 28 members of our intermediaries team set themselves the task of walking, cycling or running a total of 2,508 miles. That's the equivalent of travelling between our head office in Leeds and the North Pole! And they smashed their target, covering 3,886 miles.

"Coronavirus has highlighted just how important it is to support charities and the team wanted to help because dementia touches the lives of so many of our colleagues and members," said Tony, Intermediary Business Development Team Manager.


Spinning around
Four colleagues from our Durham branch set themselves a unique challenge. They decided to start hula hooping every day to raise money for Dementia UK.

Jennifer, who works at the branch, said: "A lot of our members and colleagues have family or friends who suffer from dementia and we wanted to help as much as we can."


Walking with purpose
Alison, manager of our Southampton branch, walked or cycled every day in July, clocking up over 100 miles. Dementia UK helped Alison understand about dementia after her dad, John, was diagnosed.

"It's hard when your dad no longer recognises you and I found it difficult to deal with my dad's diagnosis but Dementia UK's Admiral Nurses really helped me. That's why I wanted to take part in this challenge. It hasn't been easy for me as I have arthritis in my feet and have high blood pressure, but I was determined to help Dementia UK."
How much did we raise?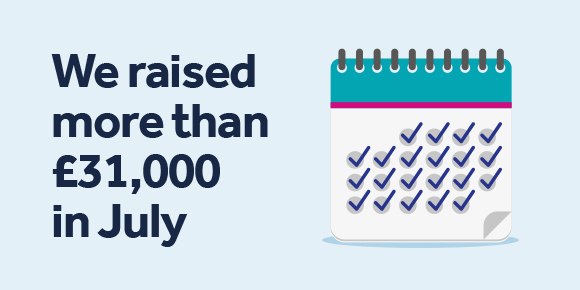 Thanks to our fantastic colleagues and their supporters, as well as our match funding, we managed to raise over £31,000 in July.
This takes the total amount that the Society, our members and colleagues have donated to more than £60,000 since we launched the partnership. We want to say a heartfelt thank you to all who took part – we couldn't have done it without you.
How will the money help?
Coronavirus has affected us all and changed our way of life as we know it. But it's been especially tough for those caring for a loved one with dementia.
According to Office for National Statistics (ONS) data, dementia is the most common existing health condition among coronavirus deaths, with over 25% also involving dementia. But through this difficult time, Dementia UK has been there to help families in need.
The charity has been able to offer support through its National Dementia Helpline. It's been busier than ever, with demand increasing by 38% in May 2020 compared to May 2019. Thankfully, Dementia UK has been able to increase the number of Admiral Nurses on each Helpline shift.
It's also introduced dedicated training for Admiral Nurses, so they can help families facing higher levels of stress, anxiety and complexity due to coronavirus. Some Admiral Nurses were even redeployed at the start of the pandemic, to offer direct support to people with dementia on coronavirus positive wards.
Dementia UK's help makes a huge difference to families facing dementia. We're very proud to support the charity and the incredibly important work it does.
This article is intended as summary information only. No reliance should be placed on this article.