Financial Crime Awareness Week: how fraud savvy are you?
It's Financial Crime Awareness Week for our colleagues here at Leeds Building Society. And because we're busy talking all things scams at the moment, it seemed like a perfect opportunity to share some tips with our members too.
Also, in support of the national Take Five fraud awareness campaign, it's a chance to refresh people's memory on three simple rules: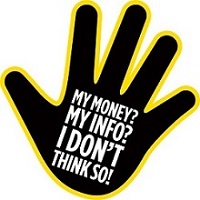 Stop – always take a moment to stop and think before parting with your money.
Challenge – it's ok to reject, refuse or ignore any requests. Only criminals will try to rush or panic you.
Protect – contact your bank or building society immediately if you think you've been scammed, and report it to Action Fraud.
We pride ourselves on being a secure, stable and trusted organisation. A big part of that means investing in training, technologies and processes – and holding awareness weeks like this. Ranging from guest speakers to competitions and insight sessions by our Financial Crime Team, our aim is that everyone becomes more fraud savvy.
So keep a look out throughout the week as we shine a spotlight on some common scams. How can you recognise them? How could you stop them? And what should you do if you think you've been a victim?
Shining a spotlight: Investment Scams
Put simply, investment scams involve a fraudster convincing you to invest in a particular opportunity, like shares in a company, plots of land or property, diamonds or gold, carbon credits or wine for example.
An example…
A member came into branch asking to send a significant amount of money abroad. They'd already invested in an energy company and were told they needed to send more money to formalise their agreement. If not, they risked losing all of their shares and investments.
Research into the company's website found there was very little information available, but confirmed they weren't a regulated organisation and had no compensation scheme in place. With this is mind, the member was recommended not to send any money. A referral was made to the Trading Standards, who advised they would be conducting an investigation into the company.
Now it would be easy to read the scenario above and think "I'd never fall for that!" But even the most financially savvy, experienced investors have been duped by these types of scams.
Fraudsters can be incredibly convincing and equally persistent. And they might even have a smart looking website or professional leaflets and documents to make themselves seem more legitimate.
So how can you spot an investment scam?
You get unexpected cold calls or emails, or follow-up calls after receiving a promotional brochure.
You're offered a very high return investment opportunity, with low risks.
They don't tell you a lot about these risks, or they're downplayed.
The fraudster creates a sense of urgency, telling you to act fast and creating a sense of panic.
They might tell you the opportunity is available for a limited time; or that they'll give you a bonus if you invest before a certain date.
They call a lot and keep you on the phone for a long time.
You may be told not to tell anyone.
Legal jargon or technical language is used to try and confuse you.
Remember, if it sounds too good to be true, it probably is.

What can you do?

As well as the stop, challenge and protect rules, there's a few things you should do when it comes to investment scams specifically:
Don't engage. If you're contacted unexpectedly about an investment opportunity, it's okay to hang-up.
Stay in control. If you end up in conversation with someone but you feel overwhelmed or uncomfortable – especially when they're asking for personal or financial information – have the confidence to stop the discussion.
Do your research. Never make an investment without careful consideration. The Financial Conduct Authority (FCA), our regulator, has an investment checking tool online. See if the opportunity being sold is on their warning list.
Get some advice from an Independent Financial Advisor (IFA) registered with the FCA if you're considering any kind of investment.
The FCA holds a list of unauthorised firms and individuals and a list of regulated firms and individuals, so you can cross check the name of the company against these.
If something feels suspicious, it couldn't hurt to run your concerns by a trusted family member or friend, just to see what they think.
Really importantly, take your time. It's easy to be persuaded in the heat of the moment, especially when your instinct is to trust people. But pausing for just five minutes to calmly and objectively think about whether the situation is genuine, could make all the difference.
Need to report something?

If any of this sounds familiar, and you think you've been a victim of investment fraud, report it to your bank or building society immediately. If that's us, please get in touch (Monday to Friday 8am-8pm, Saturday 9am-5pm). Don't feel embarrassed or ashamed to report it, it can happen to anyone. And we'll do all we can to help.

You should also report it to Action Fraud, the UK's national reporting centre for fraud and cybercrime, via their online form or by giving them a call on 0300 123 2040 (Monday to Friday 8am-8pm).

If you want to read more about other common scams, and get some more quick tips on how to keep yourself safe, take a look at our fraud guides.