Holidaying in the UK: the ultimate 'staycation'
The mortgaged property (which may be your home) may be repossessed if you do not keep up repayments on your mortgage
With our roots in beautiful Yorkshire, we don't have to be convinced that holidaying in the UK can be just as picturesque as going abroad.
We're not alone either. According to a recent survey*, 17% of British holidaymakers plan to 'staycation' in the UK this year.
In fact, Brits are spoilt for choice by beautiful coastlines, rolling hills and historical landmarks when it comes to picking a holiday spot nearer home. And that's without mentioning a key institution of any UK holiday – a cracking selection of local pubs.
So with the nation gearing up for the great British summer, we couldn't think of a better time to talk about just what holidaymakers want from their UK getaway.
Where do we head to?
Based on recent research** it looks like England is our preferred destination for a UK trip, with 62% of people putting it in their top spot. Coming in second was Wales with 36%, Scotland with 21% and Northern Ireland with 2%.
Digging into the favourite destination a bit more, within England it was the South West specifically which topped the polls (25%). Closely followed by Yorkshire and the Humber (16%), the North West (10%), North East (9%) and South East (6%) in the top five.
What type of holiday do we want?
Whilst we're also blessed with bustling, cosmopolitan cities in the UK, it's the quieter kind of trips which top the table. In fact, 49% of survey respondents favoured a holiday on the coast and 34% would opt for a country retreat. With the city break coming in third at a still impressive 17% of respondents making it their first choice.
Ultimately, the dream staycation turns out to be a cottage somewhere along the South West coast. And to be honest, you only have to search South West Coast Path to see why the scenery keeps people coming back.
Thinking of letting a holiday home? You might be interested to know…
There are a few things that UK holidaymakers need to make their stay the best it can be.
From a purely practical perspective, access to Wi-Fi and free parking are key features expected in any holiday home. Additionally, the top five amenities people look for during their stay include: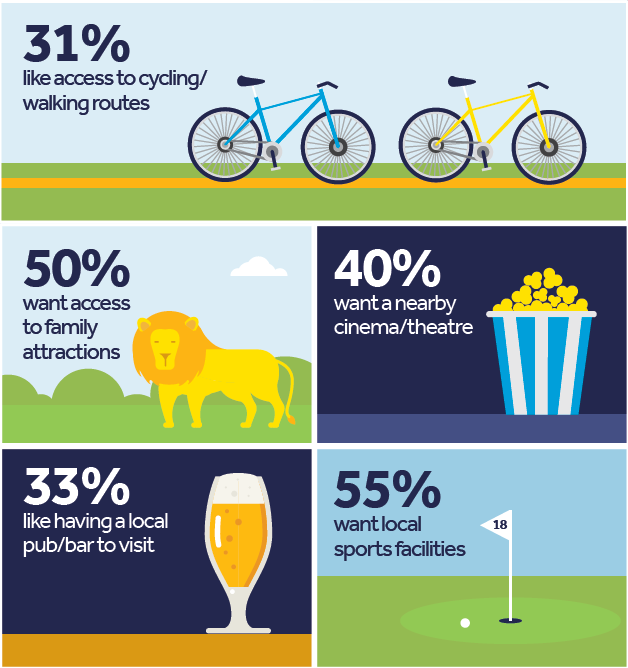 Our Director of Products Matt Bartle points out, "The development of online rental platforms and the increasing expectations of consumers have raised the standards expected in holiday rentals. People now expect holiday properties to be well connected to local amenities and be filled with features which have become standard."
If you're thinking about buying a holiday home to let out, we're one of only a handful of lenders to offer specially designed mortgages for holiday homes in England, Scotland and Wales. You can take a look at our Holiday Let Mortgages online, and while you're at it, why not have a read of our articles for home buyers?
Matt added: "While coastal properties were preferred by the majority of respondents and high demand means high returns, it is important for landlords to remember performance can be seasonal and affected by the weather.
"Holiday properties in some locations may be let for as little as 20 weeks per year, so the owner has to consider how he or she will maintain mortgage repayments during void periods. Putting money aside during peak months could help with expenses out of season. Owners of holiday lets can also benefit from using the property themselves for their own holiday purposes."
Whether you're looking to let out a property or find somewhere for yourself, it sounds like we should all be heading to the South West for our staycation this year – happy holidaying!
*A UK survey was undertaken in April 2019. Data was collected from 655 people by Leeds Building Society.
**A UK survey was undertaken in November 2018. Data was collected from 576 people by Leeds Building Society.
This is intended as a summary only and does not constitute financial advice given by Leeds Building Society. No reliance should be placed on this guide and you must make your own decisions. We recommend that you seek independent financial advice if you have any questions or queries.
Applicants must be aged 18 years or over. Mortgages are subject to eligibility, status and financial standing.
Buy to let mortgages which are for business purposes are excempt from FCA rules.
If you apply for a mortgage online you will not receive advice from Leeds Building Society. You will need to make your own choice about which mortgage is suitable for you and we will not assess the suitability of that mortgage to your needs and circumstances. You will not benefit from the protections offered by an advised service. This is called an execution only transaction. If you would like to receive advice from us please contact us on 03450 50 50 75.