The past year has seen a different way of life for all of us. Our colleagues quickly adapted to the changing world, so we could maintain our services and provide continued support to you.
We're proud of all our branch staff, Contact Centre workers, and those working behind the scenes. But we're also incredibly grateful to our members for your patience and understanding, and for the positive feedback you've given us along the way.
Responding to the world around us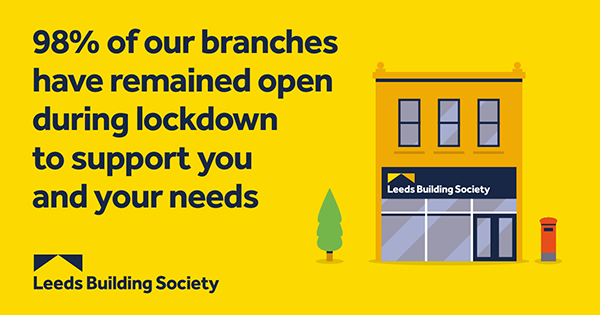 When the country went into the first lockdown last year, people everywhere had to adapt to the new restrictions. And we were no exception. It was important for us to remain flexible, so that we could continue to be there for our members.
For example, we installed protective screens in our branches, to keep colleagues and visitors safe. We introduced priority hours for elderly and vulnerable customers. And we're making sure everyone adheres to our social distancing measures. As a result, all of our sites are COVID-secure and we've managed to keep 98% of our branches open for essential transactions.
"We've been looking at how we can adjust our normal ways of working to make lives a little easier, at a time when everything has felt a little more difficult."
Kelly Shippen, Head of Contact Centre
"We've explored alternative ways to help our vulnerable members, and those who may need to self-isolate, making sure they have access to our services. Our members have been incredibly understanding."
Alison Cottle, Southampton Branch Manager
"My motivation has been to make sure that we can open the branch every day, while ensuring the safety of our colleagues and visitors, and helping members wherever we can."
Nichola Mullaney, Morley Branch Manager
Changing the way we do things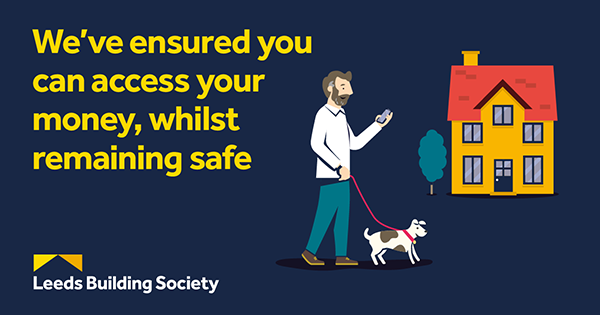 We know it's a difficult time for many people. We're determined to do what we can to support those facing financial challenges, and to make sure members can continue to access our services.
One example of this is our new automated mortgage payment line. You can use this to make payments 24 hours a day without coming into branch. Another is the use of Faster Payments, which makes it quicker to transfer money.
Our members could also apply for mortgage payment deferrals through our website within 12 days of the government announcement, helping to bring some peace of mind to the members who needed it most. And we established extra measures to support those experiencing financial difficulties – including a temporary stop on charging arrears fees and a three-month extension of mortgage offers.
"Following the government announcement to introduce mortgage payment deferrals, the way that teams from across the Society came together was fantastic. The speed at which our online application process was up and running is testament to the determination of our colleagues. We're all motivated, as always, by one thing: supporting our members and being there when they need us."
Katie Marriott, Head of Mortgage Support
"It was clear setting up Faster Payments for members was a change made for the better. The amount of thought given to both members and colleagues makes me proud to work for the Society – decisions have been made with everyone in mind."
Tony Ford, London Branch Manager
Making things easier
In September, we partnered with Equiniti who manage the Death Notification Service, because we appreciate how difficult registering a death can be. This service enables a bereavement notification to be given to multiple financial services organisations at once, removing the need for several difficult conversations. We were one of the first building societies to introduce this service.
We also delivered a number of planned improvements in 2020, including the launch of Mortgage Hub, our new mortgage processing platform for intermediaries. If you use an intermediary for your mortgage, this system provides them with a streamlined, user-friendly experience, from decision in principle all the way through to completion. We've received highly positive feedback about the system and its benefits.
Putting our members first
As always, our priority is helping our members. Even throughout this challenging period, we're proud to have maintained our 4* Trustpilot rating. Supporting our members is what keeps us going, and we couldn't have done it all without you.
"It's extremely rewarding to know that I'm able to help people and ease their minds in these trying times."
Andrew Marron, Customer Service Representative
"I'm proud to work for the Society, knowing that I have a vital role to play in making sure we achieve good outcomes for our members."
Rebekah Shaw, Senior Savings Administrator
"We've always been focused on delivering the best for our members, whether they're putting money into their accounts to cover bills or withdrawing money so they can feed their families and everything else in-between."
Tracy McCauley, Branch Manager – Head Office branch
Go to our coronavirus page to learn more about the support we're offering. And follow us on Facebook, Twitter and Instagram to get the latest updates.
This article is intended for information purposes only and is accurate at the time of publication. It's always advisable to verify any information you take before relying on it.