How we've supported our communities in 2020
It's fair to say 2020 was a year we won't forget in a hurry. We all faced changes brought about by the pandemic. But for many, the restrictions resulted in more time with family and gave us the opportunity to reflect on our priorities.
Community spirit has been more important than ever
In a recent survey to our members and the general public*, 40% said they now think differently about their local community. Some said the pandemic has created an improved sense of community spirit and they've got to know their neighbours better than ever, with local people banding together to help each other out.
We've experienced it here too. Our own community of members has shown patience and understanding as we've navigated through the changing circumstances around us. And our colleagues have worked hard, keeping their focus firmly on you. We've also continued to support the local charities and causes that you care about.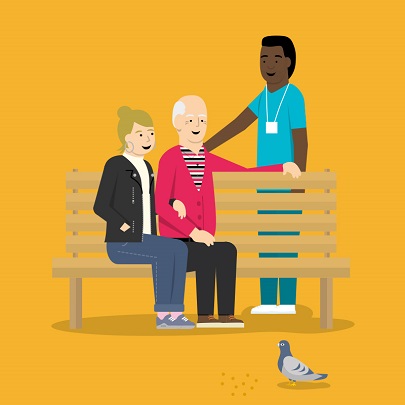 Our relationship with Dementia UK has gone from strength to strength
Earlier last year we announced our national partnership with Dementia UK, as voted for by our members and colleagues. We kickstarted fundraising in April, with an initial £25,000 donation. This helped the charity provide much needed emotional and practical support to those living with dementia during these challenging times.
In October we reached our six-month milestone. Thanks to the generosity of our members, and the fundraising efforts of our colleagues, more than £100,000 has been raised for the charity. And that's just the start. Our goal is to raise £500,000 by 2024.
Vicky Wheeler, Admiral Nurse for Dementia UK said:
"The last six months have been unsettling and distressing for everyone. And on the Admiral Nurse Dementia Helpline, we've seen the huge impact coronavirus, social distancing and lockdown has had on those living with dementia.
"With the donation made by Leeds Building Society, we've been able to increase the number of telephone lines, allowing us to provide support to more people. The donation has also allowed us to purchase equipment to work from home, enabling our dementia specialist Admiral Nurses to continue provide much-needed, personalised support over the phone throughout lockdown.
"We've also recognised the impact the year has had on the Helpline Admiral Nurses. The Society's donation has allowed the nurses access to mindfulness sessions, giving us the opportunity to reflect and concentrate on our own wellbeing.
"We're so grateful to Leeds Building Society for raising this money, allowing us peace of mind knowing we can continue providing our service to those who are living with dementia."
Supporting the local causes making a difference
Leeds Building Society Foundation supports small charities across the UK. Since 1999, it has donated more than £2million to 3,000 local projects, helping those who are disadvantaged or in vulnerable circumstances. It continues to make grants to local charities across the UK and to date, the Foundation has donated over £148,000 to 163 causes, including Dentaid, Indepen-dance and The Big Help Project.
Julie McPhee, Airdrie Foodbank said:
"As a charity reliant on regular sources of support, such as fundraising events, schools, churches and businesses, the volume of food and monetary donations decreased significantly as a result of the pandemic.
"Our clients face hard choices between hunger, heating their home, paying bills and honouring debts. Food is commonly seen as the easiest item to cut, and so the provision of emergency food, provided by Airdrie Foodbank, can ease these financial pressures and allow time for longer term solutions to be put in place.
"The donation from Leeds Building Society Foundation allowed us to purchase essential food items, ensuring our emergency food packs remained nutritionally balanced. The funding also kept our van on the road and equipped our volunteers with PPE, allowing us to operate safely.
"While other local groups, such as lunch clubs and soup kitchens, closed during the crisis, Airdrie Foodbank was able to continue operating and offer support to those in need. This would not have been possible without donations from organisations such as the Leeds Building Society Foundation."

And last but certainly not least... our colleagues
The pandemic made it more difficult to volunteer last year, but that didn't stop our colleagues. They continued to make a difference by volunteering for good causes in their communities.
To name but a few, Deb from our Bournemouth branch did grocery shopping for her vulnerable neighbours. Colleagues in our Stevenage branch lent a hand at their local foodbank and Claire from our Reading branch knitted for her local hospital for premature babies.
Ryan Carty, Leeds Building Society volunteer said:
"When the pandemic hit, many elderly and vulnerable people were left without access to food deliveries from local supermarkets. In response I set up a website, CarePackageUK, allowing individuals to place a food order and have a delivery within three days. This meant that most days after work I would go to the supermarket, complete the shop, and deliver to someone in the local community. I didn't charge a penny for the service.
"More recently and upon hearing some children would be missing out on free school meals during half term, I was keen to play my part - it's something I'm very passionate about. Working with Cedar Church, Birmingham, we were able to get enough food for more than 40 families. We're now taking food donations every morning, Monday to Sunday at the church to provide a Christmas dinner for those families experiencing financial difficulties made worse by the coronavirus pandemic.
"It's my goal that we aim to feed over 100 families this Christmas. We will also be giving out presents and making activities for the children to do.
"It's been important for me to help others throughout 2020 and I've found so many kind people were prepared to give to those in need."
We look forward to supporting more charities and causes this year.
*Based on a survey undertaken in August 2020. 442 people were surveyed by Leeds Building Society via our customer panel, 'TalkingPoint'. A further 506 participants from the general public were surveyed by Verve, a research partner.
**Based on a poll undertaken in November 2020, 478 members responded to the question "Has the pandemic made you more likely to give to a charity or local cause?" asked by Leeds Building Society via our customer panel 'TalkingPoint'.