Six scams to look out for this festive season
Have you started your Christmas shopping yet? More and more of us are now shopping online, due to convenience and habits picked up during the pandemic.
Unfortunately, this gives fraudsters more opportunities to dupe people into handing over their money or personal details. We've looked into some common scams that take place around this time of year – so you can enjoy the convenience of online shopping, whilst keeping yourself safe from scams and phishing attempts.


1. Goods advertised on social media
It might be tempting to start browsing social media for bargain gifts, especially if money is tight over the Christmas period. But be careful – not every seller is genuine.
Some fraudsters advertise goods on social media, which either turn out to be faulty or never materialise at all. Remember that it's best not to pay for an item unless you've seen it first-hand. And avoid using bank transfers to pay for goods online – you'll be less likely to recover your money if things go wrong.
2. Fraudulent websites
You might be surprised at how realistic some fraudulent websites can look. Fraudsters can set up websites that seem like they belong to well-known brands, and they might even have a similar website address.
To avoid falling for a scam, make sure to carefully check that the web address is spelled correctly. And type in the address yourself, rather than clicking on a link you receive in an email or text message. Trustpilot is a great website to check how reputable a website and or a company might be.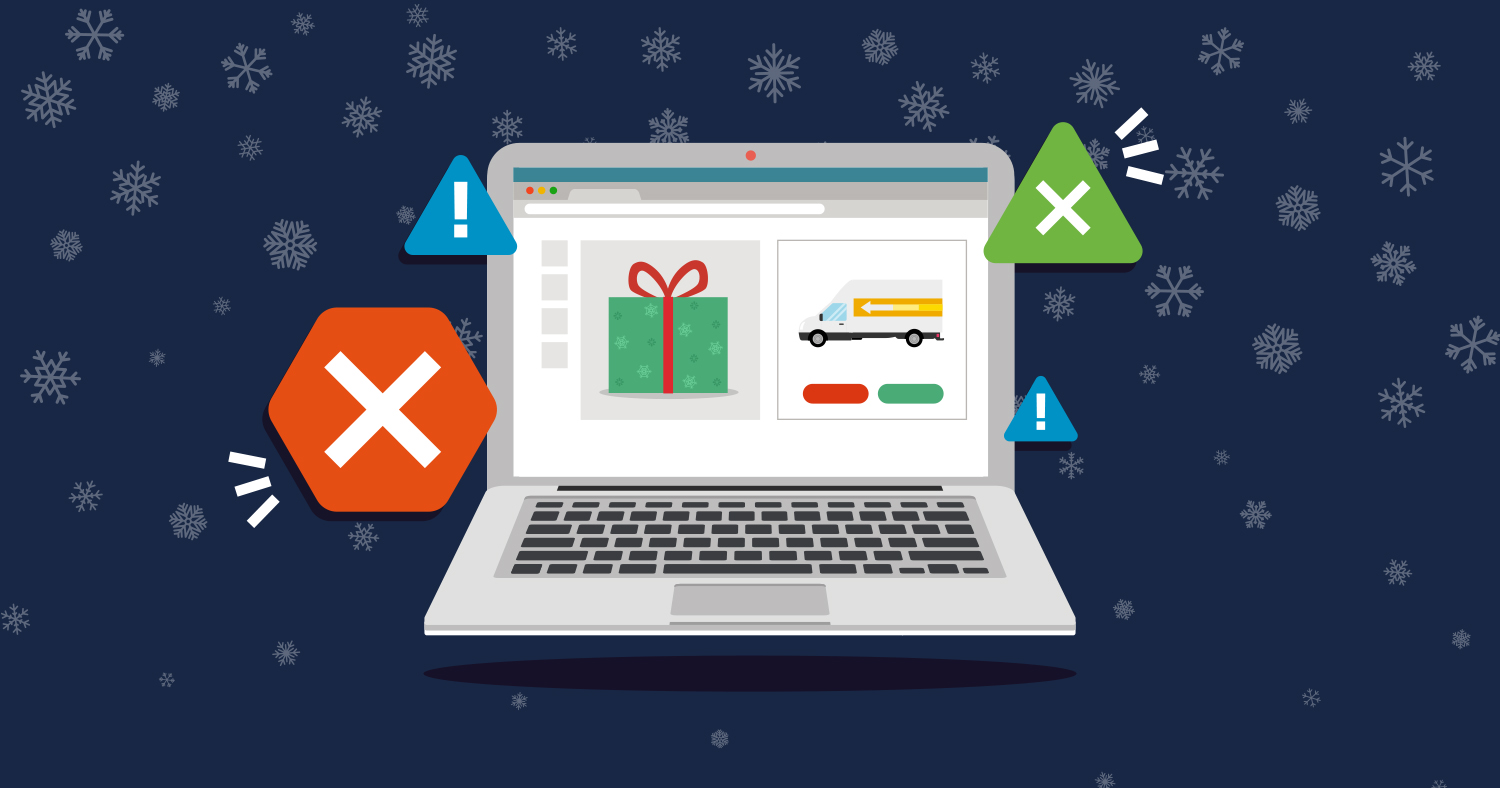 3. Fake parcel notifications
If you're doing more online shopping, then you're probably receiving more parcels. This can present the perfect opportunity to fraudsters posing as a delivery company.
For example, you may receive an email or a text message claiming to be from a company that's trying to deliver a package to you. It could contain an attachment or link that leads to fraud or identity theft.
4. WhatsApp scams
Christmas shopping can cause a strain on finances – and fraudsters are well aware of this. They may send you WhatsApp messages prompting you to fill out a survey in return for vouchers or discounts for retailers and surveys. But the intention is just to steal your personal details. Other WhatsApp scammers might tell you they're a family member or friend with a new number to gain your trust and then find ways to scam you.
As a general rule, always be suspicious of unexpected emails, texts or WhatsApp messages, even if they look like they're from genuine retailers. It could just be a scammer who's trying to capture your personal or financial details.
5. Unexpected phone calls
Don't automatically believe a call is genuine because the phone number looks like it belongs to a valid company. Scammers can use number spoofing to make the caller ID look genuine.
If you're shopping online more than usual, you might be more inclined to believe that calls offering tech support are legitimate. So it's important to be extra vigilant against number spoofing. If you receive any unsolicited calls or texts, it could be a fraudster trying to harvest your personal details or make you install malware.
These days, companies are far more likely to email you first. It's unlikely that a company you trust would call you out of the blue and it's even more unlikely they would call you to request sensitive information.
6. Prompts to update your payment details
A particularly common scam is an email or text message that prompts you to update your payment details for a well-known brand like PayPal or Amazon. They might say that a payment has been declined and your order will be cancelled if you don't update your details – which can make people panic if they're ordering Christmas gifts.
But you should always be vigilant if you receive a message like this. It's just another way for scammers to access your login details or payment information.
What is phishing and why is it so bad?
Many of these scams are examples of phishing, which is when a fraudster impersonates a legitimate company so that you'll give your details to them. This could be anything from personal information, like your name and date of birth, to passwords and online banking details.
Even if you don't hand over any financial information, phishing can still leave you extremely vulnerable to future scams. Fraudsters will often call phishing victims within a few weeks, claiming to be from the fraud department of their bank. They convince them that they're genuine by providing some personal details – the details they captured through the initial phishing attempt. They then persuade the victim to transfer their money to a new "safe account", which actually belongs to the scammers.
Remember that it's really important to take phishing seriously and report it, even if it doesn't seem harmful at the time.
How can I protect myself from scams?
Remember to follow Take Five's advice when you're shopping online:
Stop. Taking a moment to stop and think before parting with your money or information could keep you safe.
Challenge. Could it be fake? It's ok to reject, refuse or ignore any requests. Only criminals will try to rush or panic you.
Protect. Contact your bank or building society immediately if you think you've fallen for a scam and report it to Action Fraud on 0300 123 2040.
If you've been a victim of a scam that could affect your Leeds Building Society account, please get in touch. Don't feel embarrassed or ashamed to report it, it can happen to anyone. And we'll do all we can to help.
This article is intended for information purposes only and is accurate at the time of publication. It's always advisable to verify any information you take before relying on it.