6 Signs Your Email is a Scam
6 Signs Your Email is a Scam
We've all received one – a fishy text from an unknown number, a flashing online pop-up, a phone call exclaiming you've won a competition you never entered. However, one of the most common ways that fraudsters will try and scam us is via email.
As scams become more sophisticated, it's becoming harder and harder to tell a genuine email from one that could end up costing you dearly. Thankfully though, we have campaigns such as Take Five, led by Financial Fraud Action UK, who are committed to helping us protect ourselves from fraud.
Financial and online security is important to all of us, which is why we are proud at Leeds Building Society to be active supporters of the Take Five campaign. With their help, we have put together the below list of red flags to help determine whether an email you have received may be a scam.
1) Inconsistent email address
The first thing to look for when opening a potentially suspicious email is the sender's address. Often the inconsistencies are obvious and the address will contain a completely different name to the company they claim to be from. However, some of the more sophisticated scams may have inconsistencies that are trickier to spot, such as an extra letter in the email address.


Did you see the difference between the above two email addresses at first glance? There is an extra 'l' in the bottom email address!
2) Lack of personalisation
A legitimate company is likely to address you by your name, and will often start an email with 'Dear Mr Smith' or even 'Hello John'. A fraudulent email, on the other hand, was probably sent to multiple people at once and won't include names, likely opting for 'Dear Customer' instead.
3) Spelling and grammatical errors
If you find a spelling mistake or obvious grammatical error within an email, you should treat it suspiciously. Professional emails will have gone through several checks before being sent to you, so one riddled with errors could have been written by a fraudster.
If you are still unsure whether your email is legitimate, look out for some of the other signs listed in this article.
4) A sense of urgency
One big sign that an email is a scam is if it tries to get you to act quickly. This could be done by offering you a 'too good to be true' limited time offer or, alternatively, implying you're in danger of losing your money.
Of course, emergencies can happen, but a legitimate bank would call you on such an occasion rather than wait for you to respond to an email they have sent. Take a look at Take Five's phone scam signs to make sure you stay safe here too.
5) You are asked to provide personal details
You should never have to provide personal information by email, especially bank details. If you receive an unexpected email asking for details such as your pin number or date of birth, be suspicious.
However, if you think a company may be asking for personal details for genuine reasons, you can keep safe by going to their website and contacting them via the customer service details provided.
6) You are asked to withdraw money
A genuine company will never ask you to withdraw money, whether that be over email or phone. If you receive an email asking you to do this, you should immediately treat it as spam and delete it.
What should you do next?
If you spot any of these red flags in an email you've received, take five to consider whether it's a scam. If you think that you have in fact received a fraudulent email, make sure you don't reply or click any of the links. Instead, report it to Action Fraud then delete it immediately.
Still worried? Consider contacting your bank or building society to make sure your money is safe and no transactions have been made.
Take Five to Stop Fraud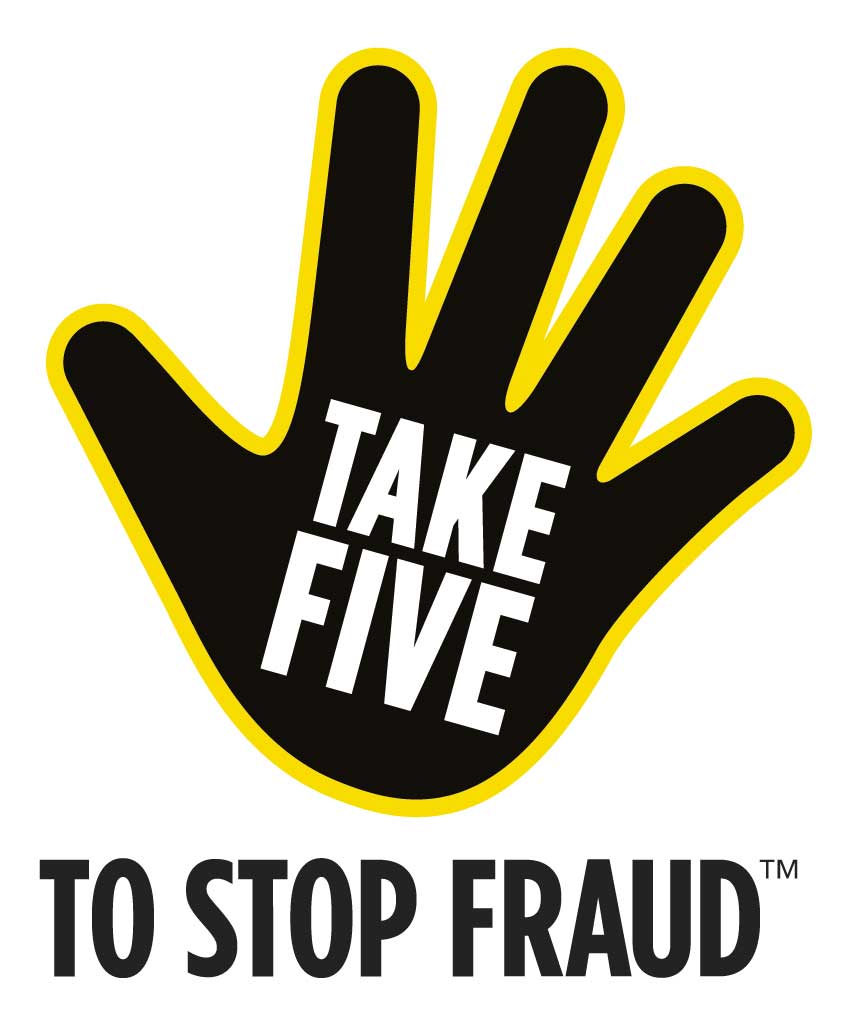 Email fraud can be scary, but initiatives such as Take Five are helping put a stop to these crimes. With bank systems blocking £6.40 in every £10 of attempted fraud in 2016, things are looking better – but we can't afford to relax just yet.
Next time you get an email, please take five to check for any of the red flags listed above, and together we can work to prevent fraud for good.
Think you're too smart to be scammed? Take this test to find out.
This information does not constitute legal or financial advice given by Leeds Building Society. No reliance should be placed on this guide and you must make your own decisions, we recommend that you seek independent advice if you have any questions or queries.