Supporting local communities
Tweet
Giving time locally
We offer volunteering hours to colleagues each and every year but why do we do it? For us, our members are central to everything we do. We're not just committed to giving them the best possible service, but also making a positive difference to the communities they live in.
Every colleague is entitled to 7 hours volunteer time each year. We encourage colleagues to use their time to support good causes in their local area. We're proud to say the number of colleagues volunteering more than doubled in 2016, leading to 2,530 hours spent helping a wide range of community projects. Our goal is to provide 8,000 colleague-volunteering hours for our local communities by 2020.
Volunteers' Week 1st-7th June
Volunteers' Week presented the perfect opportunity to encourage colleagues to get involved and use their hours to support communities. During the week over 40 colleagues contributed their time to four separate projects.
Lineham Farm
Lineham Farm is a children's centre that has been running for 20 years, supporting 20,000 children aged 8-12. They place particular emphasis on hosting schools whose children don't normally have the opportunity for a residential holiday and all of the activities that go with it.
On the volunteering day, colleagues from across the Society braved typical British weather and supported the farm with woodland clearance. They refurbished the assault course and built fences around the variety club sensory caravan.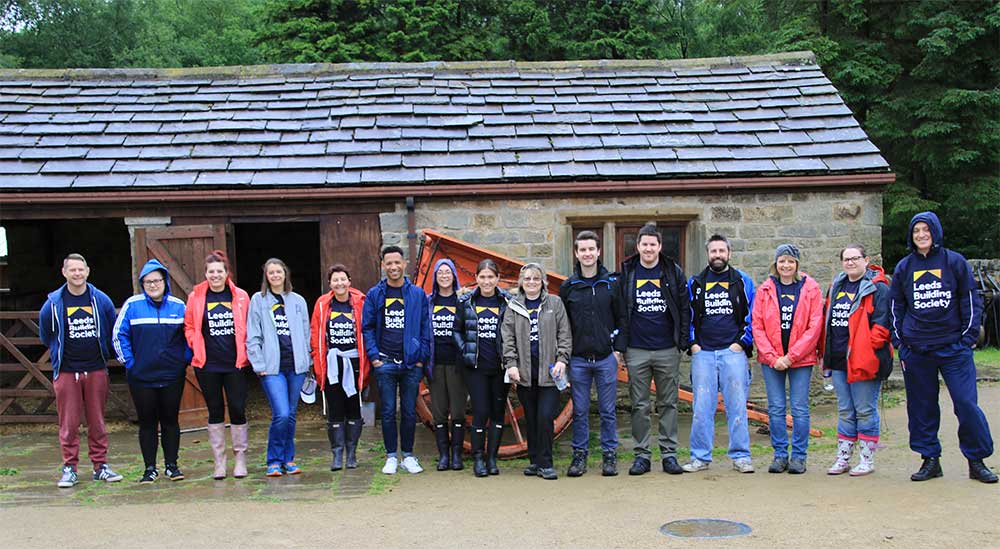 The Secret Garden – Iveson Primary School
We supported Hyde Park Source, an environmental charity, which works with local communities to improve their surroundings, designing and creating attractive, exciting, safe and useful places for people to live, work and play.
This project was based at Iveson Primary School. The school are creating a secret garden area on their grounds for the children, staff and wider school community to enjoy.
On the day, colleagues from the Customer and Digital team created a story-time area which included a cooking pit area and willow fencing, as well as clearing some overgrown areas and helping the children plant their own plants.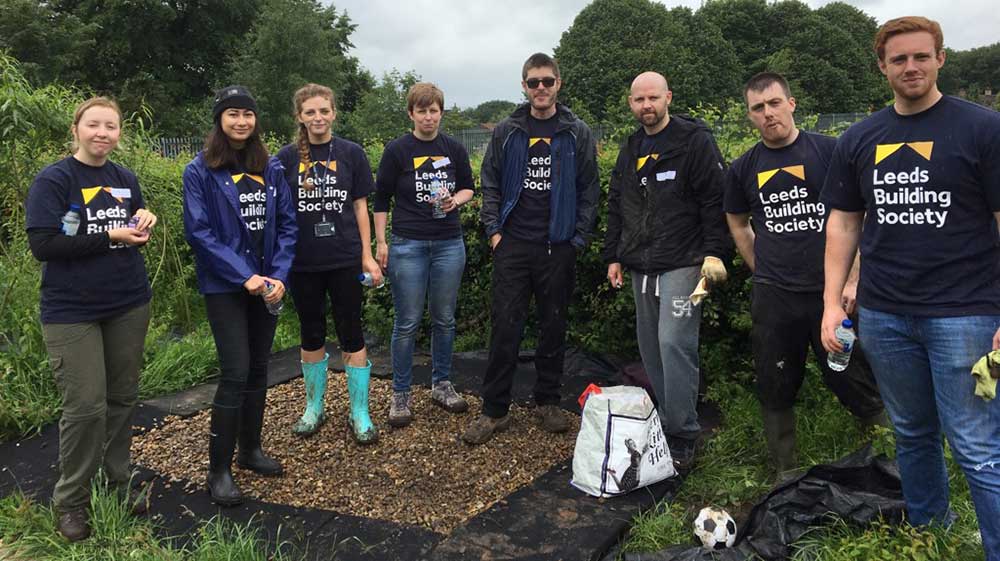 OPAL (Older People's Action in the Locality)

OPAL aims to reduce loneliness and isolation of older people living in Leeds, as well as improving the quality of their lives by enabling them to live independently, safely and healthily. They provide support to 700 older people and their services include practical and emotional support, learning, inter-generational projects, health and wellbeing, social activities and information services.
Colleagues assisted by maintaining the grounds, clearing weeds from the flower beds and paths. They also offered support with landscaping of the new areas. The weeds and top soil needed transporting to compost heaps and the soil needed turning over so it was ready for planting. The front of the building also required some digging to create a channel around the grass patch.
Volunteering and parkrun
If you're not aware of parkrun, it's a simple concept with weekly, free, national running events for people of all ages and abilities - 5km runs for adults on a Saturday and 2km for children on a Sunday. parkrun takes place in local parks up and down the country every weekend.
But parkrun is about more than running: it's a volunteer-led, not for profit organisation that plays a huge role in strengthening local communities. We've partnered with parkrun for a multitude of reasons and one of those is a shared, firm commitment to supporting local communities, and we'll be encouraging colleagues to get involved by volunteering too.
Would you like to get involved in parkrun?
As a parkrun volunteer you get to help out with, well, everything! The volunteers make parkrun happen; they run their local events. They do all of the high-profile tasks at the event (like marshalling, timing, result recording, etc), and all the behind-the-scenes roles like PR and results processing.
Parkrun are always looking for more volunteers and with over 450 locations across the UK, there's sure to be one local to you.