We encourage saving so that our members can have the future they hope for. We've recently spoken with a number of inspiring people in their 50s, 60s and 70s who have shown how saving has helped them carry on enjoying their life and do the things they didn't have time to do when they were younger. Let's find out more about their stories.
Meet Susanna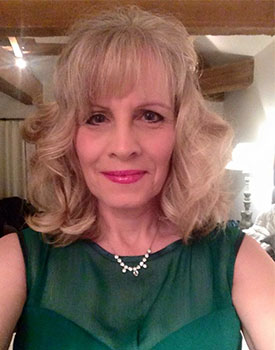 Susanna is 55 years young. She lives in beautiful North Yorkshire, hence the name of her blog, 'A Yorkshire Girl'.
Susanna's blog is specifically for women who want to feel and look fabulous at any age. She set up 'A Yorkshire Girl' in 2016. The purpose of her blog is to reach out to women, particularly over the age of fifty who may be feeling a little lost or unsure how to move forward in their life.
Susanna's story
Susanna set up her blog when she became very aware of the negative stigma on social media towards women of a certain age. She inflamed a passion to try and redress the balance and to make people aware that life does very much not become boring, or stop once this age is reached. In addition, she was suffering from a lot of anxiety and depression at the time, and found reading blogs helped her to feel better. So, she wanted to start a blog to offer the same support platform for women in a similar situation.
Today, Susanna works on her blog full time. She realised just over a year ago that writing was her passion and that she wanted to devote her time to it, to talk about her experiences as a 50+ woman. This turning point came with big changes, particularly when her children finally left home and she became an empty nester. That's when she realised that life is too short not to follow your dreams. At the time of starting her blog, she wasn't very computer literate, so she did plenty of reading, online courses, watching YouTube videos and speaking to experienced people for help and advice.
Now Susanna is free from the corporate world and the stresses around it. She has full control over her working week and has new found challenges. She works harder than ever before, but if she wants to take a break to walk the dog – then there is nobody standing in her way.
So what role has saving money played in enabling Susanna to set up and maintain her blog? At the age of 43, Susanna had to retire early due to medical reasons. Retiring at such a young age, having savings meant she could start her own business and blog without having to worry about income for a while. As a young person, Susanna wasn't any different to most young people and very much 'lived in the moment'. But her father advised her to buy a house as soon as she could and so, at the age of 20 she bought her first house, whilst still at university.
Susanna's advice to others
"I hope my story can inspire other people at my age to follow their dreams. Life is short and there's no time for regrets. I've started to compile a bucket list full of ideas and dreams, and the direction I want my life to take. I find writing things down helps to clarify things in my head and therefore makes it more likely to happen.
"If you're thinking of progressing a dream career or making a significant change, my advice would be to continue working in your job and run this alongside it for a little while. If you've got an undying passion for something outside of your day-to-day job, it can be tempting to just quit. However, the stable financial income will support your start-up costs and once you become established, you can reduce your hours at work. In my case, I had no job at all so found starting up an Ebay shop supported any extra costs."
Meet Ann
Ann Richardson has been a writer for many years. Now 76, she previously worked as a self-employed research consultant and writer in the areas of health and social care, preparing books and articles primarily addressed to professionals in these fields.
Now retired, she writes on different subjects that capture her interest for one reason or another, but addressed to a general audience. Her most recent book is about how it feels to be a grandmother (Celebrating Grandmothers).
She's also a contributor to The Grandparent Hub, a social community for grandparents to interact through sharing experiences, laugh and chat.
Ann's Story
Ann calls herself a 'natural saver', she can't remember a time when she didn't save. Throughout her career, no matter how much she earned, Ann and her husband always saved for the proverbial 'rainy day'.
Having savings meant that when Ann made the major decision to move from employment to work on a self-employed basis, she always had a 'cushion' should that path be unsuccessful. By the time Ann and her husband had retired and their children grown up, having savings meant they could 'help out' paying extra expenses such as music lessons and being that little bit more generous at birthdays and Christmas.
Ann's books
Most of all, having savings has meant Ann has been able to pursue creative projects in her retirement. In her previous job, she was used to interviewing people and writing up their experiences. She knew she definitely wanted to continue on the same path, but writing her own books, without the expenses upfront and with no client to meet them. In Ann's first book, 'Life in a Hospice' she interviews hospice workers about why they chose this avenue of work and how it affected their day-to-day lives. Covering the costs of paid interviewers and transcriptions meant this was not a cheap hobby. Ann wrote her next book, 'Celebrating Grandmothers' when she became a grandmother. Again, this involved paying nearly 30 grandmothers as interviewees. Her final book, 'Wise Before Their Time' focussed on what it was like to be living with HIV/AIDs in the early 1990's. The proceeds for this book Ann gave to charity and was unpaid for curating it.
For more information on Ann Richardson's collection of books, please visit: http://annrichardson.co.uk/wp/.
Ann's advice
Ann has always encouraged her children to save as she did:
"Times have changed and the younger generation are often saddled with student debt and difficulties in finding housing. I know some feel it is not worth trying to save for large costs in the future, because it seems too far a goal.
"Many things people spend their money on are not remotely necessary. They could manage happily without that new dress or extra dinner out.
"I would always encourage people to pursue their dreams. It may be different from mine – a wish to travel around the world or to take up university study for the first time. We have only one life, so enjoy it to the full.
"Money doesn't buy happiness. But what having some money put by does buy is greater control over your life. It brings the freedom to make the decisions you want to make, when you want to make them."
Meet Annabel
Annabel and her friend, Grace, set up The Country Wives eight years ago in 2010, as a way of keeping in touch with friends. It has, over the years, morphed into a leading online weekly magazine for older women. On the blog they share useful ideas, inspiring stories, recipes and tips and advice.
Annabel's story
Setting up The Country Wives website has required some investment. In the first few years, Annabel had to rely on savings to maintain the blog. However, she had to be very careful not to invest too much money into it, and stick to what she could realistically afford.
Annabel, now 59, is completely self-taught, reading up online and watching YouTube videos to learn how to set up the blog. She enjoyed the challenge and embraced the 'techie' title!
Now, Annabel works on the blog full-time, reviewing new products, recipes, discussing wellbeing topics and interviewing inspiring guest bloggers.
Today, Annabel is much more confident in her writing and has realised it's something she thoroughly enjoys. She regularly meets new people who do similar things, or have started their own business later in life just like they have, which they say has brought them lots of enjoyment.
Annabel's advice to others
"My advice to people at a similar age who might be worrying about their future would definitely be to take the leap and try something completely different. If possible, do it with friends as you'll have more fun.
"However, don't take huge risks financially until you are completely sure about the avenue you want to take. Go slowly, test the idea out on all of your friends first before committing any money to the idea.
"For me, The Country Wives has really expanded my horizons, and fulfilled that dream. It allows me to continue to write, which is what I love doing, and meet new people who are completely different to my close friends. "
Meet Jeanie
A friend of Jeanie's describes her as an adventurer of the heart and mind. She's 61 with a lust for life, she is a mother, decorative artist, designer, traveller, Airbnb host and ex-restaurateur.
Currently she is the creator and self-funding publisher of Goldie magazine for the post 40 generation, exploring how extraordinary ordinary older people see themselves in the 21st century. It has been independently reviewed as: "A refreshing, stylish and thoroughly modern read". Issue one has sold out and she is now working on issue 2 which is titled 'No Limits' to be self-published in October 2018. She is also part time studying a Humanities Degree, having self-educated since leaving school at 16.
Jeanie's story
Without savings, Jeanie couldn't have done half of the amazing things she has done in her life, most recently, setting up her own magazine, Goldie. Having savings meant there wasn't a need to borrow money. In her later life, any risk has to be a more calculated, reasoned one.
Jeanie decided to set up the magazine when she felt an anger after overhearing older people talking about how invisible they felt past the age of 40. Initially, she set out to write a book on the subject called 'The Invisibility Myth', but she quickly realised there was far too much to say to fit into one book.
Goldie is a self-published bi-annual magazine. Now working on the second edition, Jeanie is looking forward to continuing to meet more like minded, inspiring people who are taking that leap and breaking the stigma that getting older means you lose your voice. Aptly titled, the second edition, 'No Limits' will profile more incredible people with unique, compelling stories.
Jeanie's advice to others
"My advice to others would be, 'there's no limits!'. I left home at 17 and always say to people that I have been blessed to have an awfully long and big adventure, embracing both good and bad as relevant to where and what I am now.
"I'm still here having new adventures, so my words of wisdom are: always try and see the positive and have a sense of humour, even when drowning in a storm. Most things pass, you will survive, learn and move on to new possibilities. Seize them, because it's never too late and you should live every day as if it is your last.
"If you're thinking of starting something, I would say feel the fear and do it anyway. You must however do your homework, believe in what you are doing, and be determined."
Meet Josephine
Josephine is the founder of the fashion blog for women over 50, 'Chic at Any Age'. The blog is read by women who want to learn more about style, fashion and what will suit them as mature women. When Josephine started the blog at the age of 60, there was little advice on fashion, style and beauty available for women of this age group. She is passionate about empowering women to continue to have confidence in later life, and inspire them to have fun with fashion.
Josephine's story
Josephine set up 'Chic at Any Age' after working in the corporate market as a trainer and coach for around 20 years. She decided to take a sabbatical and rethink her career moving forward. During this time, she did some research and discovered the world of blogging.
For Josephine, savings have been instrumental to enabling her to keep her blog going. Her son helped her set up a website template, and she slowly learnt the technical aspects of running a blog.
Chic at Any Age has enabled her to continue learning new skills such as photography, and of course focusing on her original passion, fashion.
The blog has brought Josephine amazing opportunities to meet new people, especially fellow bloggers. She's made friends in America who she visits whenever they're over in Europe.
Josephine's advice to others
"I would say follow your dream. I have always found that if I trust my intuition and do what I love, money has followed.
"I hope my story proves to older people that it's never too late to start a project or business and to inspire them to continue to learn new skills and expand their horizons."