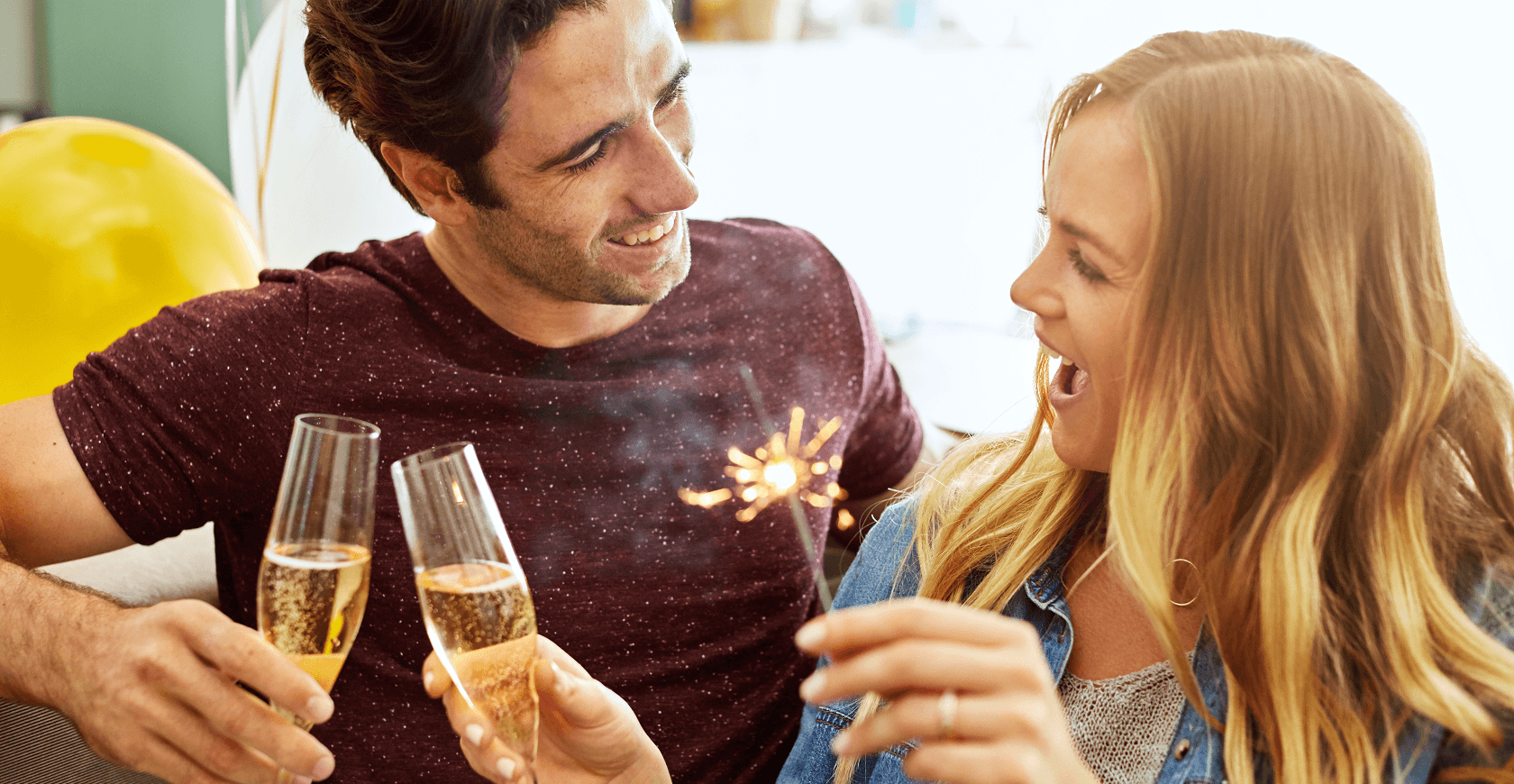 New Year resolutions: save without the pressure
It's 2020! Can you believe it? Now that we're into January, we've hit 'new year, new me' season in full swing. And whilst New Year's resolutions can be a great way of setting goals, they can also mean a whole lot of pressure and expectation.
So we got to thinking…is there a way we can all make resolutions more realistic?
Instead of vowing to lose a certain amount of weight (every year right?), could we just say we'll make the effort to move a bit more, or eat a bit more veg?
Rather than committing to mastering a brand new skill or hobby, can we just promise to make a bit more time for ourselves, or explore something new?
Or instead of the pressure of saving a big lump sum, can we just say we'll start to make better choices with our money?
Now we're no experts on New Year's resolutions, but we do know a thing or two about saving money. So with this in mind, we've put together a list of five no-pressure, little changes you could think about making this year - to kick-start some good money saving habits.
Write (or type!) more lists
It's simple, sure, but having a list might just help to stop those ever so tempting impulse buys. Especially when it comes to the big food shop, and especially if you're doing the big shop when you're hungry!
Equally, if you've seen a few things you'd like to treat yourself to, write them down and mull it over. Give yourself the time to think about whether you really want it (or need it). Whether it's notes in your phone or a good old fashioned notebook, you might just find that when you look back, the original urge to buy has gone.
Use your community
We're big on all things community here at Leeds Building Society, which you might have gathered from our recent community Knowledge Base article. But we've got good reason.
As well as the genuine, and powerful, feeling of being in it together – getting stuck in to your local community could help save you a few more pennies. Whether it's amateur theatre, festivals, talks or lectures, volunteering, going on walks or even tending an allotment – there's often a lot of free or cheap things going on locally. So don't forget, there's no need to spend loads to get out of the house and have a good time.
Repair not replace
Buying new bits and bobs to replace our old, used or worn things is an easy habit to fall into. Especially with the amount of choice open to us every day as shoppers.
But by switching our mind-set to repair over replace, we could really save ourselves some cash. And that's not to mention the environmental benefit of turning your back on a throwaway mentality and the personal satisfaction of fixing something yourself.
Clothes – whether it's sewing patches over holes, stitching up tears, adding new zippers or buttons, there's loads of things you could learn to really make your clothes last. And who doesn't love a bit of embroidery to brighten up some tired looking denim?
Shoes – visit your local cobbler before you ditch any worn down shoes. It could be cheaper to get them repaired once or twice, instead of new pairs each time.
Furniture – thinking about refreshing your home décor? Instead of buying new furniture, why not look investment in some furniture paint to give your existing bits a new lease of life? Or if somethings looking a little tired or worn, see if there's an online video on how to fix basic furniture scratches or stains.
Embrace pre-loved shopping
If you are in the market to buy or replace something, have you ever thought about going second hand? Again, it's not just your savings that might thank you, but the environment too.
Why not dip your toe in by using a lazy Sunday to shop your local charity shops, car boot sale or auction house to see what bargains you can find? Or get online and check out the growing number of second hand and vintage sites. Whether it's fashion or furniture, high end or basic - there's a whole community out there committed to selling on or swapping their pre-loved goods.
Get it off your chest
Especially if you've got an active social life, the tug of war between wanting to go out and the guilt of spending can start to feel straining. So why not give your family and friends a heads up?
Let them know that you're just trying to save a little more this year, so you'd like to book some cheaper things in the diary too. They might thank you for the opportunity to go bargain hunting! Or maybe they've got their own tips, tricks or experiences they can share? Talking about your finances could really help you get your head around them.
Can we help?
If you do start to make some little changes to your spending habits this year, you might also want to think about a place to keep the extra pennies you've freed up. And that's where we may be able to help.
Whether there's a goal in mind or it's just about taking baby steps, we've been there for all kinds of savers with all kinds of needs. Over time, we've helped thousands of people grow their savings. So why not check out our savings range today and see what we can do for you?
This guide is intended as a summary only and does not constitute legal or financial advice given by Leeds Building Society. No reliance should be placed on this guide. We recommend that you seek independent legal advice and/or financial advice if you have any questions or queries.