Back to September 2014
Team raises £15,000 walking Hadrian's Wall for Teenage Cancer Trust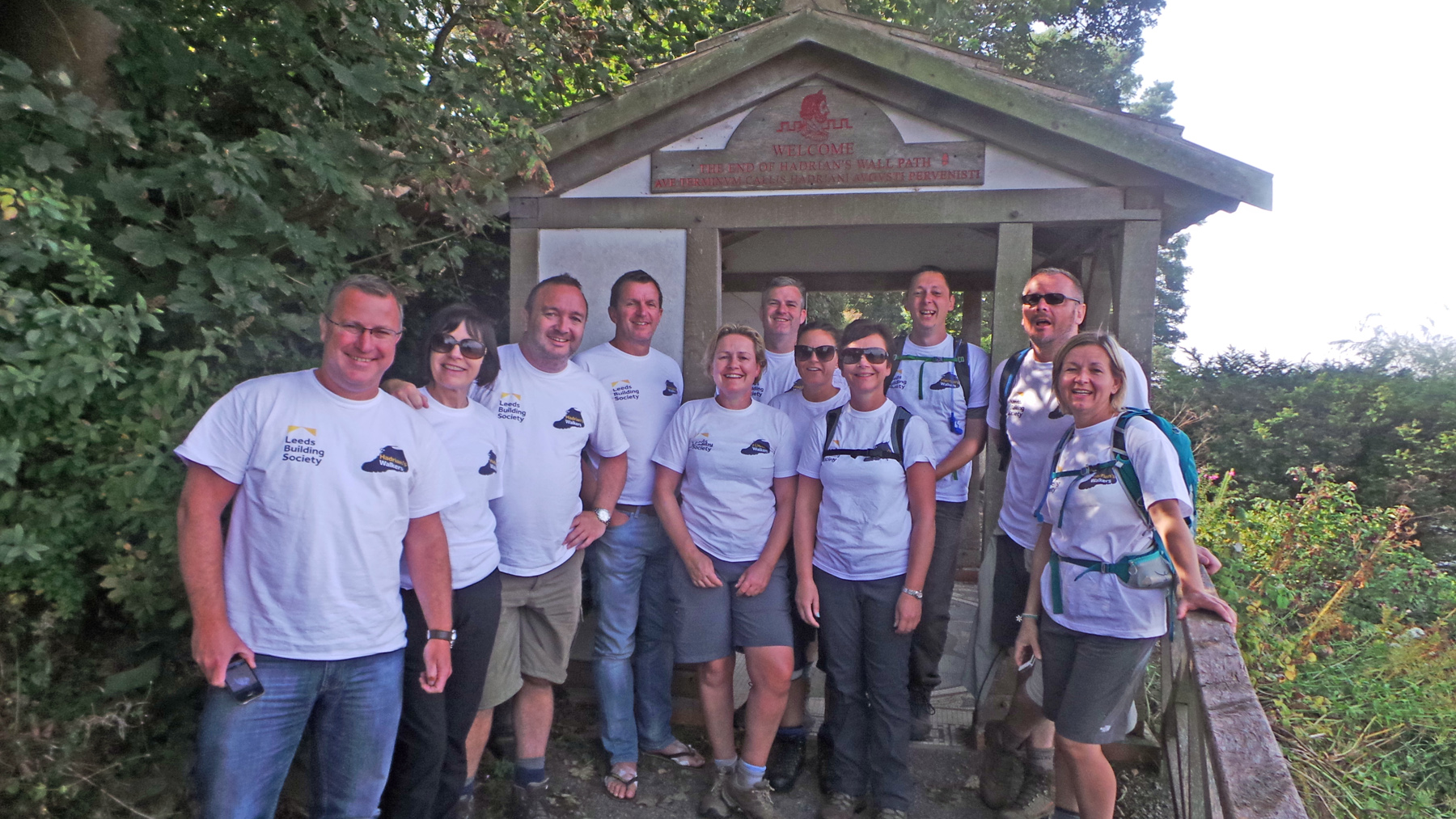 A team of 14 colleagues from Leeds Building Society has completed its walk along Hadrian's Wall (84 miles from Wallsend to Bowness).
The walkers almost doubled their original fundraising target of £8,400 (£100 for every mile walked, in the three-day challenge) and have raised £15,000 so far for Teenage Cancer Trust.
They will continue to accept donations, either in their branches or online via http://www.justgiving.com/LBShadrianswalkers, until the end of this week. Furthermore, the Society's branches nationwide are selling Teenage Cancer Trust rubber bracelets until the end of September to increase the donations further.
The 'Hadrian's Walkers' team incorporated some fun into their arduous challenge last weekend by dressing up as Romans for their epic hike.
Trevor Garside, Leeds Building Society's Head of Direct Distribution said: "We are very pleased to have successfully completed this challenge, and delighted to have significantly beaten our initial £8,400 fundraising target to raise £15,000 for Teenage Cancer Trust."
"It was hard work but very rewarding, and all in aid of a terrific cause with a great team spirit throughout."
Heather Bowen, Regional Manager for Teenage Cancer Trust (Yorkshire) said: "What a brilliant effort by everyone from the trusty trekkers to all of the staff and customers at Leeds Building Society across the UK.
"This is a fantastic amount for Teenage Cancer Trust and, with nearly double the target raised, will really make a tremendous difference to the units where we will spend the donations."
Ends
Notes to Editors
End of Hadrian's Wall path (pictured attached) shows:
Outside row (from left to right) Richard Neal, Karen Duff, Graham Binns, Trevor Garside, Andrew Medling, Adam Rea, Chris Ord, Louisa Sedgwick.
Inside row (from left to right) Kim Rebecchi, Kelly Shaw and Bev Nugent.
For details of your nearest Leeds Building Society branch, please visit http://www.leedsbuildingsociety.co.uk/find-a-branch/
Leeds Building Society has 67 branches throughout the UK, Gibraltar and Ireland and assets of £12.1bn (as at 30 June 2014). The Society has operated from the centre of Leeds since 1886.
Charity Registration No. 1062559
Contact Heather Bowen 07535 684192 heather.bowen@teenagecancertrust.org for any quotes or statistics on teenage and young adult cancers.
We are dedicated to improving the quality of life and chances of survival for young cancer patients aged 13-24. We fund and build specialist units in NHS hospitals and provide dedicated staff, bringing young people together so they can be treated by teenage cancer experts in the best place for them.