Back to October 2014
Food collection for homeless charity at Leeds Building Society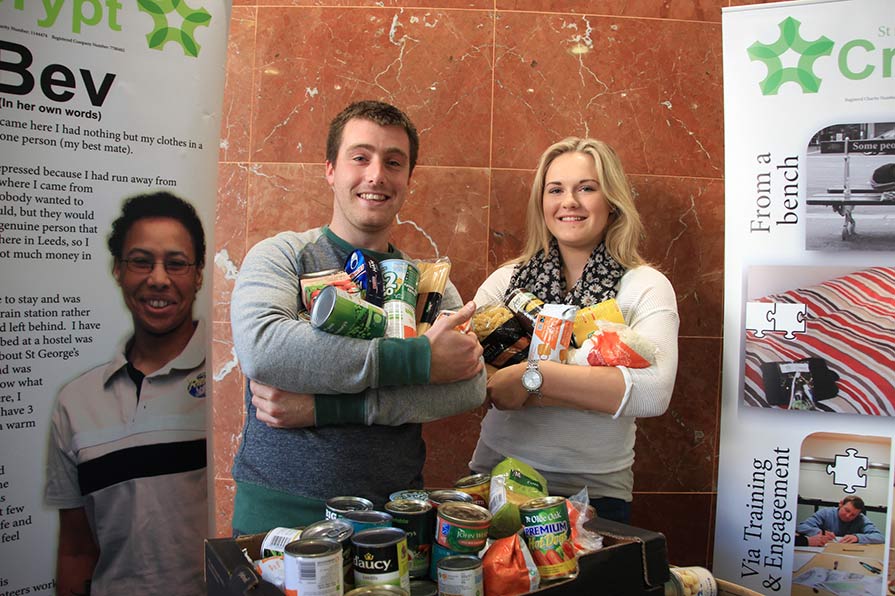 A Harvest Festival collection at Leeds Building Society has gathered boxes full of food for a homeless charity.
Colleagues at the Society's Head Office in Albion Street brought in non-perishable foods for St George's Crypt, which helps to provide food, shelter and support to homeless people in Leeds.
Boxes were filled with dried, bottled and tinned foods, such as soup and vegetables, and store cupboard staples including teas, coffee, sugar, pasta and rice, which will help the charity in providing hot meals for its service users.
"We know St George's Crypt makes a massive difference to the lives of the people it helps in Leeds and we are pleased to have been able to support the charity for a number of years," said Ruth Mawson, who chairs Leeds Building Society's Colleagues Charity Group, which organised the collection.
"Our food collection at the Society's Head Office coincided with World Homeless Day, so it was a timely reminder of how other people may be living without many of the things we take for granted, and the simple ways in which we can help them."
Chris Fields, CEO of St George's Crypt, said: 'Food poverty is all around us; St George's Crypt's supporters are helping to alleviate this hardship and we thank everyone that donates, especially during harvest.
"It is great that we get such a wide spread of help not only from traditional routes such as schools and churches but also from local businesses."
Ends
Notes to Editors
With photo – Alfie Penfold and Ellen Hamilton from Leeds Building Society with some of the food donated by Head Office colleagues in Leeds.
Leeds Building Society has 67 branches throughout the UK, Gibraltar and Ireland and assets of £12.1bn (as at 30 June 2014). The Society has operated from the centre of Leeds since 1886.