Back to October 2014
Leeds Building Society sets standard for service excellence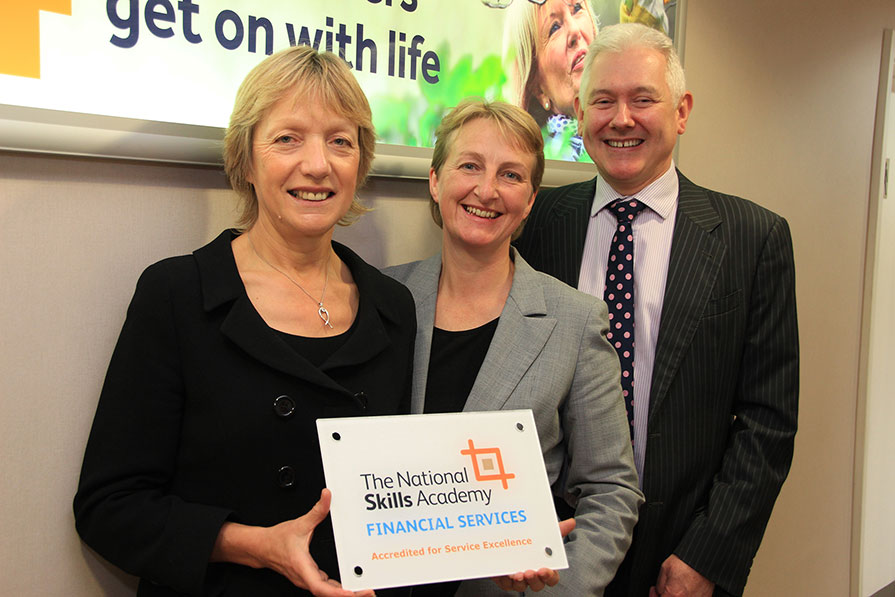 Leeds Building Society is the first financial services business to secure a new industry accreditation for excellence in customer service.
The Society has achieved the Service Excellence standard launched earlier this year by the National Skills Academy for Financial Services (NSAFS).
This new service accreditation takes into account the regulatory principles of the Financial Conduct Authority (FCA) in relation to the treatment of customers. It measures against more than 30 statements and positive indicators in five areas: leadership and strategy; member interaction; performance management; communication; and outcomes.
NSAFS is an independent, employer-led charitable organisation which is a leading body for training and development in the financial services industry. The academy supports financial services businesses in recruitment, induction and workforce skills and development.
Karen Wint, Leeds Building Society's Operations Director, said: "I'm delighted that the Society has been accredited for Service Excellence by NSAFS.
"We are the first financial services provider to gain this accreditation and the feedback from NSAFS was overwhelmingly positive.
"We are proud of our strong track record of customer service and believe this accreditation is further evidence of our commitment to delivering an exceptional experience to our members."
Leeds Building Society Chief Executive Peter Hill thanked colleagues for all their efforts which had secured the accreditation.
"This accreditation provides a 'kite mark' of our commitment to providing a high-quality, professional service through well-trained colleagues," said Peter.
John Carter, Head of Accreditation Programme at NSAFS, said: "One of the key roles of the National Skills Academy for Financial Services is to recognise quality within the sector. As such we are pleased to accredit Leeds Building Society for its service excellence.
"In our opinion, the Society has developed a comprehensive approach that facilitates service excellence. They go above and beyond many of the regulatory stipulations with processes and procedures that encourage their colleagues to provide a strong service to members.
"The Skills Academy oversees a well-established accreditation programme that includes training and development provision, programmes and trainers – however, the accreditation of service excellence is a newer addition. We think that Leeds Building Society has set a high standard for the firms who will follow."
Ends
Notes to Editors
Photo attached – (L-R) Sylvia Perrins, chief executive of the National Skills Academy for Financial Services, presents a plaque marking the Service Excellence accreditation to Leeds Building Society Operations Director Karen Wint and Chief Executive Peter Hill.
A hi-res version of the photo is available – please contact the press office on 0113 225 7903.
The NSAFS accreditation lasts two years.
Leeds Building Society has held Investors in People accreditation since 1999. It currently employs more colleagues than at any time in its history, after filling 100 new roles in 2013 and creating further jobs this year.
Leeds Building Society has 67 branches throughout the UK, Gibraltar and Ireland and assets of £12.1bn (as at 30 June 2014). The Society has operated from the centre of Leeds since 1886.