Back to April 2015
Leeds Building Society raises over £5,000 for Hollybank Trust
Leeds Building Society colleagues raised £5,750 for Hollybank Trust in 2014 towards the charity's work with children and adults with disabilities in Yorkshire.
Colleagues organised various fundraising activities throughout the year, including an advent raffle, Hallowe'en-themed charity day, raffles and cake sales.
To celebrate this donation, Paul Cartwright visited the Society's Head Office along with two representatives from the charity.
Paul attended the school on the Hollybank Trust site between the ages of four and 10, before he progressed to a mainstream school.
He went on to be a Paralympic athlete in the 1980s as a wheelchair sprinter, and won various Gold international and national medals. Paul has represented Team GB at many events, including European and World Championships.
He became an ambassador for Hollybank School during the London 2012 Paralympics.
Susan Marsden, Partnerships Fundraiser at Hollybank Trust, said: "Everyone at Hollybank Trust would like to thank our friends at Leeds Building Society for this generous donation, which will be used to help fund the charity's visionary re-development project, 'The Elms'.
"This will provide a multi-purpose facility which will be shared by Hollybank Trust's School, children's residential home and adult residents.
"We look forward to continuing to work with the Society's Colleague Charity Group in the future."
Ends
Notes to Editors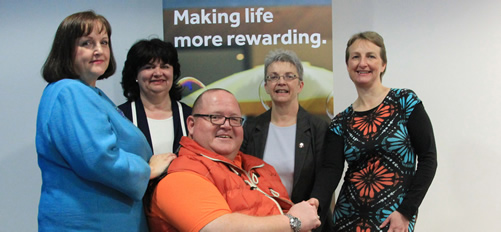 Paul Cartwright is pictured (centre) with (from left to right):
Jeanette Cartwright (Customer Liaison Manager, Leeds Building Society),
Julie Shaw (Head of Fundraising, Hollybank Trust),
Susan Marsden (Partnerships Fundraiser, Hollybank Trust) and
Karen Wint (Operations Director, Leeds Building Society).
Leeds Building Society has 67 branches throughout the UK, Gibraltar and Ireland and assets of £12.1bn (as at 31st December 2014). The Society has operated from the centre of Leeds since 1886.