Back to May 2015
Spring clean for Wallsend Parks
Colleagues from Leeds Building Society's Direct Mortgage department teamed up with the Friends of Wallsend Parks to clear the parks of litter and get them ready for summer.
The team were taking advantage of the Society's volunteering scheme, which allows all colleagues a day's paid leave each year to help in the community.
Angela Rowley, Direct Mortgages team manager, said: "Splitting into two teams, the volunteers covered the wilder areas of the parks and cleared the Wagon Way of rubbish.
"Our teams collected five black bags of litter from the Wagon Way alone. Items discovered included shoes, wellies, tyres and old car number plates.
"This volunteering work is important due to the increased popularity of Wallsend Parks. The feel-good factor was rife in the volunteers, who have said they will be looking to lend a hand again later in the year."
Ends
Notes to Editors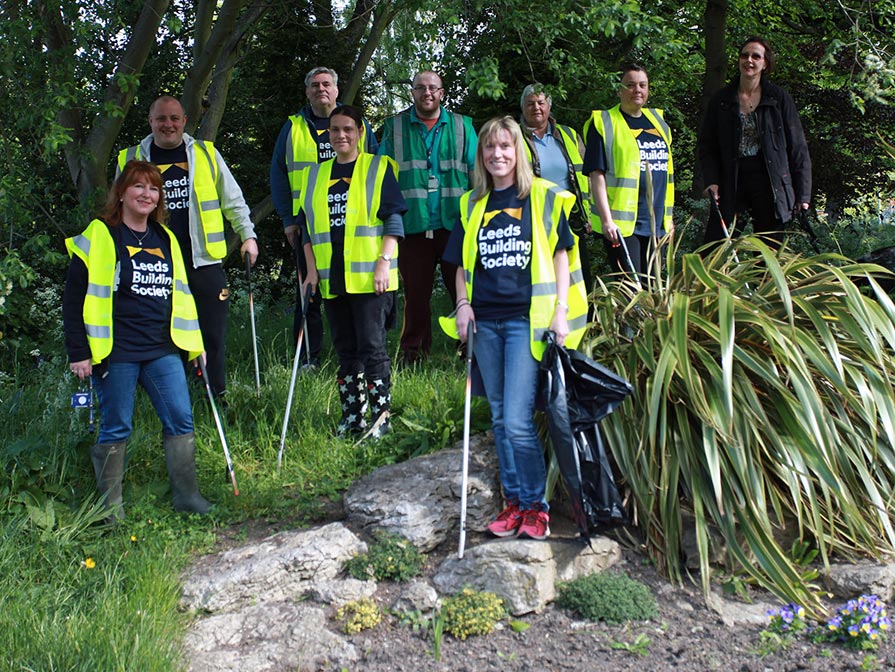 Pictured, L –R, are Angela Rowley, Mark Simmons, David Meads, Helen Mallenby, Simon Dean, Cheryl Keeler and Kelly MacMillan. The two without high visibility jackets are members of the public who joined in as volunteers on the day
Wallsend Parks (comprising the Arboretum, Richardson Dees Park, and Hall Grounds) are central to Wallsend life. The Parks reflect their original purpose, and have kept their Victorian style.
Leeds Building Society's Direct Mortgage department is at 13 Mercantile House, Kingfisher Way, Silverlink Business Park, NE28 9NY.
Leeds Building Society has assets of £12.1bn (as at 31 December 2014) and 67 branches throughout the UK, Gibraltar and Ireland. The Society has operated from the centre of Leeds since 1886.