Back to July 2015
Leeds Building Society discovers the UK's dream home
A three-bed, two-bath detached with period features
Forget an Englishman's home being his castle – homeowners across the UK are agreed on what makes their dream home.
A three-bed, two-bathroom detached period property is the "res" most "des" by homeowners in all parts of the UK who were surveyed on behalf of Leeds Building Society*.
Regardless of what kind of property they live in now, people were unanimous in the key features they aspire to in the home of their dreams.
Almost half of those surveyed (48.5%) are looking for a detached property, with a similar proportion (52.4%) wanting three bedrooms. In fact, three-quarters (74.3%) wanted three bedrooms as a minimum.
More than three-quarters are tired of fighting with loved ones over access to the bathroom, with 76.2% of those surveyed not prepared to settle for just one. Two bathrooms is the most popular preference, with 56.2% choosing this option as their top priority.
The top five features in a dream property were:
Location (72.9%)
Property size (68.5%)
Garden and outside space (61.7%)
Property layout (56.2%)
Off-street parking (53.1%)
By contrast, the five features buyers were most prepared to compromise on were:
Good interor decoration (28.7%)
Period features (23.6%)
New kitchen and bathroom (21.5%)
Woodburner or fireplace (21.5%)
Property layout (21.2%)
While the five biggest turn-offs for a purchaser would be:
No garden (35.3%)
No driveway (14.0%)
Old heating system (10.9%)
Need for modernisation (10.0%)
Stairs in the living room (9.4%)
"We were founded 140 years ago by people who understood how, by working together, they could realise their property owning aspirations," said Martin Richardson, Leeds Building Society's General Manager – Business Development.
"This aim - which goes hand in hand with our other core purpose to offer savers a secure home for their money so they can plan for their futures – remains the same to this day.
"When home ownership appears to be a national obsession - and there's a mind-boggling choice in types of properties to purchase - it's perhaps surprising that our survey discovered so many people share the same view of what makes their dream home."
"These findings reflect our own as a national survey provider," said Richard Sexton, Director of Business Development for e.surv.
"It's perhaps no surprise that the key selling points of a property are those that can't fundamentally be changed - after all it's relatively easy to redecorate, but impossible to move a building from one location to another. The findings reflect the fact that househunters are generally aware of the difference between these categories and take a long-term view on changeable factors to ensure they get their preference on the fundamentals."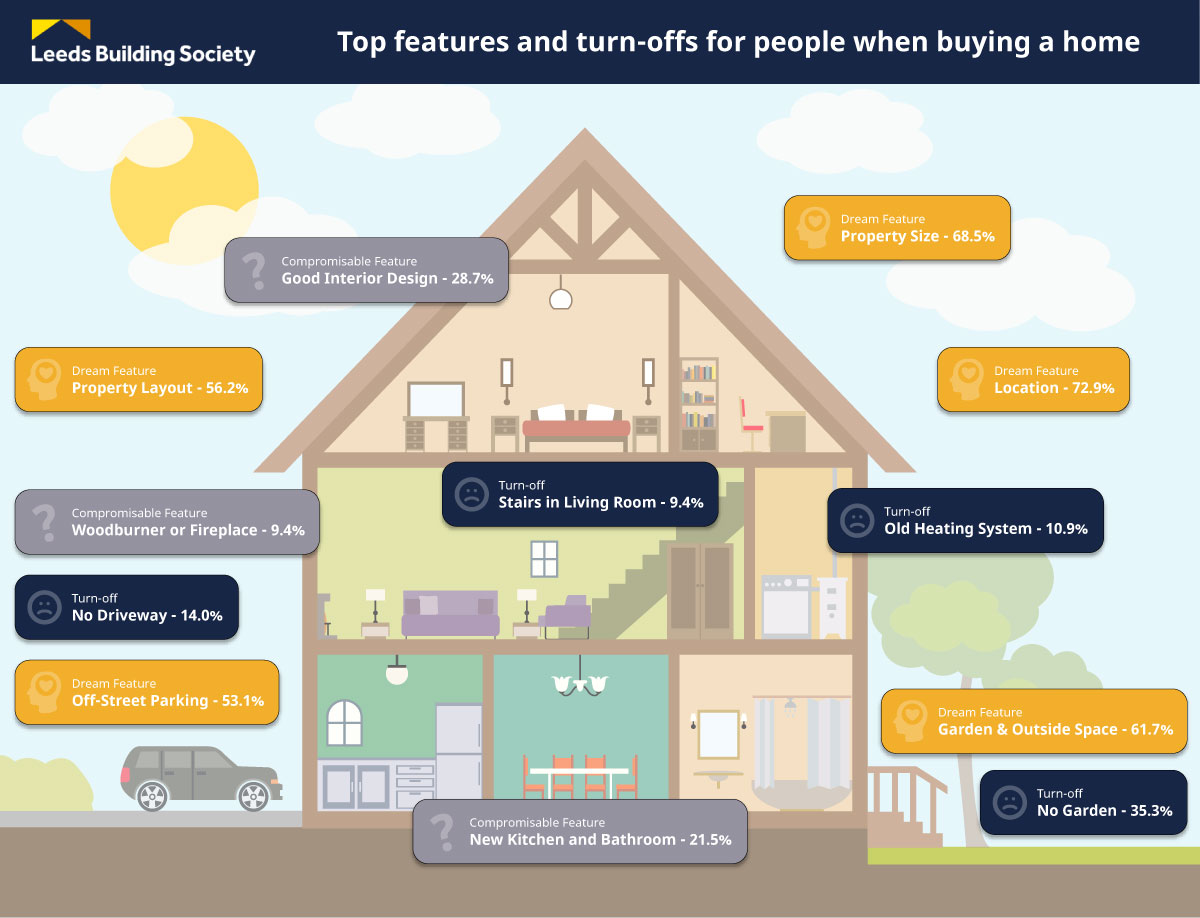 Ends
Notes to Editors
An infographic of top property priorities and turn-offs accompanies this press release – please contact the press office on 0113 225 7903.
*Leeds Building Society surveyed 1,000 homeowners through OnePoll in March 2015.
Awards won by Leeds Building Society in the past 12 months include the 'Innovation Award (Lenders)' at the Mortgage Finance Gazette Awards 2015, in addition to being named 'Best Intermediary Lender', both for the second consecutive year. The Society also received the award for 'Best Use of Technology (Lenders)'.
Leeds Building Society has 67 branches throughout the UK, Gibraltar and Ireland and assets of £12.1bn (as at 31st December 2014). The Society has operated from the centre of Leeds since 1886.