Back to October 2015
Society sponsors local football team
The Pace under 10s girls football team are looking smarter this season thanks to a £380 donation from Leeds Building Society.
The sponsorship has paid for new kits for the team, with the players proudly carrying the Society's logo on the front of their shirts for a season.
The team are coached by Holly Mann, who said: "This sponsorship provides girls the opportunities to be engaged with and involved in football, following the successes of our national female team earlier this year."
Alison Cottle, manager of Leeds Building Society's Southampton branch said: "We are delighted to make this donation and support the team.
"As a building society, we are owned by our members and are pleased to support good causes in the communities where we and our members live and work.
"It's great to be supporting girls' football. I have attended some training sessions, the girls are really determined and Holly is doing a great job building their confidence and skills."
Ends
Notes to Editors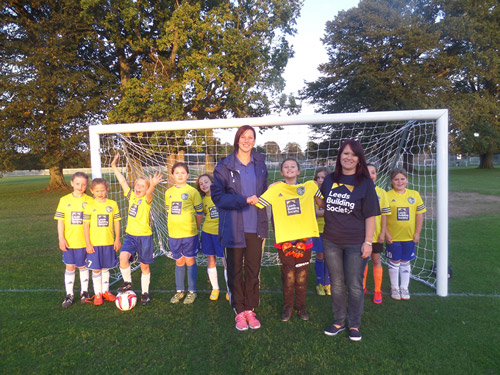 Please see attached a photo of the Pace under 10s girls football team, with Holly Mann (front, left) and Alison Cottle (front, right).
Pace under 10s play at Testwood School, Testwood Lane, Totton, Southampton, SO40 3ZW.
Leeds Building Society's Southampton branch is at 41 London Road, Southampton, SO15 2AD.
Leeds Building Society has 67 branches throughout the UK, Gibraltar and Ireland and assets of £12.7bn (as at 30th June 2015). The Society has operated from the centre of Leeds since 1886.