Back to December 2015
LBS continues Christmas support for homeless charity
Vouchers to help homeless and disadvantaged people in Leeds this winter are available from Leeds Building Society's branches.
Give Me Some Credit, the voucher scheme run by St George's Crypt, has been supported by Leeds Building Society in all its 13 branches in Leeds since its launch in June 2013.
Each book costs £5 and contains five vouchers, each of which can be given to people begging as an alternative to handing out cash.
Vouchers can be exchanged for a hot meal at St George's Crypt, where visitors can also talk to staff about what help and support is available to them.
The initiative, set up in partnership with Leeds City Council and West Yorkshire Police, has been heralded as a constructive way to address an issue which is often very challenging and sometimes unseen.
Arja Copperwheat, Community Fundraiser at St George's Crypt, said: "Homelessness in Leeds is an issue nobody can ignore, especially in the cold winter months. This scheme is a novel way of allowing kind-hearted people to give without the risks associated with cash donations.
"The Give Me Some Credit vouchers can be exchanged for meals and showers. As well as Leeds Building Society's branches in Leeds, the vouchers are available at all Leeds libraries, our Trinity café and the charity's shops in Armley and Oakwood."
Karen Duff, Leeds Building Society's Regional Manager in Leeds, said: "I am very pleased that all our 13 branches in Leeds will continue to support this excellent initiative.
"The vouchers have been popular with our customers since they were launched in June 2013, and we hope to sell many more to help some of the people who are most in need over the Christmas period."
Ends
Notes to Editors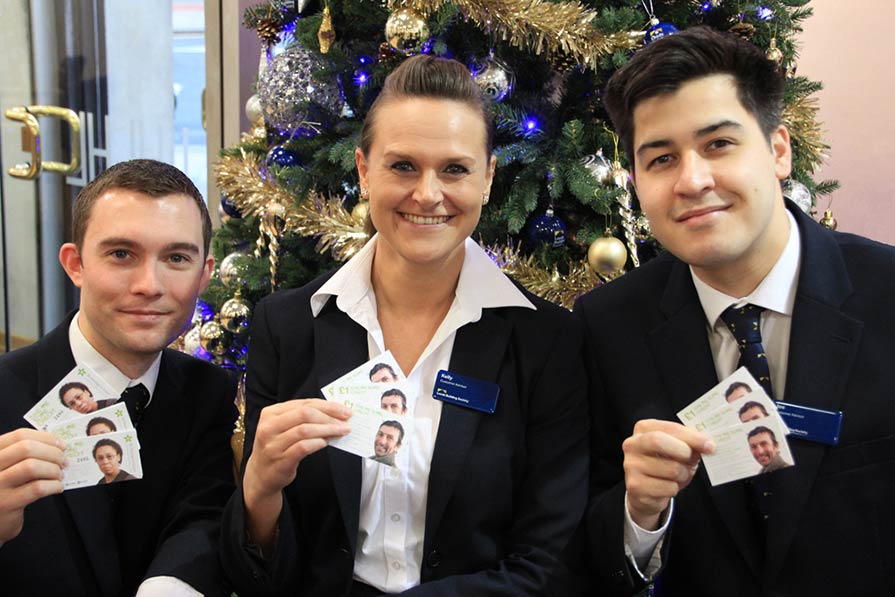 Pictured (L-R) from the Society's Head Office branch are Simon Scarlett, Kelly Mace and Joseph Abrahams
The vouchers are available now at Leeds Building Society's branches in Adel, Armley, Beeston, Chapel Allerton, Crossgates, Garforth, Harehills Road, Headingley, Horsforth, Moortown, Street Lane and Yeadon. They are also on sale at the Society's Head Office branch, at 105 Albion Street in Leeds city centre.
Leeds Building Society has 67 branches throughout the UK, Gibraltar and Ireland and assets of £12.7bn (as at 30th June 2015). The Society has operated from the centre of Leeds since 1886.