Back to February 2016
Generous Society members donate over £200,000 to charity
Charity campaigns supported by Leeds Building Society members raised more than £200,000 for good causes in 2015.
Leeds supported partner charities Age UK, Marie Curie Cancer Care, Variety – the Children's Charity and its own Charitable Foundation through the 'Your Interest in Theirs' scheme, where members donate the pence amount of interest they earn on their savings.
The Society also donates 1% of the average balances in all Caring Saver accounts, shared equally between these same four charity partners.
The mutual made donations totalling over £104,000 through the Your Interest in Theirs and Caring Saver schemes in 2015.
Leeds Building Society's Charitable Foundation supports community-based projects near its branches. In 2015, the Foundation made grants totalling over £102,000 to 124 charities which provide relief from suffering, hardship or poverty, or their direct consequences.
"We are delighted our members have kindly supported the Society's community fundraising efforts, resulting in an overall donation to local and national charities in 2015 of more than £200,000," said Gary Brook, Leeds Building Society's Head of Corporate Communication.
"Their backing enables us to continue to support some great causes in the areas within which we operate."
Ends
Notes to Editors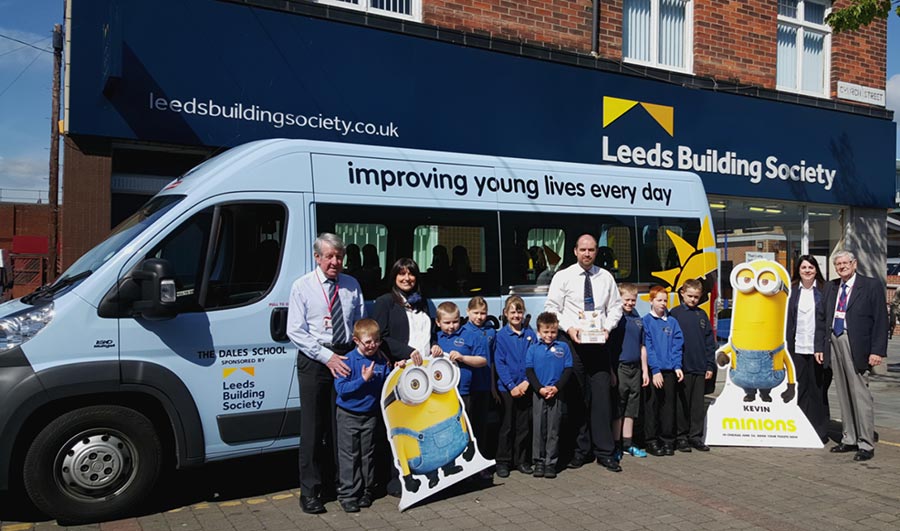 Pictured is Variety handing over the keys to a Sunshine Coach to Dales School in Blyth last year, thanks to Your Interest in Theirs and Caring Saver donations from Leeds Building Society.
Leeds Building Society's Caring Saver account sees the equivalent of 1% of the total balance held in the account donated to four partner charities on an annual basis. The Your Interest in Theirs scheme enables members to donate up to 99p of interest each year to good causes.
Leeds Building Society has 67 branches throughout the UK, Gibraltar and Ireland and assets of £12.7bn (as at 30th June 2015). The Society has operated from the centre of Leeds since 1886.