Back to March 2016
Leeds Building Society raises £8,000 for Yorkshire Air Ambulance
Leeds Building Society raised £8,000 for Yorkshire Air Ambulance in 2015.
Colleagues from across the Society organised various fundraising activities throughout the year including climbing the Yorkshire Three Peaks, playing netball and eating very spicy chillies.
To celebrate this donation, four Society colleagues visited the charity's airbase on the Nostell Priory Estate, near Wakefield to get an insight into the work undertaken by the team.
Kevin Mowles, Head of Business Support at Leeds Building Society, said: "The visit to the Yorkshire Air Ambulance was inspiring. It is incredible to get an insight into the critical work undertaken by such a wonderful team of dedicated professionals. The scale of their responsibilities is eye watering and so heavily dependent upon charitable donations.
"The presence of this service makes such a difference to life threatening trauma care. It's a day that will stay with me forever. I cannot commend this service and these people enough."
Kerry Garner, Regional Fundraising Manager at Yorkshire Air Ambulance, said: "We would like to sincerely thank Leeds Building Society's Colleague Charity Group* for choosing to support us and raising such a fantastic amount of money.
"They seem to be only too aware of the very real necessity of our service and we are grateful for their support. It costs £12,000 per day to keep both of our helicopters in the air and helping to save lives. There is no doubt that Leeds Building Society's generous support will help us to save lives and guarantee the service into the future."
Ends
Notes to Editors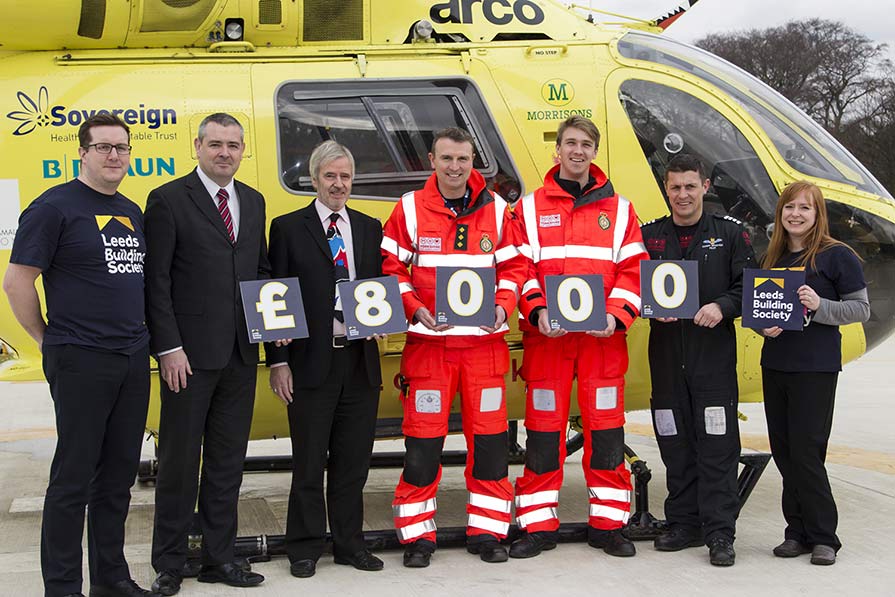 Please see attached pictured (L-R) Ian Lloyd-Jones, Kevin Mowles, Robin Owen-Morley (all Leeds Building Society), Pete Vallance (Clinical Operations Manager) Kit Von Mickwitz (Paramedic), Cpt Garry Brasher (Pilot) and Becky Priest (Leeds Building Society).
*The Colleague Charity Group at Leeds Building Society is a focus for charitable fundraising supported by colleagues. The charities, chosen after a vote by colleagues, are currently Alzheimer's Society, Yorkshire Air Ambulance, Great North Air Ambulance and Hollybank Trust.
Leeds Building Society has 67 branches throughout the UK, Gibraltar and Ireland and assets of £13.5bn (at 31 December 2015). The Society has operated from the centre of Leeds since 1886.
The Yorkshire Air Ambulance needs to raise £12,000 per day to keep both of Yorkshire Air Ambulance's helicopters maintained and in the air. The donations received go directly into the life saving service provided. However, as an independent Charity they rely on the generosity of those who support the service to continue to save lives across Yorkshire.