Back to March 2016
Society gets behind the Daffodil following annual donation
Leeds Building Society is proud to be supporting this year's Marie Curie's Great Daffodil Appeal.
The charity's mascot 'Daffy' visited the Head Office branch to celebrate the Society promoting daffodil pin-badges at all its branches throughout March.
"This year is the 30th anniversary of Marie Curie's Great Daffodil Appeal and we're really excited that Leeds Building Society's branches are getting behind the daffodil throughout March," said Siobhan Drane, Marie Curie's Partnership Manager in the North of England.
Daffy was joined by Marie Curie Patron and Vice President, Christine Hamilton-Stewart, who accepted a £26,000 donation generated from charity campaigns supported be the mutual's members throughout 2015.
"We're overwhelmed with this extremely generous donation and would like to thank to say a huge thank you to Leeds Building Society and its customers for their support," said Christine Hamilton-Stewart.
The £26,000 donation comes from the Society's Your Interest in Theirs scheme and Caring Saver account. Making up the £26,000, £20,000 was donated by members through the Your Interest in Theirs scheme where savers agree to forego up to 99p of their interest each year. These funds are then split equally between the Society's four charity partners.
The £6,000 balance of the donation came from the mutual, which donates 1% of the average balances in all Caring Saver accounts equally between these same four charity partners.
"We're delighted our members have kindly supported the Society's community fundraising efforts, resulting in an overall donation to Marie Curie in 2015 of £26,000," said Michelle Capell, Leeds Building Society's Head Office Branch Manager.
"We are now looking forward to welcoming people to our branches to make a donation for a daffodil, and hope to see many people proudly wearing theirs."
Ends
Notes to Editors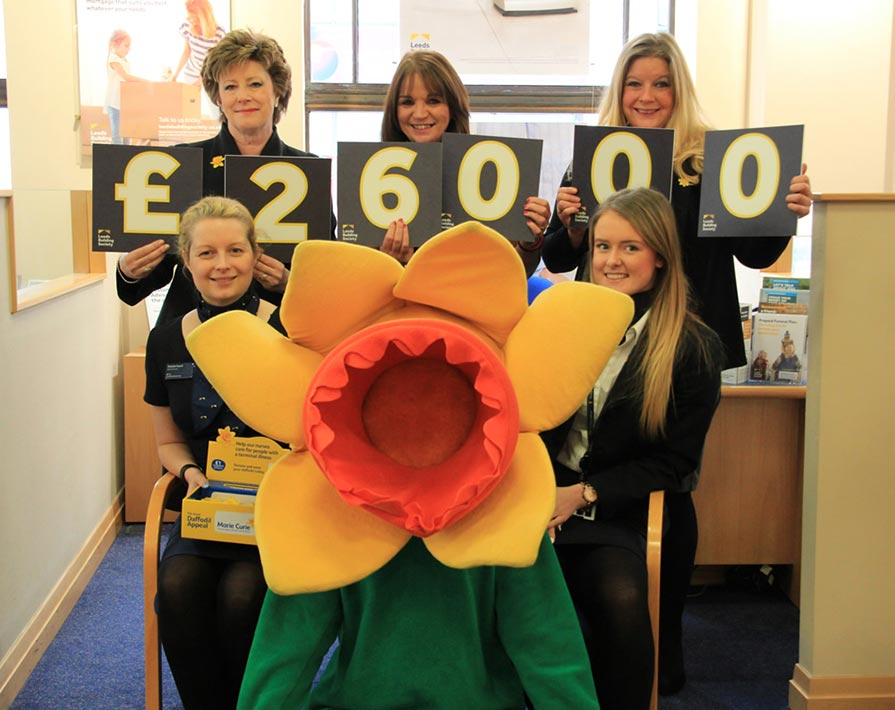 Pictured, back row L-R, are Christine Hamilton-Stewart, Michelle Capell and Siobhan Drane. Front row, L-R, are Rebecca Blow, Daffy and Jessica Bradshaw.
Leeds Building Society's partner charities are Age UK, Marie Curie Cancer Care, Variety the Children's Charity and Leeds Building Society Charitable Foundation.
For 30 years, the Great Daffodil Appeal has turned the nation yellow, bringing millions of people together in support of the Marie Curie Nursing Service. Since the start of the campaign in 1986, more than £73m has been raised for Marie Curie and more than 7 million daffodils are proudly worn during March, making this the second largest pin badge appeal in the UK.
Leeds Building Society has 67 branches throughout the UK, Gibraltar and Ireland and assets of £13.5bn (at 31 December 2015). The Society has operated from the centre of Leeds since 1886.