Back to May 2016
Newcastle branch manager Robin scoops prestigious national award
Robin Greenwell has been crowned overall winner of the Annual Excellence in Action (EIA) awards at Leeds Building Society. This honour goes to the Society colleague who has consistently excelled throughout the year and performed at a level beyond their role.
Robin, Branch Manager in Newcastle, was chosen as overall winner from among the seven category winners. He also received the 'Most Inspirational Colleague' award.
This recognition is due to Robin organising a team of Society volunteers to help with the BBC's DIY SOS Big Build event, which involved refurbishing houses for injured servicemen and women.
The team was made up of colleagues from the Society's Mortgage School of Excellence, who won the 'Living our Values' award at last year's EIA awards. Robin suggested donating the £300 prize, which colleagues topped up with fundraising to pay for three TV's and a laptop for the refurbished homes' communal areas.
Andy Medling, the Society's Regional Manager in the North East, said: "Robin built on a chance meeting to deliver a fantastic outcome for so many deserving beneficiaries, through a national television network. The exposure the Society received, coupled with the opportunity to increase brand awareness in the Manchester area, was fantastic."
Robin said: "I feel very proud to be part of such a great team at Leeds Building Society. Our involvement with this event allowed the team to give something back to our community in a way totally different to our daily roles.
"Using our volunteering days in such a way brought together a very diverse team of determined individuals who found skills they didn't know they possessed. To witness the veterans receiving their new homes was very emotional and we took a lot from the whole experience."
Ends
Notes to Editors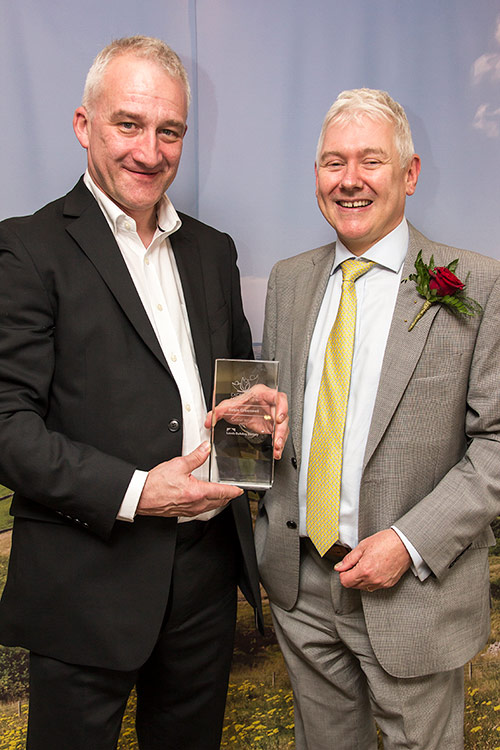 Robin Greenwell is pictured with his 'Overall Winner' award, alongside Peter Hill, Leeds Building Society Chief Executive Officer.
Leeds Building Society's Annual Excellence in Action awards are open to all colleagues, excluding Heads Of department and the Senior Management team. Each of the seven category winners receives a personal commemorative award and £300. The highly commended in each category receive a £75 gift voucher. The overall winner receives £1000 and their name is inscribed on the Excellence in Action honours board at Head Office.
Leeds Building Society's volunteering scheme allows all colleagues a day's paid leave each year to help in the community.
Leeds Building Society has 67 branches throughout the UK, Gibraltar and Ireland and assets of £13.5bn (at 31st December 2015). The Society has operated from the centre of Leeds since 1886.