Back to July 2016
Leeds members support homeless and disabled charities
Votes from Leeds Building Society members at this year's Annual General Meeting (AGM) have raised more than £8,000 for good causes.
Members voted - either in person, online or by post - resulting in a donation of £8,540 shared between Depaul UK, Sense and Leeds Building Society Charitable Foundation.
Nikki Marsh, Leeds Building Society's Director of Customer and Digital, said: "We used our online member forum, TalkingPoint, to find out which type of charities we should support at this year's AGM.
"TalkingPoint gives us the opportunity to build closer relationships with our members, gain insight into what matters to them and enables us to provide updates on how we've used their feedback."
The mutual's members chose to support homeless charities and organisations supporting adults and children with physical and mental disabilities.
The Society therefore picked Depaul UK and Sense to benefit from proceeds generated by votes, along with its own Charitable Foundation.
Representatives from Leeds Building Society recently visited Depaul UK and Sense to see how these funds will be spent, and to meet people who will benefit from their services.
Annie Hall, Corporate Partnerships Manager at Depaul UK, said: "Thank you to the Leeds Building Society members - your donation will help support Depaul UK's vital youth homelessness services, such as our regional work in Sheffield and South Yorkshire."
Anne Telling, Sense Resource Centre Manager at Ashley Court in Rotherham for Sense, said: "We're incredibly grateful to Leeds Building Society's AGM members. Donations like this help us to continue our work supporting adults and children with sensory impairments to live full and independent lives."
Ends
Notes to Editors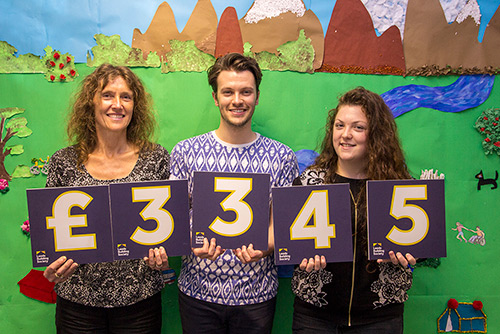 Sense shows, pictured L-R, Anne Telling (Resource Centre Manager), Joe Clayton (Deputy Manager) and Annie Dodds (Support Worker).
Depaul shows, pictured L-R, Naomi Carruthers (Corporate Partnerships Account Manager), Radouan Kharbach (Support Worker), Sarah Gregory (Programme Manager), Rafiq Saleh (Support Worker) and Yasmin Kempton (Senior Support Worker).
Sense is a national charity that has been supporting and campaigning for children and adults who are deafblind for the last 60 years. There are currently around 250,000 deafblind people in the UK. Sense provides specialist information, advice and services to deafblind people, their families, carers and the professionals who work with them. It runs services across England, Wales and Northern Ireland and employs 2,000 people, most of whom work in services directly with deafblind people. Its patron is HRH The Princess Royal. Further information can be found on Sense's website - www.sense.org.uk
Depaul believe that homelessness has no place. They work in some of the UK's most disadvantaged communities with young homeless people, aged 16-25, to provide housing and support to ensure that they can progress beyond homelessness and to a positive future.
Leeds Building Society has 65 branches throughout the UK, Gibraltar and Ireland and assets of £13.5bn (at 31st December 2015). The Society has operated from the centre of Leeds since 1886.