Back to July 2016
Norwich branch cyclists raise over £3,000 for local cancer charity
Seven cyclists from Leeds Building Society's Norwich branch cycled 26 miles along Marriott's Way, from their branch at 6/7 Guildhall Hill to Aylsham, and raised over £3,400 for Big C – Norfolk's Cancer Charity.
The Society cyclists, who completed the bike ride in three and a half hours, were taking part in memory of a colleague and friend.
Mick Copping, a Legal & General financial advisor based at Norwich branch, passed away in December 2014 and his family chose Big C - Norfolk's Cancer Charity for the team to support.
The fundraising effort began at the Norwich branch in March with a hamper raffle and has been supplemented by events throughout the Society's branches in the South East.
The team's £3,400 fundraising includes £1,000 in matched funding from Leeds Building Society.
The Society's team entry was co-ordinated by Stacey Fountain, Mortgage Consultant and Lynda Dowe, Customer Advisor at Norwich branch. They said: "We are so happy with the support we've received from Leeds Building Society and our members since we started raising funds in March, and would like to thank everyone for their support and donations."
Clive Evans, Director of Income Generation - Big C, said: "We're so grateful for the support from the incredible team at Leeds Building Society. Their fantastic fundraising achievement will make sure we can continue providing innovative cancer care, through funding pioneering research and equipment, and providing support and information to those affected by cancer locally in Norfolk & Waveney."
Any further donations for the Society's Norwich branch cyclists can be submitted via https://www.justgiving.com/fundraising/LeedsBSNorwich
Ends
Notes to Editors
Members of the team at the start of the cycle ride.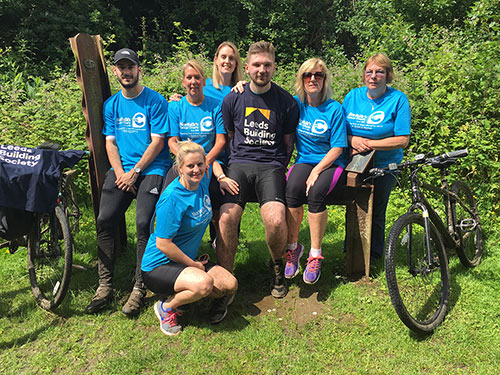 Members of the team at the finish of the cycle ride.
Leeds Building Society's Norwich branch is at 6/7 Guildhall Hill, Norwich, NR2 1JG.
Every year around 6,000 people are diagnosed with cancer in Norfolk. The aim of Big C is to make sure that anyone diagnosed or caring for someone with cancer is supported in the best way for them. Big C (www.big-c.co.uk) looks to support local people through their cancer diagnosis, treatment and life.
Leeds Building Society has 67 branches throughout the UK, Gibraltar and Ireland and assets of £13.5bn (at 31st December 2015). The Society has operated from the centre of Leeds since 1886.