Back to October 2016
Green-fingered finance team plant a promise
Volunteers from Leeds Building Society started the spadework for spring at Crag House Farm, the home of Caring For Life.
The Financial Reporting and Control team colleagues planted hundreds of wild flower bulbs at the charity for homeless and vulnerable people.
These were all native species including bluebells, snowdrops, aconites and wild daffodils.
"Although nothing will be seen for some months there is the promise that, in the spring, the wild flower bulbs will produce beautiful clumps of flowers, enriching the area with their colours and beauty and helping to further enhance the wildflowers on site," said Natasha Headley, Caring For Life PR Officer.
"We thank our regular volunteers and also the teams of corporate volunteers who help with tasks like this, jobs which are so important but which couldn't be undertaken without their crucial help."
The Leeds team were taking advantage of the mutual's volunteering scheme, which allows all colleagues a day's paid leave each year to help in the community.
Liz Porteous, Financial Reporting Manager at Leeds Building Society, said: "The volunteering day provided an opportunity for team building and skills development.
"It was also great for boosting individual morale, as our colleagues realised they were making a difference in the lives of some of the most isolated and needy people in Leeds."
Ends
Notes to Editors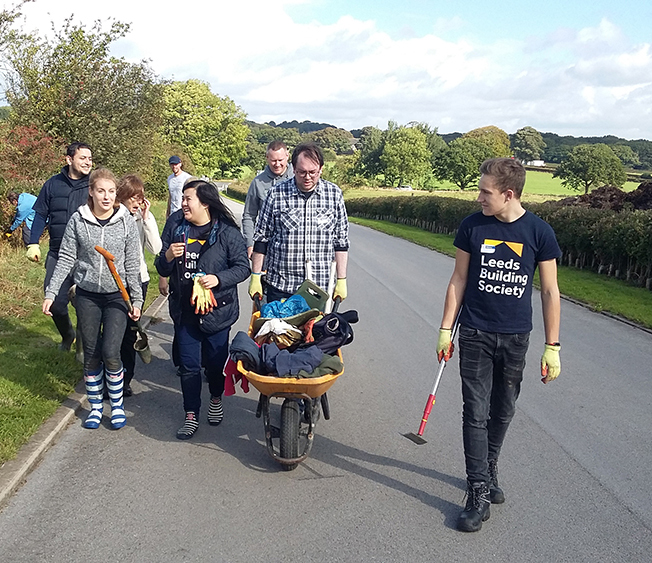 Members of the Financial Reporting and Control team during their volunteering day.
Hammering the point home.
Caring For Life is at Crag House Farm, Otley Old Road, Cookridge, Leeds, LS16 7NH.
Caring For Life, more commonly known as CFL, is a registered charity (registration no. 519138) with the aim of providing accommodation, ongoing support and friendship for homeless or vulnerable people.
Leeds Building Society has 65 branches throughout the UK, Gibraltar and Ireland and assets of £14.9bn (at 30th June 2016). The Society has operated from the centre of Leeds since 1886.