Back to October 2016
Society volunteers improve city waterfront area
Volunteers from Leeds Building Society joined the ongoing efforts to transform the River Aire waterfront following the damage caused by last winter's flooding.
Eight colleagues from the Society's branches in Leeds joined a clean-up session, organised by Leeds based charity Groundwork, at the Whitehall Road waterfront.
One of the Society volunteers was Michelle Capell, manager at Head Office branch, who said: "We had a fantastic day which involved getting stuck in with various tasks such as clearing away overgrown vegetation and removing litter.
"There was a great atmosphere on the site and a real sense of community spirit in what was being achieved."
The team was taking advantage of the mutual's volunteering scheme, which allows all colleagues a day's paid leave each year to help in the community.
"The weather was horrendous - rain, cold and as the day progressed there was plenty of slippery mud too but even given these conditions the volunteers not only arrived but worked right through the day with smiles on their faces," said John Cummins, from Groundwork.
"It is really becoming noticeable that Leeds people care about their city and many are willing to do something practical as part of improving the waterfronts."
Wayne Tonks, from Environmental Services at Leeds City Council, added: "The volunteers have made a vast improvement to the side of the River Aire, which I am sure all the visitors and regular users will notice.
"I cannot see any other city making such improvements using the local businesses and volunteers who care about the city they live and work in."
Ends
Notes to Editors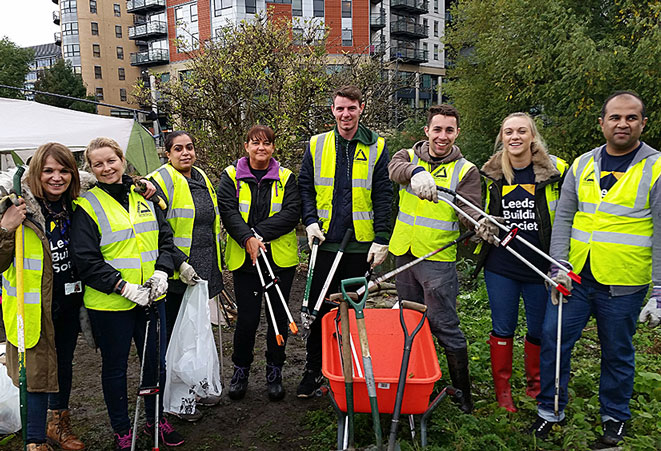 Pictured, L-R, are Michelle Capell, Rebecca Blow, Chhaya Lilapurwala, Nicola Richardson, Matthew Hay, Cameron Bland, Amelia Hauff and Gulam Foysol.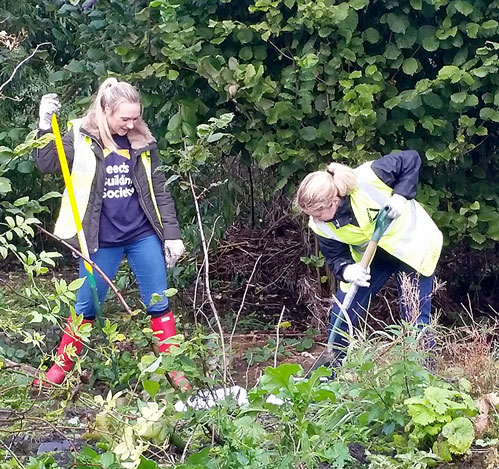 Amelia Hauff is pictured, left, with Rebecca Blow, right
Leeds Building Society has 65 branches throughout the UK, Gibraltar and Ireland and assets of £14.9bn (at 30th June 2016). The Society has operated from the centre of Leeds since 1886.