Back to January 2017
John Coutts is adviser of the year at Leeds Building Society
Newcastle mortgage adviser John Coutts is celebrating being named Leeds Building Society's customer adviser of the year for 2016.
These awards, now in their seventh year, recognise colleagues working in Direct Distribution who delivered outstanding customer service last year.
John advises borrowers in the Society's Direct Mortgage unit at its Cobalt office in the North East.
"John does all he can to help his customers achieve their dream of home ownership," said Trevor Garside, Leeds Building Society's Head of Direct Distribution.
"He has received many letters from very grateful customers praising his fantastic service and I am so pleased his expertise and dedication has been acknowledged through this award."
Twenty customer advisers, nominated by their regional managers, attended the awards luncheon. Highly commended winners received trophies, vouchers, certificates and champagne to mark their achievements.
The overall winner award was then presented to John, who said: "I am delighted to receive this award as there were so many deserving nominees this year, and want to thank my colleagues and the management team for their continued help and support.
"It is a fantastic achievement to be the overall adviser of the year, my aim is always to provide the best outcome for my customers and they are always at the forefront of my day-to-day life in the Direct Mortgage unit.
"I look forward to helping more customers have the homes they want in 2017."
Ends
Notes to Editors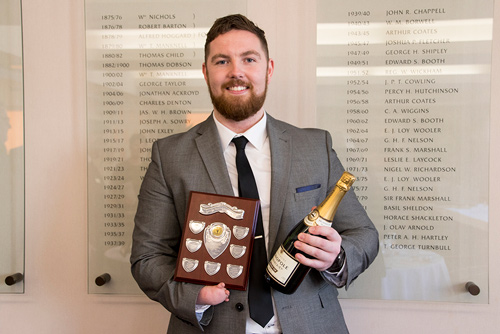 John with his award and a bottle of champagne
John Coutts with Peter Hill, Richard Fearon & Graham Binns
Pictured (L-R) are Richard Fearon (Chief Commercial Officer), John Coutts, Peter Hill (Chief Executive Officer) and Graham Binns (Head of Branch Network).
John is also pictured with his trophy and champagne.
Leeds Building Society's Direct Mortgage Unit is at Cobalt Business Park, 10 Silver Fox Way, Newcastle upon Tyne, NE27 0QJ.
Leeds Building Society operates throughout the UK, Gibraltar and Ireland and has assets of £14.9bn (at 30th June 2016). The Society's head office has been based in the centre of Leeds since 1886.