Back to May 2017
Pawesome Leeds volunteers have a purrfect day
Volunteers from Leeds Building Society's Cobalt office spent a day working at a North East animal shelter.
The Newcastle Dog and Cat shelter looks after unwanted and stray animals and aims to find them new homes.
The nine colleagues from the mutual's Direct Mortgages, Contact Centre and Quality and Competency teams took advantage of the volunteering scheme which allows all Society employees a day's paid leave annually to help a good cause of their choice.
"The work we carried out ensured the animals have a more enjoyable place to stay while waiting for their new homes," said Mark Simmons, Direct Mortgages Team Manager.
"We also organised a collection of food and toys for the cats and dogs, as well as items for the shelter to sell in their shop to raise funds to help with the cost of looking after the animals.
"After our hard work we had a chance to walk around the shelter and meet the different animals, which led to one of our team adopting a cat called Chester which they are picking up soon.
"All in all a good day and our feedback has led to other colleagues at Cobalt thinking about how they will use their volunteering hours this year."
Marie Webster from the Dog and Cat shelter said: "We are so pleased with the efforts of the volunteers from Leeds Building Society at our centre.
"It was intense manual labour in typical British weather, and the area now looks fabulous thanks to their hard work."
Ends
Notes to Editors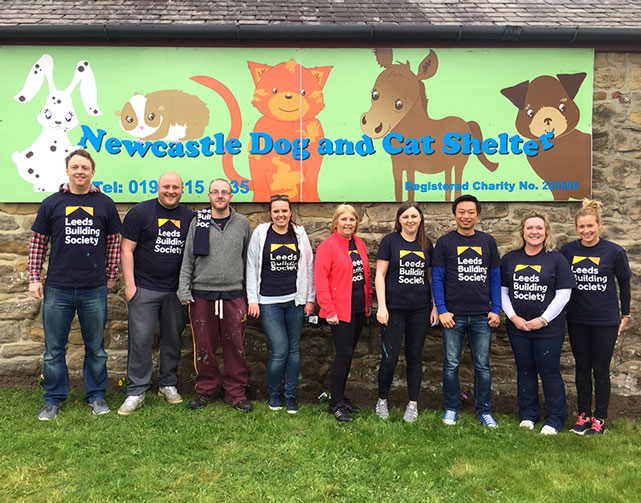 Pictured (L-R) are John Cole, Mark Simmons, Simon Dean, Paige Bailes, Lynne Gray, Rhiann Inglesfield, Will Cheung, Debbie Williams and Lauren Dowling.
The Newcastle Cat and Dog shelter is at Benton Rd, Benton, Longbenton, Newcastle upon Tyne, NE12 8EH.
Leeds Building Society's Cobalt office is at 10 Silver Fox Way, Cobalt Business Park, Newcastle, NE27 0QJ.
Leeds Building Society operates throughout the UK, Gibraltar and Ireland and has assets of £15.9bn (at 31st December 2016). The Society's head office has been based in the centre of Leeds since 1886.