Back to October 2017
Leeds mortgage consultants share gardening skills at Peterborough school
Mortgage consultants from Leeds Building Society's branches helped create a new outdoor area for children at a Peterborough school.
The seven volunteers provided a day of labour to Heltwate School as part of Project Heltwate, which aims to provide the pupils with an allotment to use.
The Leeds Building Society team took advantage of the mutual's volunteering scheme, which allows all colleagues a day's paid leave each year to help in the community.
One of the volunteers was Richard Patterson, who said: "We had a fantastic day which involved getting stuck in with various tasks such as building raised beds, painting old plastic pots, filling planters with soil from compost boxes and general site cleaning and tidying.
"There was a great atmosphere on the site and a real sense of community spirit in what was being achieved."
Progress Health, PFI providers for Peterborough City Hospital, set up the project as part of their #MakingaDifference initiative. Investors in Progress Health, InfraRed Capital Partners and John Laing Infrastructure Fund have an ESG (Environmental, Social, and Governance) agenda which includes supporting initiatives local to any projects they invest in.
Zoe Glover from Progress Health said: "The mortgage consultants from Leeds Building Society who helped out on the project were absolutely amazing and did so much work.
"They have really made a difference and it was great to meet them all.
"After meeting some of the kids and then seeing them with smiles on their faces over the last two weeks I can honestly say it's been so worthwhile."
Ends
Notes to Editors
Pictured, L-R, are Simon Kimber (London branch), Daniel Coggan (Sheffield), Daniel Hopper (Nottingham), Richard Patterson (Direct Distribution), Zoe Glover (Progress Health), Sunil Bhardwaj (Barkingside), Rajal Pandya (Watford) and Junaid Hussain (Peterborough).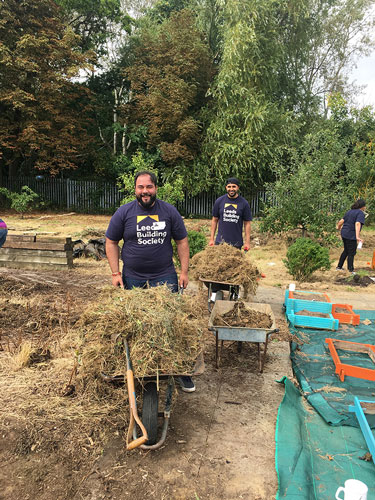 Sunil Bhardwaj (front) and Junaid Hussain (back)
Pictured L-R, Rajal Pandya, Sunil Bhardwaj and Junaid Hussain.
Heltwate School is at Heltwate, North Bretton, Peterborough, PE3 8RL.
Leeds Building Society operates throughout the UK, Gibraltar and Ireland and has assets of £15.9bn (at 31st December 2016). The Society's head office has been based in the centre of Leeds since 1886.