Back to October 2017
Leeds team don wellies for local wildlife rescue centre
Volunteers from Leeds Building Society spent a day working at Ponderosa Rescue Kennels and Cattery in Castleford.
The six Mortgage Lending team colleagues helped out with a range of jobs including cleaning floor surfaces and providing fresh bedding, litter trays, clean water and food.
They were taking advantage of the mutual's volunteering scheme, which allows all Society employees a day's paid leave each year to help in the community.
Ponderosa Dog Care Association is a local Yorkshire based charity devoted to looking after unwanted dogs and cats while attempting to find a suitable home for them.
"The cats and kittens all wanted attention, we spent some time with them and found out from the staff some background as to why they ended up at Ponderosa," said Sophie Boardman, Mortgage Processor in Mortgage Lending.
"In the afternoon we all took the dogs on a four mile walk - most of the dogs pulled the whole way which was saddening as you could tell they didn't get out that often.
"All the animals deserve a loving home to go to. April is going back to adopt a kitten called Esma and my parents are thinking of adopting one of the cats called Ted."
Ends
Notes to Editors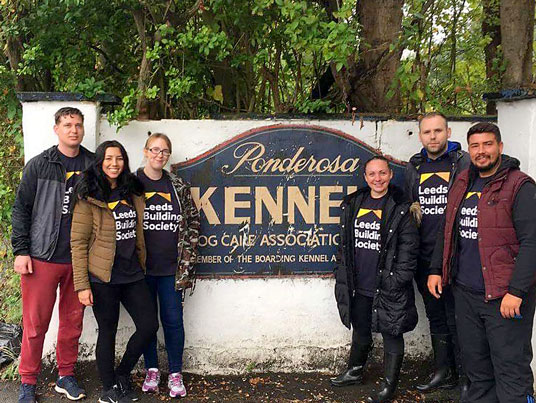 Pictured (L-R) are Nathan Tugwell, Sophie Boardman, April Tomblin, Michelle Cowell, Peter Glynn and Mathew Roberts.
Ponderosa Rescue Kennels and Cattery is at Ninevah Lane, Allerton Bywater, Castleford, WF10 2EW.
As a solely donation based association, Ponderosa Dog Care Association always requires things like bedding, toys, food and any other items which would benefit the cats and dogs currently with them. They would also appreciate and support any fundraising events held as a way of donating towards the upkeep of the shelter and the animals.
Please visit http://www.ponderosa-kennels.org.uk/dogs.htm or call Karen on 01977 552303 for more details.
Leeds Building Society operates throughout the UK, Gibraltar and Ireland and has assets of £15.9bn (at 31st December 2016). The Society's head office has been based in the centre of Leeds since 1886.