Back to December 2017
A year of art from Hull youngsters raises cash for good cause
Proud Hullensians can snap up some original artwork which celebrates their home city.
Leeds Building Society challenged local schoolchildren to create a design which showed what they love about Hull and the winning drawings, paintings and collages have been turned into a charity calendar.
The 2018 calendar is raising funds for Hull and East Yorkshire Children's University, which provides learning experiences for children who would otherwise never get the chance to take part in them.
The winners, who range in age from four to 11, collected their prizes at a VIP viewing at Hull Paragon railway station, managed by train company TransPennine Express, where their designs are gracing the concourse over the coming weeks.
"The calendar has landmarks including the Humber Bridge and the Maritime Museum, and it was difficult to pick the winners from so many lovely pictures," said Denise Woodall, the manager of Leeds Building Society's Hull branch.
"We're thrilled TransPennine Express offered to display the artwork at Hull Paragon station so it can be seen and enjoyed by thousands of people every day.
"We hope they'll pop round to our branch in Paragon Street and buy a calendar to take home and brighten up their kitchen, hall or office."
David Hatfield, Station Manager at Hull for TransPennine Express, commented: "We are thrilled that the station is playing host to these wonderful works of art created by our young people.
"I would encourage people to come along to the station and see the colourful designs for themselves."
Rose James, Partnership Manager of Hull and East Yorkshire Children's University, explained where the funds raised from the calendar would be used.
She said: "Leeds Building Society in Hull is raising money for our charity so that a group of children can visit London for a day that they will never forget. We are extremely grateful to them for fundraising for us and we think the calendars look fantastic!"
The calendar costs £5.99 and is on sale now from Leeds Building Society, 78 Paragon Street, Hull HU1 3PW. All proceeds go to charity.
Ends
Notes to Editors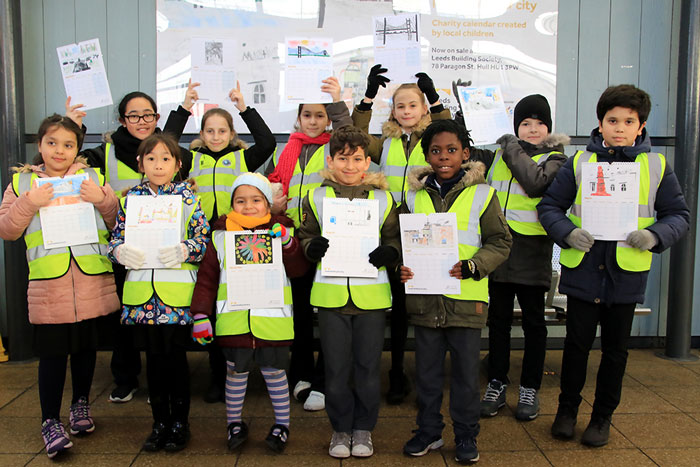 Winners of Leeds Building Society's 2018 Hull calendar competition see their designs on show at Paragon railway station.
The winners are: January - Lila Said, aged 10; February - Adiana Zilberte, 10; March - Ahsan Ataye, 10; April - Trent Sigiyo, eight; May - Artjoms Voronko, nine; June - Aida Zwierzchowska, 10; July - Sanga Shenwary, eight; August - Abdulrahman Khayran, nine; September - Lexi Aglanao, 11; October - Jammy Zheng, eight; November - Sanah Shenwary, four; December - Nabil Alam, 10 (not pictured).
Leeds Building Society was named Best Building Society Savings Provider in the Moneyfacts Awards for 2017, having also won this title in 2016.
The Society won the title of Best Shared Ownership Mortgage Lender in the 2017 What Mortgage Awards, its second consecutive year of success in this category.
Leeds Building Society operates throughout the UK, Gibraltar and Ireland and has assets of £17.3bn at 30th June 2017 (£14.9bn at 30th June 2016). The Society's head office has been based in the centre of Leeds since 1886.