Back to February 2018
Morley scoops Leeds Building Society's branch of the year
Colleagues who put in a fantastic volunteering effort in their communities have helped Morley branch scoop Leeds Building Society's Branch of the Year 2017 award.
The Society's branch is one of the busiest in the country and the team's community spirit - which saw 100% of Morley colleagues volunteer - has helped them walk away with the award, given to the branch which has consistently excelled throughout the year.
All 53 of the Society's branches can be nominated for the awards which see teams judged on key measures, especially the service they offer to members.
All Society employees can take a paid day's leave to volunteer to give a helping hand, with those at Morley branch taking part in projects including helping to tidy a memorial garden at Chellow Heights Special School in Bradford.
Graham Binns, Head of Branch Network at Leeds Building Society, said: "Morley branch thoroughly deserves this after such a fantastic 12 months. Nichola and her team always strive to put members and their communities first, whether it's through their high levels of service or through their volunteering and community spirit."
Nichola Mullaney, Morley Branch Manager, said: "I am just so proud. It's the first time we have won this and we did it by working together as a team. Without our customers we would not be here so it's important that they come first."
"This is a great achievement. It has been a real team effort throughout the year, exemplified by the fabulous service offered by Nichola and her colleagues," said Simon Newton, Regional Manager.
Ends
Notes to Editors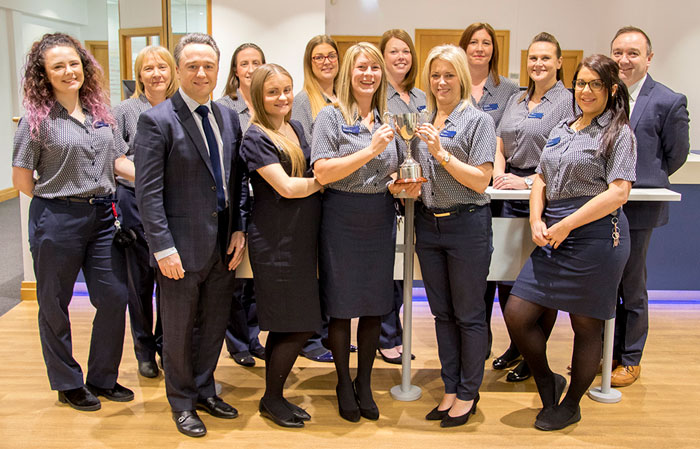 Colleagues at Leeds Building Society's Morley Branch who have won the Society's branch of the year award.
Leeds Building Society was named Best Building Society Savings Provider in the Moneyfacts Awards for 2017, having also won this title in 2016.
Leeds Building Society won the title of Best Shared Ownership Mortgage Lender in the 2017 What Mortgage Awards, its second consecutive year of success in this category.
Leeds Building Society operates throughout the UK, Gibraltar and Ireland and has assets of £17.3bn at 30th June 2017 (£14.9bn at 30th June 2016). The Society's head office has been based in the centre of Leeds since 1886.