Back to June 2019
Makeover starts on new Leeds Building Society city centre HQ
Work has begun to refurbish the riverside office block which will become Leeds Building Society's new home.
The Society has appointed GRAHAM as principal contractor, which has now moved onto the site in Sovereign Street to strip out and refurbish the former Sovereign House.
When the work is completed in early 2021, the new head office will bring together more than 800 Society colleagues currently spread across three city centre locations. Sustained growth in recent years meant the Society's workforce had run out of room in its landmark head office on the corner of Albion Street and The Headrow, and the business had to expand into offices nearby.
"Our new home is a significant investment in the future of the Society and a major commitment to Leeds in the long term," said Karen Wint, Leeds BuIlding Society's Chief Operating Officer.
"We're pleased to be working with GRAHAM on this important project and it's exciting to see the work start on site after many months' planning and preparation. We've been able to use Leeds-based professional skills in designing our new home, collaborating with businesses including DLA, Hoare Lea, Sweco and Gardiner & Theobald.
"We've been particularly focused on how our move enables us to cut our carbon footprint – replacing the building's façade will improve thermal and lighting performance and all our power needs will be met from renewables.
"This site's excellent location was another factor – its good transport links are another way to help us reduce our environmental impact."
Mark Gibson, Managing Director at GRAHAM's interior fit-out division said: "We are delighted to be working with Leeds Building Society on the delivery of their new home. This 80,000 sq ft refurbishment is a signature project for our Leeds delivery team and a further example of our growth and long term commitment to the region.
"We are grateful to Leeds Buidling Society and the wider project delivery team for trusting GRAHAM to be their construction partner on this iconic office development."
Karen said the new Head Office was a key part of the Society's long-term plans.
She said: "The building offers more space than we currently occupy across three different premises and bringing together all our Leeds office-based teams in the one location will further improve efficiency and cut our operating costs.
"As a successful national business we're proud of our long heritage in Leeds and our move will mark the start of a new era in the centre of the city where we were founded in 1875, right at the heart of its future development for many more years to come."
Ends
Notes to Editors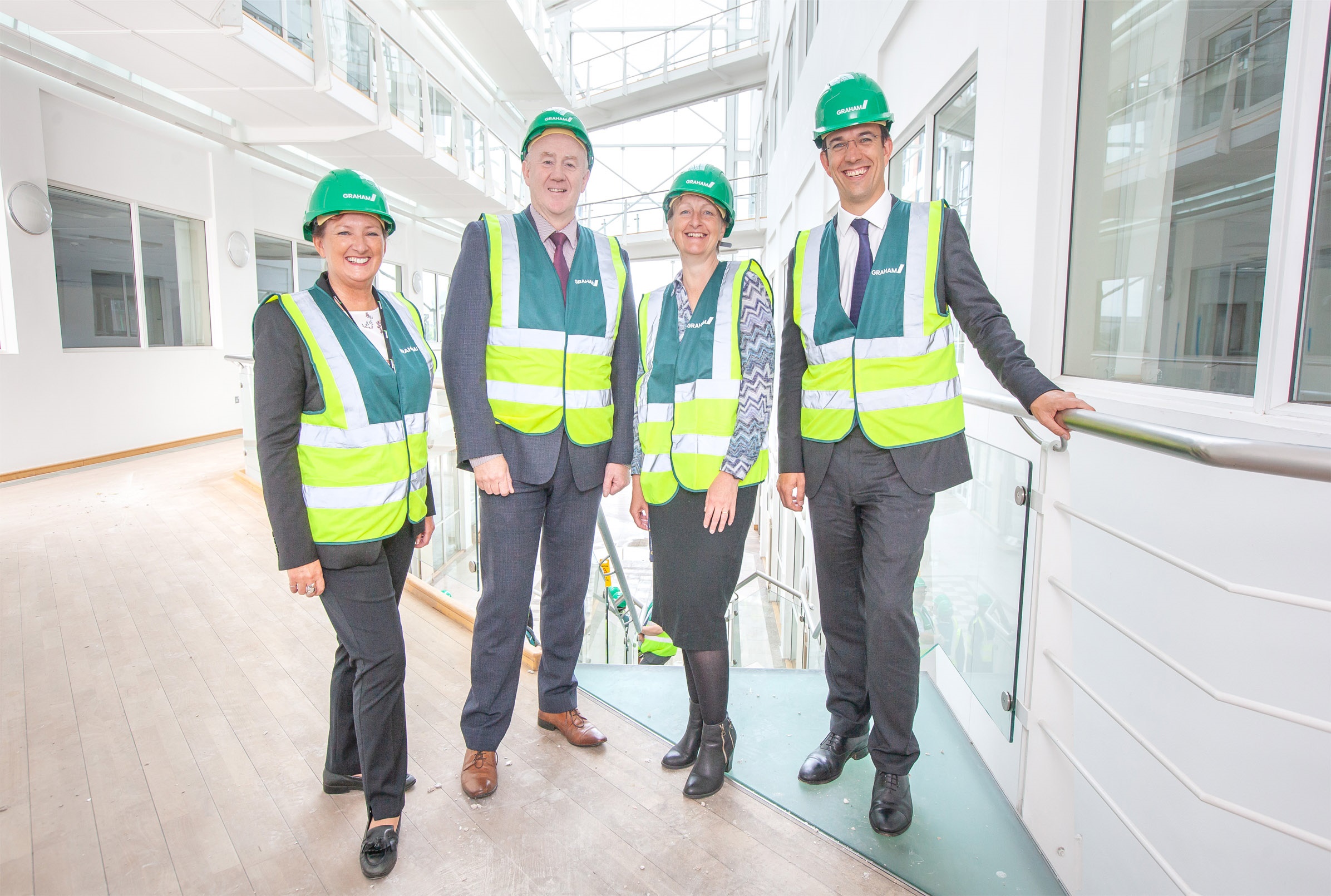 (L-R) Sue Blanche, Development Director, GRAHAM; Kenny Gardner, Operations Director, GRAHAM; Karen Wint, Chief Operating Officer, Leeds Building Society; and Richard Fearon, Chief Executive Officer, Leeds Building Society, in the Society's new head office building in Sovereign Street, Leeds, as work starts on site.
Leeds Building Society
Leeds Building Society operates throughout the UK and in Gibraltar and has assets of £19.4bn at 31 December 2018 (£18.5bn at 31 December 2017). Its head office has been based in the centre of Leeds since 1886.
The Society achieved a 2 Star best Companies rating, marking it as an "employer of choice" and securing a place in the 2019 Sunday Times Top 100 Best Companies to Work For.
Leeds Building Society was named Best Building Society Savings Provider in the Moneyfacts Awards for 2018, having also won this title in 2017 and 2016. The Society also won the title of Best Shared Ownership Mortgage Lender in the 2018 What Mortgage Awards, its third consecutive year of success in this category.
GRAHAM
About GRAHAM

GRAHAM is a privately-owned company that specialises in the delivery of award-winning building, civil engineering, interior fit-out and facilities management.

A truly national business, with an annual turnover of £767.6m (2018), it operates from 23 regional offices throughout the UK and Ireland and employs over 2,200 colleagues.

Proudly 'delivering lasting impact' since 1778, it is currently completing over 100 live projects across a range of key sectors including education, healthcare, commercial, retail, highways and rail.

Winner of the Major Contractor of the Year at the 2017 Building Awards, GRAHAM was the first contractor in the UK to achieve Investors in People (IIP) Platinum and IIP Wellbeing accreditation.

It was also the first UK wide company to achieve the British Standards Institute (BSI) Kitemark™ certification for both BIM Design and Construction (PAS 1192-2) and Asset Management (PAS 1192-3).

Enjoying year-on-year growth, GRAHAM was ranked 16th in the annual Sunday Times Grant Thornton Top Track 250 (2017) – a league table, which ranks Britain's private mid-market growth companies with the biggest sales.

For more information, visit the website: www.graham.co.uk