Back to Charity and Community
From whiteboards to wheelbarrows for IT team
Ten volunteers from our IT department spent a day revamping the garden area at a children's Sure Start centre.
The team tackled a list of jobs at Horsforth Children's Centre, including cutting grass, weeding, painting fences, planting bedding plants and creating a herb garden.
The colleagues took advantage of the Society's volunteering scheme, which allows all employees a day's paid leave each year to help in the community.
Claire Birch, Horsforth Children's Centre manager, said: "We would like to say a massive thanks to all the Leeds Building Society volunteers for their time and hard work. There's been a major change to our garden area and it looks beautiful now."
Volunteering 1, pictured Back Row L-R, are Craig Ford, Jasvinder Puar, Jonathan Street, Nigel Lynch, Gavin Bell, Calum Drysdale, Paul Thewlis.
Front Row, pictured L-R, are Raymond Fisher, David Hassall, Helen Gleeson.
Volunteering 2, pictured L-R, are Paul Thewlis, Gavin Bell, Helen Gleeson, Nigel Lynch, David Hassall, Calum Drysdale, Jasvinder Puar, Raymond Fisher, Craig Ford, Jonathan Street.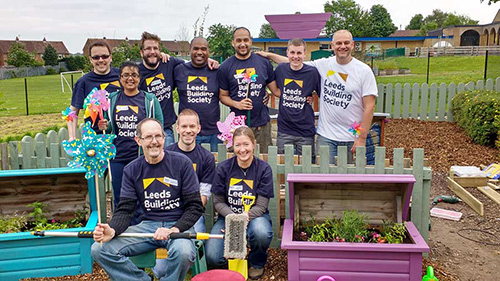 Pictured Back Row L-R, are Craig Ford, Jasvinder Puar, Jonathan Street, Nigel Lynch, Gavin Bell, Calum Drysdale, Paul Thewlis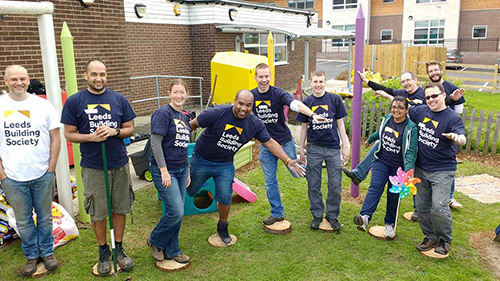 Pictured L-R, are Paul Thewlis, Gavin Bell, Helen Gleeson, Nigel Lynch, David Hassall, Calum Drysdale, Jasvinder Puar, Raymond Fisher, Craig Ford, Jonathan Street