Back to Charity and Community
Generous Society colleagues raise over £2,500 for local charity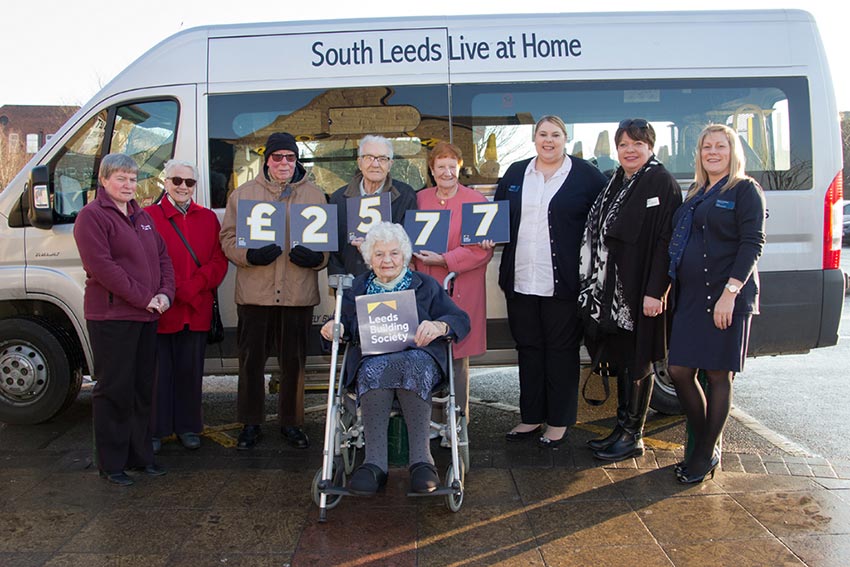 Pictured (L-R) are Nicola Roddy (South Leeds Live at Home), Dorothy Kavanagh, Jack Kavanagh, Neil King, Mary Allinson (seated), Joan King (all service users), Deborah Bailey (Customer Service Advisor, Morley) Jayne Holland (Manager, South Leeds Live at Home) and Nichola Mullaney (Branch Manager, Morley).
Generous colleagues at our branch in Morley have helped a regional charity who support older people to live safe, happy and independent lives in their own homes.
Society colleagues in the branch undertook various challenges to raise £2,577 for South Leeds Live At Home.
Their contribution went towards a tail lift for the service users' minibus. More than half the funds were raised by an abseil with the remainder from tombolas, and the service users even brought in some of the prizes themselves.
Jayne Holland, Manager of South Leeds Live at Home said: "We're delighted with the amount raised by the team at Leeds Building Society's Morley branch. It's a terrific effort, enabling us to adapt our minibus so our members with mobility problems can use it and access the services we offer to older people in our community."