Back to Charity and Community
May Community Support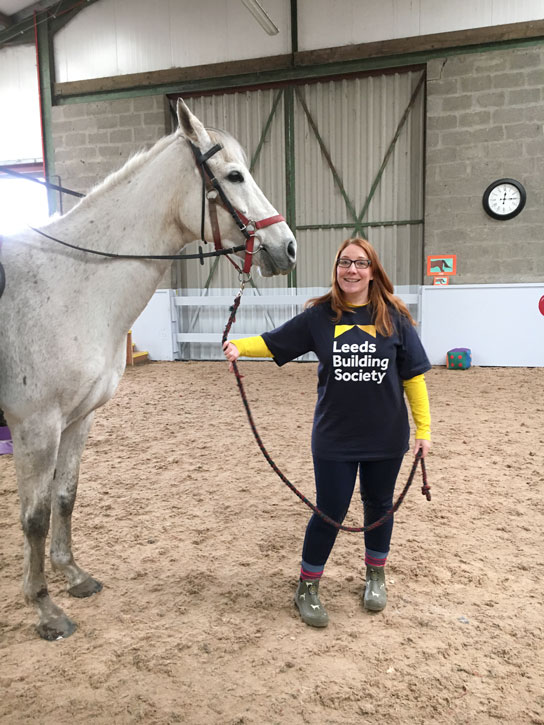 Louise Drummond volunteering with horses at disabled centre in Kinfauns, Perthshire
We give our colleagues up to seven hours paid leave each year to use for community volunteering - take a look at what they've been up to this month:
Our Business Development Manager, Louise Drummond, used her volunteering hours at the riding for disabled centre at Kinfauns, Perthshire.
Throughout the day she helped to bring in horses from the field and get them ready for their lessons. This including grooming them and putting on their saddles.
The morning session was with children with disabilities, where Louise had to lead the horses round while they had their lesson. There was then another session in the afternoon involving adults with different disabilities.
Rowan Evans, our Headingley branch manager, noticed a water pipe had burst opposite the branch destroying flowerbeds. Rowan noticed 'Headingley in Bloom' trying to repair the damage. He asked for £100 from the Sponsorship Committee to go towards replacing the summer bulbs. He then spent a morning repairing the garden.
The £100 we donated also gives us the use of the sign in the bed so it will read 'Headingley in Bloom supported by Leeds Building Society'
Dementia Awareness Week:
25 volunteers from our North East branches marked dementia awareness week by restoring a sensory garden at a day centre for people living with Alzheimer's.
Their tasks, at the Princess of Wales Centre in Sunderland, included clearing flower beds, replanting shrubs and moving top soil.
The volunteers have enabled the centre's members to plant flowers and vegetables. Gardening helps stimulate memories for those with dementia symptoms and helps them reminisce.