Back to Charity and Community
Aberdeen branch volunteer to improve local community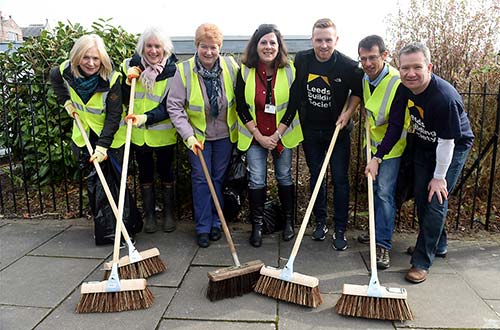 Volunteers from Aberdeen help to clean community
Colleagues from Aberdeen branch joined other members of the community to help clear litter from streets in their neighbourhood.
Councillor Jennifer Stewart said: "The community street clean-up was a fantastic event. There was a real community feel with cups of tea given by local residents to the thirsty workers. A feeling of war time nostalgia was mentioned.
"Leeds Building Society regularly help me with community events. Their contribution is always welcome, their staff are enthusiastic and I know them all by name.
"Working together as a whole community we can make improvements to enhance the local area. The streets look clean and tidy so a warm thank you to everyone."
Pictured are Ross McKenzie (Customer Service Adviser, third from right) and Ronnie Brechin (Branch Manager, far right) in their Leeds Building Society T-shirts along with Councillor Jennifer Stewart (fourth from right) and local residents of Blenheim and Hamilton Place