What is an AGM?
An AGM (or Annual General Meeting) put simply is the meeting of the members of an organisation. Every year we invite eligible* members to vote and help shape the future of our Society. You have the opportunity to vote on who makes up our Board of directors and how our Society is run. We share with you a review of the last year as well as future plans to continue to improve the Society.
Why do we have an AGM?
The AGM is part of our responsibility as a building society. Getting together each year gives us the chance to work hand-in-hand with our members and it's important to us that you get your chance to vote on what matters.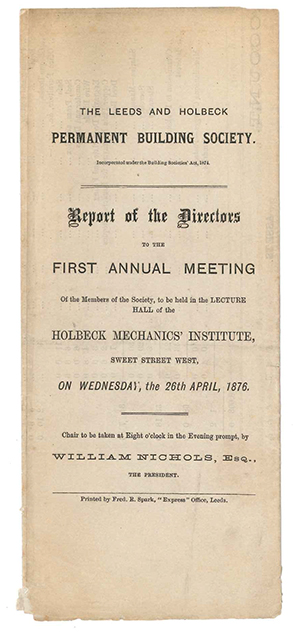 The History of our AGM
We've been holding AGM's ever since we were established in 1875. Back then we were known as the Leeds and Holbeck (Permanent) Building Society, and although our name has changed we still remain true to the very same values. Being owned by our members and rewarding them with benefits, is as important to us now as it was from the beginning.
The meeting
Our AGM takes place every single year (as the name would suggest!). The meeting itself is usually held in April and we personally invite eligible members to come along. We understand that not everyone can make it to the event held in Leeds so we've made it easy for you to vote from wherever you are. Keep an eye out for your AGM pack in March. You can then cast your vote online, in branch or by post - the choice is yours.
Your chance to have a say
The 2017 AGM vote is now open, don't miss your chance to have a say.
Find out more about this year's AGM
*You are entitled to vote if you are at least 18 on 6 April 2017, and you (a) had a shareholding in the Society of at least £100 on 31 December 2016, or (b) owed at least £100 to the Society on a mortgage loan on 31 December 2016; and you are either a shareholding member (whatever your account balance is) continuously between 31 December 2016 and the voting date or a borrowing member (owing us at least £100) on the voting date; and you are the first named account holder in our records.