Getting financially ready for a new arrival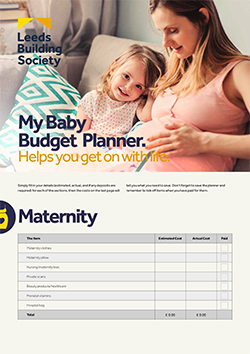 Starting a family is an exciting milestone in anyone's life. A new arrival will bring complete joy, but at the same time, entirely new set of responsibilities and financial outgoings. If you're expecting a baby or planning on starting a family soon, you've probably already considered the impact it will have on your lifestyle. But have you considered the financial implications of becoming a parent?
This handy Baby Budget Planner will help you budget for everything from maternity clothes through to nappies.
To give you a head start, we've put together our top five tips to help you plan your finances when a baby's on the way.
As outgoings rise, income drops
It's important to consider how a new baby will impact household finances; as well as meaning more money going out on additional expenses, you will potentially have less coming in. Find out as early as possible what paternity and/or maternity pay you can expect to receive and, if necessary, cut costs before the baby arrives to create a financial cushion. For more information about maternity pay, visit Gov.uk.1
The cost of childcare
When both parents are working, childcare costs can have a serious effect on household budgets, so it's vital to know exactly where you stand in order to plan as sensibly as possible. You should also find out what benefits or tax credits you may be entitled to, to help pay for childcare. To find out more information about financial help when having a baby visit Gov.uk.2
Big ticket items
Many parents-to-be panic when they begin to add up the costs of pushchairs and car-seats, rockers, playpens and cots. Just remember that unless there's a known safety issue with a product, there's no reason not to get something which has been previously owned. Babies use these items for such a short time, so they're often in almost perfect condition. Use online auction sites to find bargains and speak to your friends and family to find out if they have items you could use.
A bigger shopping bill
You may be pleased to discover that, once you've purchased those big one-off pieces of equipment, your supermarket shop shouldn't be significantly more expensive. Aside from the nappies, formula milk and a few other necessities, tiny babies don't need much else. However that will soon change, so brace yourself for the toddler years when food and toys suddenly come with a higher price-tag.
Savings for baby
It might seem early for a baby's first savings account, but putting aside a few pounds a month could give them a helping hand in the future. Plus, as your child grows you can talk to them about their savings, using the account to help them develop good money habits of their own. Take a look at our article on teaching your children to become savers for more information.
By using our baby budgeting planner to track your spending once the baby arrives and applying some of the thinking above, you can enter this new chapter of life confident that your money is under control.
Ready to start saving for your new arrival?
Budget with our Savings Calculator
This guide is intended as a summary only and does not constitute legal or financial advice given by Leeds Building Society. No reliance should be placed on this guide and you must make your own decisions, we recommend that you seek independent advice if you have any questions or queries.
1 www.gov.uk/maternity-pay-leave*
2 www.gov.uk/browse/childcare-parenting/financial-help-children*
*Contains public sector information licensed under the Open Government Licence v3.0 https://www.nationalarchives.gov.uk/doc/open-government-licence/version/3/