Budgeting for your big day
Our guide to budgeting for your dream wedding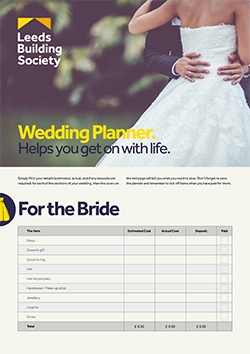 Of all the special occasions in your life, your wedding day will be one of the most memorable for sure. However, organising your perfect wedding can be a challenge - particularly when it comes to setting, and sticking to a budget, as the costs can quickly mount up.
To help you we've created a useful wedding planner designed for couples planning to tie the knot.
In the meantime, here's six top tips to help keep wedding costs low whilst making sure your big day is as magical as possible.
The dress
The dress and outfits for the wedding day can take a huge chunk out of your budget. Therefore, it makes sense to think creatively when searching for the perfect gown rather than heading straight to a bridal boutique. Use 'preloved' wedding dress websites or auction sites such as eBay or Gumtree. Take a look at high street stores who offer less expensive alternatives. Or, if you know anyone who is a talented seamstress, why not ask them to make your dress.
The venue
Potentially the largest single cost will be the venue. Where you get married will help influence the overall style of your wedding so think outside the box and don't just look at your typical wedding venues. Remember that venue hire can often be cheaper if you don't mind getting married on a week day and always be prepared to haggle boldly on the price.
The cake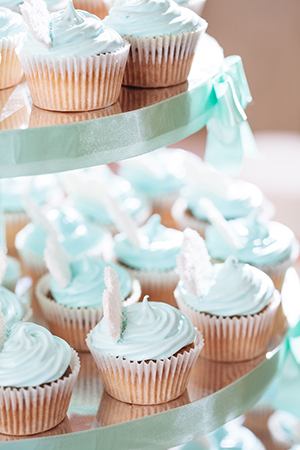 Enlist the help of your creative friends and family members, this is where they can come in handy and save you a pile of cash. Whether you choose to decorate a simple sponge cake yourselves or opt for lots of cute cupcakes for each guest, there are lots of ways to avoid an unappetising bill.
Flowers and photography
These are the things which can be more expensive than you'd expect and it's easy to blow your budget. To help you look for a deal and make sure you're not paying over the odds, ask any newlyweds you know who they used for flowers and photography, and whether they'd recommend their services. A little research in the early stages of wedding planning can save you lots of money later on.
Transportation
When it comes to wedding transportation it's time to call in favours. Which of your nearest and dearest has the most elegant car? Pay to have it valeted, decorate with ribbon and you're ready to go.
The food and drink
Sit down meals tend to be quite formal as well as being on the pricey side. Instead, opt for a picnic in the summer or a delicious hog roast for winter weddings. Avoiding an open bar is another thing you can do when it comes to cutting catering costs.
As well as budgeting for these elements of your wedding, you'll also have to consider the likes of the invites, the rings and, of course, the honeymoon. It can feel overwhelming but by beginning your financial planning early, using our budgeting planner and following a few of the tips above, you can cut down on stress and spending for your perfect wedding day.
Ready to start saving for your big day?
Budget with our Savings Calculator