Ways to save on your holiday
For us Brits, on this cold, wet and windy island, the annual summer break is a sacred event. To help you make the most of your annual escape without breaking the bank, we've put together our 7 best tips for affordable holidaying.
1. Do your research before you leave
The more informed you are when you arrive at your destination, the more likely you'll be able to keep costs down easily each day. Find out about public transport services, affordable airport transfers, and, if you're looking to take part in particular sorts of activities, research which companies offer the best deals.
2. Know your luggage allowance
Exceeding your luggage allowance is a common and costly mistake. When packing, be honest with yourself. If you've never worn those shoes but you're taking them 'just in case', leave them at home and keep the weight of your luggage down.
3. Turn off your phone's data roaming
Tales of travellers accidentally running up huge mobile phone bills litter the newspapers every summer. Be sure to switch off your phone's roaming charges before boarding the plane and, when you arrive at your resort, connect to the Wi-Fi if it's available. That way, bills are limited and predictable.
4. Pay in euros and take them with you
It's usually cheaper to pay in local currency. Other ways to avoid high exchange rates include staying away from ATMs and buying your currency before you get to the airport.
5. Eat and drink like a local
This tip, as well as saving you money, may mean you discover delicious new flavours and cooking ideas. Eat where the locals choose to eat, buy the local brands and order the local wine.
6. Use a towel, not a sun lounger
Renting a sun lounger may seem like a small outlay but, if you're a sun-worshipping couple paying £10 per a day for two sun loungers on a 14-day holiday, the bill runs to £140!
7. Arrange your own trips
Whether you want to take a tour of local vineyards, go on a city excursion or experience the cultural offering of the country you're visiting, arranging it yourself will sometimes be cheaper than organising it through your tour operator and means you can save your euros for other luxuries.
And before you get there you might find these tools useful for planning and budgeting your perfect getaway...
Holiday Hero Planner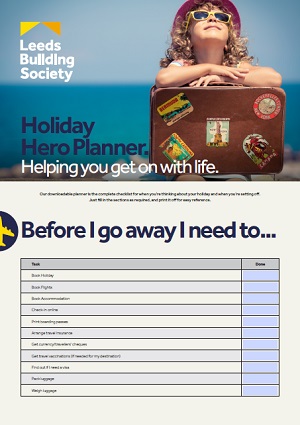 Use our downloadable Holiday Hero Planner to keep on top of tasks to do before you go away. Everything is covered, from checking-in online through to weighing your case to avoid any excess baggage fees. It also includes a holiday packing checklist. Use it and you won't be left without your essentials when you arrive at your destination. You might also want to take a look at our top 10 tips to make the most of your baggage allowance.
You can save the planner to your PC and tick off the boxes as you go along or print it and stick it on the fridge for easy reference.
Holiday Budget Planner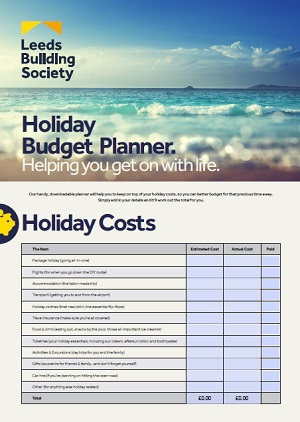 In addition to the checklist, we have a downloadable planner which will help you keep on top of your holiday costs. This tool will allow you to better budget for that precious time away.
Try to estimate the costs before you go as this will give you a good idea of how much money you will need to save for your trip. Once you return you can fill in the 'actual costs' column to see how your spending compared.
Simply fill in your costs and it'll work out the total for you.
Ready to start saving for your holiday?
Budget with our Savings Calculator